I mentioned that Chicago keeps on taking it, in last night's party post. Well, tonight they take even more, whatever the hell KRS One and I mean by that. First up, my bol Bald Eagle moves out of the DJ booth and onto the stage with his project, When The Eagle Met The Wolf. This is an actual production thing, not spinning records and hitting the Serato. Bald Eagle and Mister Wolf have come together to blow your mind and move your ass. Logically, they've brought in DJ Major Taylor, who's formerly of Philly so you know he's doper than you. You also get Analog Addicts, live art by Novem members, host DJ La*Jesus, all for no cover. Darkroom (2210 W. Chicago Ave), a definite stop tonight Chicago.

-WTF, Chicago? WTF? Is there something in the water? Are you seeing this other US cities? We're getting outdone and outhustled. The Riot In Belgium tour continues tonight in the Windy City, as the Aussies join up with the Dark Wave Disco crew - Trancid and Mark Gertz- for a night of filthy dance music. I mean, whoa. It's all brought to you by Vice Magazine, Colt 45 and Smash and Crunch, thank them. Free Colt 45 from 1o til its gone, doors at 9, $5 on the guestlist, Sonotheque (1444 W. Chicago Ave.) Same street as the When Eagle Meets the Wolf gig, like 8 blocks difference. This is a serious night, Chicago, do it up big.


-Also make sure to check out the Amplify New Music Series going down at Schuba's (3159 N Southport Ave.) This one features The Cool Kids, with Phono and Hollywood Holt & Mano. This one's $8, 21+, starts at 9pm, pretty one-two punch.



-One of my favorite parties and party names, Awesometown goes down in LA tonight at The Short Stop (1455 W. Sunset Blvd.) I'm especially psyched for this edition, as my bol DJ Paul V from Neon Noise radio show and all-around good is the headliner. He's joined by some of LA's best like Desert Eagles, Josh (Wa) and Anne Lee, the woman who brings you this party every month. You also get a set by Canada's Fembot, photos by Shadowscene and $3 Dewars and ginger ale (sounds good!) You need to RSVP at going.com, it's free once you do, 21+.
-Also, don't forget that Club Moscow goes down per usual at Boardners (1652 N. Cherokee Ave@Hollywood Blvd) My bol Daniel of LA Riots is spinning along with residents Keith 2.0 and Raulie. Keith Wilson does this jawn every week, show your respect and appreciation. Free with flier before 10:30, $5 bucks after for 18+.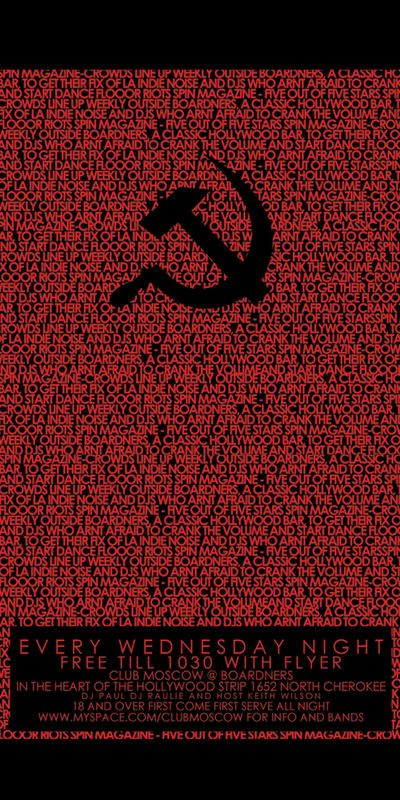 -I'm not even sure I should keep hyping DJ S!n and Luv Tek's Cali jawns, as I understand that they are drawing hundreds of people and are crazy packed and debaucherous. Err, wait I should keep telling you, can't stop now, we're into deep. While I like to believe that size doesn't matter, this flier proves it does (and that girls say it does). Only crazy, big parties can drop massive fliers like this, so Club Redd should have one. Tonight's the MIA CD release party with special guest DJ Bip Jeffington of the Bang! and System parties. He joins Luv Tek, S!n and Paparazzi to destroy Long Beach. It happens at Club Sevilla, but the reverberations will be felt throughout the city. Do not miss out, 18+, free before 11, love it.
-Okay, NYC, here's your night. Start out in the LES with Mr. Nick Hook at his For Those About To Rock party at Koca Lounge. Nick's bringing you 4 hours of rock'n'roll and other goodies, this is the last one it sounds like for a few weeks at least, so get it in now. $1 sake shots, $5 sake carafes, $3 bottles all night, goes til midnight, good vegetarian menu if that's your thing.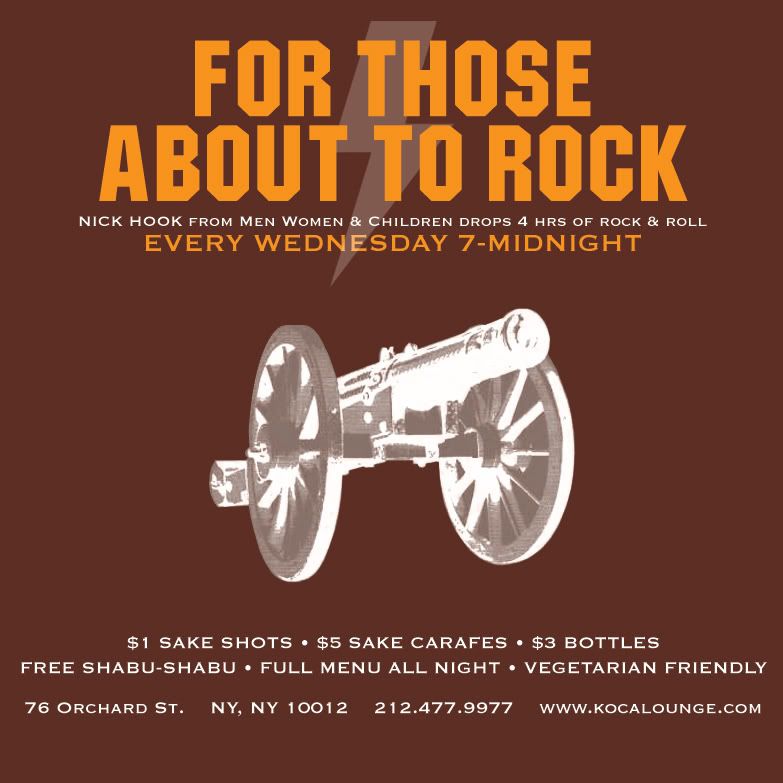 -Then, head a few blocks north to the East Village border for High Voltage. Dimitry's party, great DJs, attractive people, awesome Zygo open bar from 11 until it's gone, people actually dancing and having fun, blah blah blah. Tonight's guest is Glue from Cardboard City, which would mean a lot if I wasn't such a dance snob. Guest host Igor from drivenbyboredom.com, wait people with websites actually have social skills? Only one way to find out.
-Finally, get up to the Meatpacking District for G Spa, the Project Matt, Jeremy Asgari, Yossi C., Cipha Sounds, Jamal, Osvaldo-Jess-Daniel Lara-Brian Bongard jawn. Okay, while I working on coming up with an acronym for all of those names or talk a few of the people into combining their names, you should get to the Gansevoort Hotel (18 Ninth Ave@13th Street) for that rare chacne to hang somewhere classy and nice without people giving you dirty looks. Tonight, you get DJ Wonder providing the music, expect lots of good rapreggaepop stuff that will help you forget how cold it is. It goes til 4 am, then you can hit the L and be in bed by 5, content in the knowledge that you did it up right and that you are young and alive.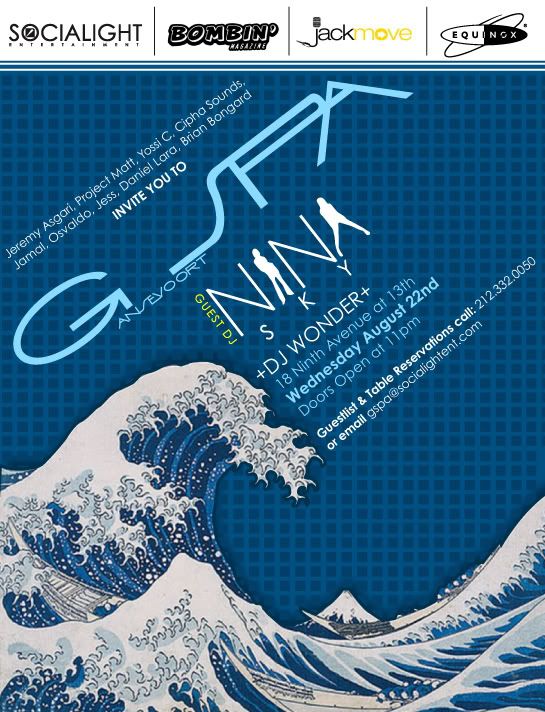 -