What can I say, I'm predictable. Paris Institubes DJs + Fixed + Cut = my Friday night. There's not a lot for me to add, one look at the line-up above should make you pee your pants with happiness. Live sets by Para One and Curses, DJ sets by Surkin and TTC's Orgasmic, not to mention the amazing residents Dave P and JDH. It's brought to you by the Cut bols, who were the ones responsible for the amazing Green Velvet night a month or so ago and are great DJs in their own right. $12, Studio B (259 Banker St.), let's make this happen.
-For my fellow Francophiles who live in Manhattan,
Ruff Club at The Annex
(152 Orchard St.) is the place to be, as Data and Wide Shut play live there tonight. This is a great chance to hear two new, great bands esp if you missed them last night at Hiro. But, of course, that's not all. You also get guest DJ sets by the amazing Shaun Slaughter of Sacramento's Lipstick party, along with Carmine Filthy, plus the regular people like Denny Le Nimh, Spencer Product and 24Court&Micprobes will do their thing. There's reason why people love this party, go find out tonight.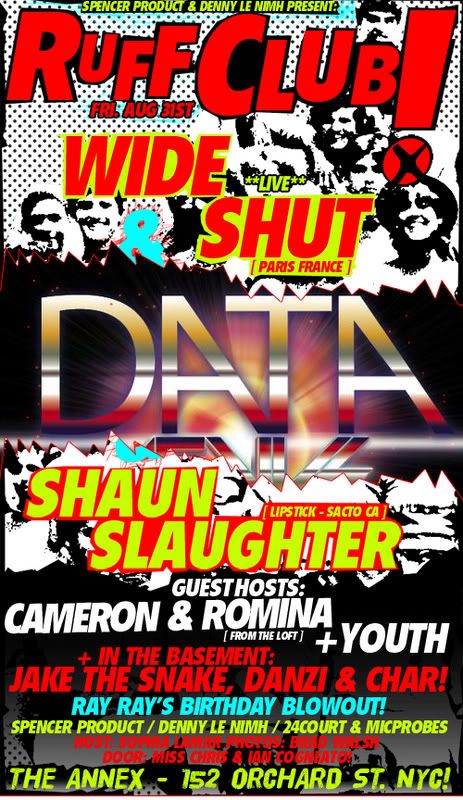 -Make sure to stop by the one-night only return of Lauren Flax's White Lightning to Home Sweet Home (151 Chrystie St.) I don't know a ton about this one, but there's def live sets by Nicky Click and Diamond Beats. Click is a electro pop artist, Diamond Beats is Courtney Trouble, feminist pornographer, artist and musician, touring as support for Click. I believe Lauren will spin, which should wipe away any of the confusion that I've caused with this intro.
-This one brings tear to my eye. On of the first spots that I made a regular place was Nublu (62 Ave. C) on Tuesday nights, when the band Kudu used to play a set every week. This was back in my LES days, so many fond memories come back that it almost brings a tear to my ironic, dead, hipster eye. Tonight, Syvia of Kudu is celebrating her birthday at that spot, and while I don't know her, I love her music immensely and want to wish her a happy birthday! I do know Lauren Flax and I do know that she will absolutely destroy your mind and naughty parts, one of the best DJs in the country. You also get a short set by Trouble of Trouble & Bass, all for $10. That's well worth it, excuse while I go cry now.
-One more party to hit downtown tonight, as The Musebox and Paper Magazine throw their monthly party at 200 Orchard tonight. I'm most excited to see that Philly's Mixel Pixel is playing live, along with Madison, The Start and Lions&Tigers. Mixel Pixel are a great band and this is a great chance to check them out for free before they are selling out Webster Hall or something. Dance music will be provided by DJs Mr Pharmacist, June D of White Doves and Julie Twinkle. 9-4, free PBR til it's gone, rsvp to rsvp@musebox.net.
-When I think of Chicago, I'm reminded of Ibiza. Okay, actually, I'm not, but tonight you can celebrate the capital of dance music in the Windy City and enjoy the last days of sunny summer before the mind-numbing cold winter comes through. Tonight is the final
Fierce Angel party
of the summer at the
Victor Hotel
(311 N. Sangamon) and they're going out with a bang with an
Ibiza Summer Beach Bash
. They've brought in DJ Eric Kupper straight from the island to make all of your balearic dreams come true. Our boy Trancid is also spinning, along with DJ Madrid and Tim Baker of Digital Punks. RSVP at the going.com site, then go ASAP to get in on the complimentary sushi and cocktails from 8-9:30, brought to you by Mt. Gay and Cointreau. There will be drink specials all night, raffles for cool prizes including tix to see Jeff Tweedy. $5 before 11 if you RSVP, this should be an amazing night.
-In Minneapolis, they are already getting for the debilitating cold by throwing parties referencing that time. Christmas Sex is a celebration of all the August births living and dead, hilarious party name. Not sure on a lot of the details, but I do know that Soviet Panda is spinning, which is good enough for me. It happens at The Kitty Cat Club (313 14th Ave. SE), starts at 9, 21+, go out and celebrate the month of my birth. Yeah!
-Oh mang, I'm almost afraid to put this one up, as I feel like tonight's
Frisco Disco
could get completely out of control.
Richie Panic and Jefrodisiac
have put together a special end of summer edition of their award-winning party and it's not to be missed. Sick line-up, headlined by P4P favs LA Riots, along with DJs Basura & Disaster of the amazing blog Missingtoof.com, live show by Wallpaper, hosted by Ronnie Buders & Kimi, photos by Lady Meleksah, Silke Labson (best name evah!) and Vaindeer. As always, it goes down at The Rickshaw Stop (155 Fell), but unlike always, the place is now air-conditioned!!!!!
RSVP at going.com to get in free
before 10:30, otherwise it's $12 for 18+, $10 for 21+. This is the start of a huge weekend, San Fran, do it up right.