Thank G-d, 2006 is finally coming to an end. Put it to rest with a bang, get ready for 2007.
-Globothermonuclear at Upstairs at Sal's on 12th with my bols Crimp Yr Hair DJs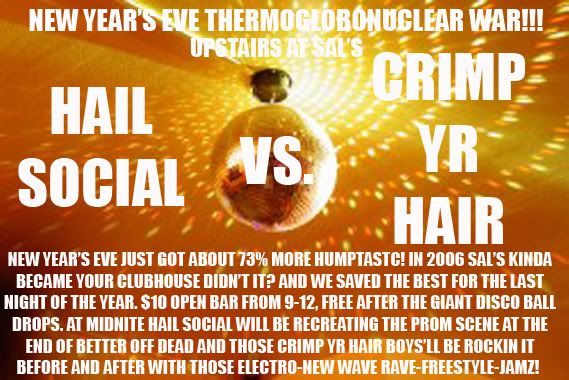 -Making Time at Transit with Man Man, Pony Pants and an 8 hour open bar (best flier I've seen in a minute)
-Paper Street at the Bellevue with Low B and Plastic Little
-Studio B in Greenpoint with DJ motherfucking Assault
-Cheeky Bastard and GBH at Maritime Hotel with James of the Klaxons spinning. Head to the afterparty at Movida from 3 on.
-Motherfucker vs. Calling All Kids
-
Todd P's jawn at Silent Barn
with Black Lips and Japanther
-Evildoer's New Year's Party in LA