While I've been shying away from the next big thing hype shit for awhile now, tonight's Cheeky Bastard at Hiro Ballroom with The Teenagers has me psyched up. For those in NYC, here's your only chance to catch the band for free, as their Bowery show sold out and the Fixed one is $10. Add in a live show by Blacklist, a DJ set by The Teenagers, Sluttt with Redd Foxx and The Ruff Kids and you have yourself a pretty epic night.
RSVP at the going.com site
for the free admission; 1200+ people have already done so, which means getting there early is a good idea if you want to get in. Once you're in, you can enjoy a Lucky beer open bar from 10-11, 2 for 1 vodka drinks from 2-3 and $4 Sparks all night. 21+, this one may live up to the hype.
-For something like a little smaller and more intimate but just as rad, head to the Common Folk party at Home Sweet Home (131 Chrystie St) where the Sweatshop Laborers Johnsville and Lucas Walters have a very special guest tonight, Lauren Flax of White Lightning and the 90s Party and a Pound for Pound post in the very near future. This one's called Freaks, which sounds about right, this is your night to act like one. Lots of great music tonight from various genres, free Shango rum from 10:30-11:30, things kick off at 10, end at 4, 21+.
-If you can't bear the thought of getting on the L and creeping along between Bedford and 1st Ave, head to the Hope Lounge (10 Hope Street btwn Roebling & Havermeyer) for what I think is a brand new party called Oonst Oonst. This one features some great NYC DJs as well, Dances With White Girls and Nick Hook. Dance music, 2 for 1 well drinks, great choice tonight. No cover, 21+.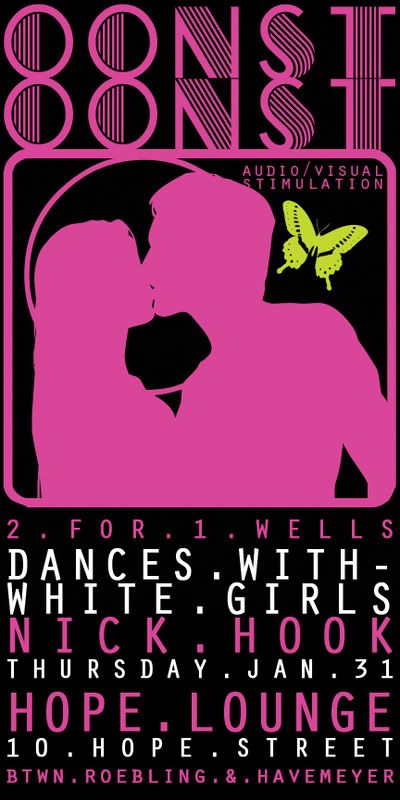 -Down in Philly, it's another chance to check out the Seclusiasis Thursday party at Sal's (200 S. 12th St) DJ Ghost is joined every week by a special guest DJ, tonight it's Synikal of Tru Skool Recordings. This one should be extra hard tonight, as Synikal will spin some drum'n'bass and breakbeat along with the regular mix of rap, dubstep, grime and bassline. No cover, doors at 9pm, 21+.
-I mentioned this one for the first time last week and logically I made a mistake. So, just to get it out of the way, the Opolis party in Norman, Oklahoma is 18+, so the kids can come out and dance too. Everything else applies, Dylan Mackey, B. and friends, great music, fun times, $3.
-Finally, great night in San Francisco as Better Propaganda celebrates its fourth anniversary by throwing a party at the 111 Minna Gallery (111 Minna St) This one is jam packed, featuring live sets by electronic bands Lemonade, Ghosts On Tape and Official Tourist, plus DJ sets by Big Stereo's Rchrd Oh?! and Ryan Poulsen. It says
it's free with an RSVP at their site
with a weird registration, but there is a disclaimer that there is only a limited amount of free admissions. I'd just pay the $7 at the door, avoid all of this crap.