I've mentioned that I'd like to take a better account of the big clubs out there and thankfully the rad
Taste Crew
have helped me get started by putting together
The Winter Collection
at the Meatpacking District mega-club
Cielo (18 Little West 12th St)
They've brought in some of my favorite DJs in the city for the night of great dance music -
Beats In Space's Tim Sweeney, Nublu's Justin Carter and DJ Probus, plus Turntable Lab's Egg Foo Young and Gypsy Bogdan
. Expect lots of disco, Italo, deep house, techno, all on a massive soundsystem. To make this one even radder, RSVP at cielo@thetastecrew.com to get in for free and enjoy a Stella Artois open bar from 10-12. $10 w/o the RSVP, a great night at a megaclub with some NYC's best DJs. Yeah!
-Or if you want to have something more intimate and dirty, join the
Lewd DJs, rekLES and Sean MuthaFukkinRoberts
, in the basement of Club Midway (25 Ave. B) for
the Organic Distortion party
.
Presented by Dana Distortion and Jade
, this one's for the rock kids looking to go crazy and dance. Dana Distortion and DJade spin upstairs,
DJ Jake Destroyer
is the guest in the basement. $3 Sangria specials, no cover, 21+.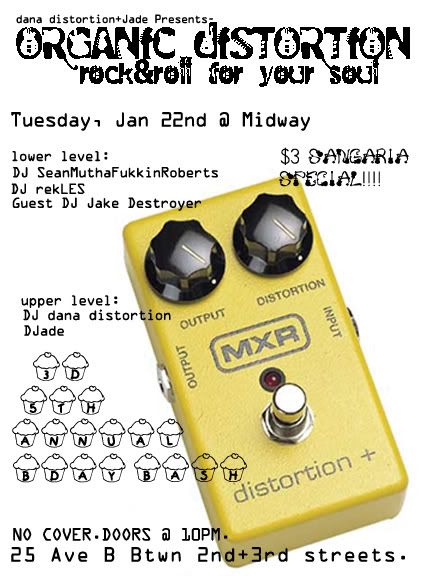 -Back in Brooklyn, there's
the weekly Do It party at Hugs (108 N. 6th St)
Resident DJs Carrie Whitenoise and Shinratek
have brought in
Kendra of the Waxx Dolls
to bring some more tech/house music to the mix. Minimal will make you warmer!
Hosted by Jane Bang
, there's no cover, 21+.
-Here's a new monthly party at The Barbary (951 Frankford Ave) called I Am The Traitor. I have no clue who the "I" is in that title, but I know it's not me, as I am a loyal patriot. DJ Dior spins at this one with special guests Jacci Stallone of the Redrum party and Cody Ferdinand from the Philly experimental band Gildon Works. I'm guessing that this one will be heavy on the rock and noise side of things, not a lot of info out there on this one. I trust The Barbary though, no cover, 21+.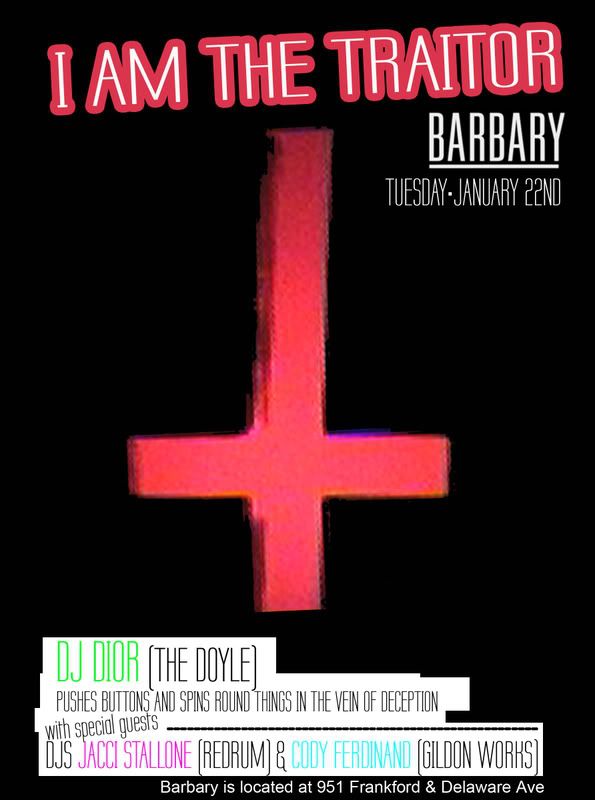 -For a more known quantity, head to
Sal's (200 S. 12th)
for
the Girls Rule Boys Drool party
, where
DJs Scotty Ack and Diamond Girl
will bring you a heavy dose of dance music from the more indie side of things. These two are names to watch, believe me. No cover, 21+.
-I can't even imagine how cold it is in Chicago, in fact, I'm not going to. Instead, I'm going to imagine how much fun tonight's Outdanced! party at the Funky Buddha (728 W. Grand Ave) There's going to be live performances by Montreal's We Are Wolves and local minimal synth band Rubix Dudes. There's DJ sets by Life During Wartime's Mother Hubbard, Mr. Bobby and Derek Berry. There's dollar drinks while they last. There's also you. RSVP to outdanced@yahoo.com and be warm and drunk and dance-y.
-Finally, in the land where it's never cold, the weekly dANCE party at Arena (6655 Santa Monica Blvd) gives you the perfect chance to celebrate your good fortune. This week's version looks like a good one, with local dance dons Acid Girls headlining. The residents Paparazzi, Bip Jeffington and Joaquin will also be there, indie dance bangers as far as the ear can hear. $5 before 10:30
with a flier
, $10 otherwise. Doors at 9:30pm, 18+.