Don't ask me why, but I have a feeling tonight is going to be a great night. It's hard not to think that way when you see what's on tap, especially in NYC. I'm gonna give the top spot to the
Masters of the Universe II party at Studio B (
259 Banker St.) in Greenpoint, Brooklyn, New York.
Cut and Trouble & Bass
have brought in two of my favorite DJs in the world from two favorite cities,
Philly's Diplo and Paris' Surkin
, and that's about all you need to know. You also get Trouble&Bass, South Rakkas Crew and Drums of Death for an amazing line-up, such a nice mix. $18 at the door, 18+, 10-4am, Diplo & Surkin.
-Damn, Williamsburg is comin' alive. A few other options for either pre- or post-Studio B or for those who want something a little more intimate. First,
Sweatshop Labor
takes over
Hugs (108 N. 6th St)
for their weekly Friday night dance party, where you will dance, drink and debauch. 21+, starts at 10, ends at 4, drink specials. Stop by, thank these guys for bringing Williamsburg back.
-For those of you looking for something a little more chill and downtempo-y, head to the Ottoman Bar (318 Grand St) to catch Studio !k7's Boozoo Bajou of Germany and Giant Step's Erik The Reed from New York. This is presented by Bastard Jazz Recordings, so the Bastard Jazz Soundsystem - DJ Sema4, DJ DRM and Paul Digs - will also spin tonight. No cover, 10-4 am, 21+, try something and someplace new tonight. Yeah!
-Speaking of a new place to party, this would have been the pick of the night.
Flavorpill
presents the
One Step Beyond party
tonight at the super-rad
Rose Center For Earth and Space at the American Museum of Natural History
. It's a night of amazing dance music spun by
DFA's Juan Maclean and Dave P & JDH of the Fixed party
, plus cool visuals, a screening of a mvoie and a chance to hang out under the stars. I'm super psyched for this! Alas, there's no flier, but
you can get all the info at the AMNH site
. $2o before 10, $35 after, doors at 9 pm, so leave now if you wanna save some money, party goes til 1am. The Upper West Side is gonna be a rave tonight! Afterparty at Zabar's? Please?
-After that, head back downtown and check out the
Top Billin'
weekly that
Project Matt, Ms. Nelch, Pegleg NYC
and a ton of other great NYC people have going at Lotus (409 W. 14th St.) Tonight,
The Rub's Cosmo Baker
is spinning, one of the best anywhere, take advantage of living in the same city and hear the man teach you about funk, soul, house, hip-hop, life. RSVP at topbillinrsvp@mac.com to get on the list, 21+.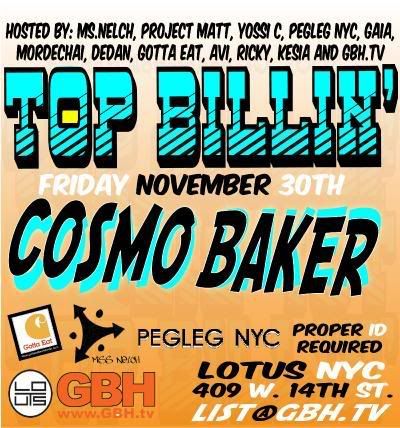 -If Brooklyn seems a little less great tonight, it's because DJ Lauren Flax isn't here. Instead, she's in Bloomington, Indiana for the Daft Crunk party tonight at Jake's Nightclub. What a party it's gonna be, I mean, seriously. Flax is joined by one of the godfathers of Baltimore club music, Scottie B of Unruly Records. There's also residents Flufftronix and Action Jackson, I'm worried taht Indiana isn't ready for this much bass and filthiness. Oh well, too late now. Free with promo ticket, $5 otherwise I believe, 21+.
-Over in Chicago, there's another NYC invasion as the Nacotheque party comes to the Windy City. DJs Marcelo Cunning and Amylulita spin the best of Spanish music from all over the world, their Fontana's party gets bigger and bigger each time out. Spot 6 (4433 N. Clark) plays host tonight. Make sure to check out the basement where the dark electro can be had. Dark Wave Disco's Trancid, Victor Lula and DJ Cedeno will spin the underground under ground. $10, 21+.
-I always love a good battle between cities, always nice to see someone take on the overrarated NYC. Seattle's Comeback party is doing just that, as resident DJs Fucking In The Streets, Colby B and DJ Porq have brought in special guest from the Big Apple, DJ Sammy Jo, the Scissors Sisters official tour DJ. Chop Suey is the site of the battle, who will win? You will, as there's going to be great music, dancing, prizes, go-go girls and lots more. $5 before midnight, 21+.
-Let's end this post across the ocean in a land called Europe. One of my favorite bands/remixers, South Central, are spinning tonight at the Alwayz Frydaze party at Egg (200 York Way) in London. Presented by Deadly Rhythm and Temba, this one looks to be a blast. Doors at 9:30, things end at 6:30 am, 6 pounds before 11, 8 pounds after with flier, cheap vodka, Red Stripe and draughts all night.



-In the land where raves never stopped happening, Berlin, Death By Pop goes off tonight at the Bang Bang Club (Neue Promenade 10).