So, I've been saying how much I loe hearing about new parties in places we don't normally discuss, your Albuquerques, your Seattles, etc. I must confess, there's something that makes me much more happy and that's a post filled with Philly parties, as it's where I left my heart (if I had had one to begin with). So much going on there, let's start with the special night at Medusa's (21st and Chestnut Sts), as the Philadelphyinz celebrate the 2nd anniversary of their monthly party at the basement rave cave. APT One and Skinny Friedman are two who deserve to be playing huge clubs, so appreciate the fact that you can still get sweaty and drunk and dance-y in an amazing, tiny little venue. No cover, 21+, as the fliers says "It's roller skate music rap about diamonds 80s jams for special ladies futuristic dance music by guys in tight pants spiced out thug club tracks bell biv devoe and probably a bunch of hip house." It sounds like the soundtrack in my head. Happy anniversary guys, mazel tov!
-There's also the Hip Replacement party upstairs at The Khyber, where resident DJs Mike T and Billy W also play the soundtrack in my head every month, a soundtrack of aciiiiieeeeeddddd, robot music, cocaine disco and so much more. They've brought in a guest DJ from SF, Niklas, and he too will destroy said dancefloor and/or your mind. No cover, 21+, $1 PBRs and High Lifes until midnight, it'll be a rave, Dave.

-Later, head down to Transit (6th and Spring Garden) where another amazing Philly DJ duo are spinning.
Emynd and Bo Bliz, a.k.a. the White Ts and White Belts
guys, are going to be taking over the main floor and will be every month for
the new weekly Paper-Street jawn, Mad Pu$$y
.
Plastic Little DJ Si Begg
opens up,
Soul Traveler
Brendan Bring'em
will be in the basement space all night and DJ Dirty of the Sundae party will hold down the upstairs.
Get on the list for $5
, first 200 women get drink tickets, I'm predicting that this will be out of control. This one goes until 3:30, definitely your second stop no matter what.
-Finally, as only Philly does, go late late night at The Vacuum (1740 N. Tilghman St.), which hosts the Save the TAB party. This one's a benefit for Tabitha who had her car recently stolen and lots of great local electronic/dance DJs are going to be spinning until 6 am or so, including Hip Replacement's Mike T, Unfoundsound's Accidentally and Tleilaxu, Inciting's Pandemix and more. $10 suggested donation, BYOB, 21+. As the flier says, "Dance lose yr mind help Tabitha." Pretty simple, really.


-For my hip hop heads, ?uestlove will be spinning tonight at the
Tasty Treats party at Fluid
(613 S. 4th St.). Dude is always busy, so this is a super rare chance to catch him at the weekly he started with
Mike Nyce
. This party is packed every week, so I'd recommend getting there early if you decide to go. Women are free until 11, $7 otherwise, $3 drinks and $2 domestic beers from 10-12, just another legendary Philly party and DJs.
-Brooklyn, see the other post for the main event tonight, but make sure to make it to the Hi Tops and Hearts party at Royal Oak (594 Union Ave.) where the fashionable and stylish DJ Tiny Pants is joined by DJ Sexxxual Chocolate for a dance party that will feature people actually dancing!! Love Brigade is sponsoring this one, there's a ton of drink specials (see the bottom of the flier), no cover, 10-4am, 21+. P.S. I checked with Tiny and those are Hebrew National hot dogs, so everything's kosher, my dears. Yeah!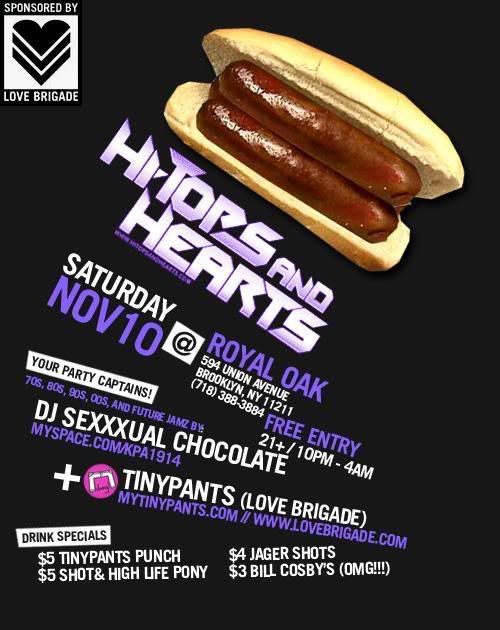 -On the southside of Williamsburg, Catchdubs and Jones of Caps & Jones are spinning all night at Savalas (285 Bedford Ave), this place can be hit or miss, but I have confidence that these two will bring out a big and rowdy crowd.
-Yeah! Another new city for Pound for Pound!
Milwaukee
! Fuck milk and honey, we want beer and sausage! This
Spaced Out party
looks to be a pretty dope event which is having a huge November with lots of special guests. I believe, and please correct me if I'm wrong, this is a weekly Saturday night jawn put on by
The Glamour, a.k.a. Diamonds and Kelly Green
. Tonight, the party is the latest host of
Shadowscene's US tour
, as she continues to cover every cool party from LA to NYC. You also get DJing from
Futureboyfriend, Diamonds and Why B
. It all goesd down at the Moct (240 E. Pittsburgh Ave.), doors at 9 pm, girls drink for free from 9-11 (!!!!), no cover.
-Wow, a massive Dark Wave Disco tonight at Sonotheque (1444 W. Chicago Ave.). This party just keeps bigger and better, this edition should set the bar high as Steve Aoki of Dim Mak and Todd from The Faint are the special guest DJs. It's also DWD-ers Mark Gertz birthday, so wish him a happy birthday and check out all of the amazing residents spin - Gertz, Trancid and Greg Corner. Hosted by Paul In Chicago and CK Couture, doors open at 9, things go until 3 am, assuming you are 21+, Svedka drink specials and $3 Goose Island 312s, do this Chicago!
-After you've got done with that party, head on over to
Evil Olive
(1551 W. Division St.) where the
Kampfire Killaz
are going late night until 5 am. Sadly, there's no flier, but I do know it's 21+, no cover and the perfect way to extend your night with Jay and Misa and
the Crossfader Kings
.
RSVP at the going.com site
and drink lots of Red Bull.
-It's so nice when I see some of my favorite DJs and parties get together and tonight's edition of Too Much Love is a great example. The Tactic duo from Lawrence, KS are the special guest at Soviet Panda's weekly jawn at First Avenue (701 First Avenue N) The guys are celebrating their recent remix of Blaqstarr's " that just came out on Mad Decent, so they should be in high spirits. 18+, $3, free with student ID, Midwest is taking over.
-Finally, we make it to the opposite coast. For San Fran's hip hop heads, the Freshcuts party looks like a hard one to pass up. This fifth edition features the Roots' DJ Scratch as the headliner, any time you can catch a Philly DJ, make you sure you to take advantage and notes. In the Underground Sweatshop room, DJs Platurn, Ren and Franchise will spin rap, while the Culture Suite has White Girl Lust and DJ Swayzee bringing a few more genres into the mix. It all happens at Club 6 (60 6th St.) Doors open at 9, party goes until 3 am, 21+.
RSVP at the going.com site for free entry
before 10:30, $10 advanced tickets
can be bought at Digital Underground
.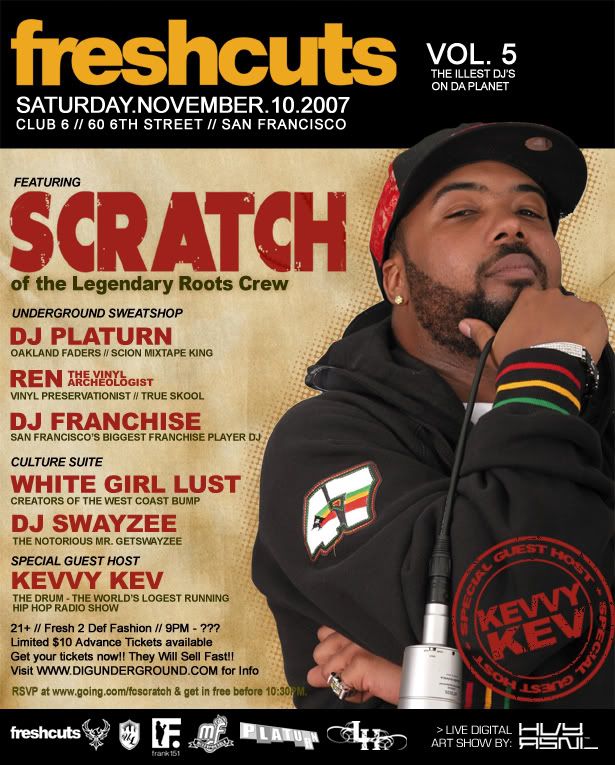 -I can't think of a better one to end on, to bring it all full circle than this edition of Check Yo Ponytail. This LA party turns to one of Philly's greatest, DJ Low Budget, to show y'all how it's done. Oh mang, I'm getting teary eyed thinking back to all of the amazing nights I spent with this guy providing the soundtrack. He's been touring with M.I.A., tonight he will spin along with Franki Chan and Paparazzi. That's not all, not by a long shot. There's also live performances by The Ponys, Chin Up Chin Up and Ting Ling. There's no other place to be tonight than The Echoplex (1154 Glendale Blvd). 10 pm, 18+, $10 advanced tickets.