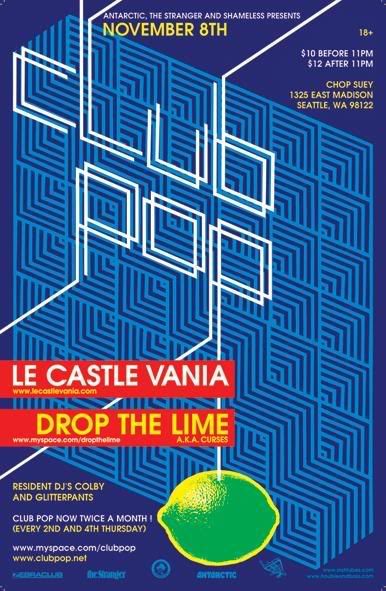 I'm feeling super inspired by the Oklahoma City party from last night's post, want to keep hyping parties going on in the cities less traveled here at
Pound for Pound
.
Club Pop
fits the bill perfectly, the bi-monthly in the land of coffee, rain and grunge, Seattle (assuming that you only know the city from the movie Singles) This edition looks to be an f'in monster, with
Le Castle Vania and Drop The Lime
, a.k.a.
Institubes' Curses!
, as the special guest DJs. That's some serious talent joining the
resident DJs Colby and Gutterpants
, should be an amazing night of dance floor mayhem. This one goes down tonight, and every second and fourth Thursday, at
Chop Suey
(1325 E. Madison), $10 before 11, $12 after,
presented by Antartic, The Stranger and Shameless
. P.S. We've mentioned a few things going on in Seattle, but definitely don't have a good sense of all the amazing stuff going on in the Northwest. Get at us if you can make the picture clearer.
-Mang, we are finna cover the whole country. Albuquerque, stand the fuck up! The
We Are Your Friends party
goes down tonight, and every Thursday for that matter, in the front room of
Lotus
(211 Gold Ave. SW, bwtn 2nd and 3rd),
formerly known as OPM
. It sounds like this is a test run for the club, to see what sort of interest there would be for this party, so don't wait around, head out tonight and show support to
DJs Brandon, Ethan and Paul
. $5 for under 21, no cover for 21+, no dress code, drink specials, the time of your life.
-Closer to home, my home anyway, one of my favorite NYC parties,
Unstoppable Perfect
, goes down in its monthly second Thursday of the month slot at
Happy Ending
(302 Broome St.). I've been hyping this for a while now, L Magazine has found the bandwagon, now it's your turn.
DJs rekLES and Sean M'F'N Roberts
, a.k.a.
the Lewd DJs
, will melt your faces with the various genres of music that one would find at an excellent mp3 blog, such as poundforpound.blogspot.com.
Hosted by Julius O. and Antwan of ithinkyoureswell.com
, this is seriously one of the nights in this city, it's that simple. For the boozers, there's two open, yes two, Bass Ale open bars: one from 11-12, the second from 2-3. What more do you need? Lovely flier, btw, great look and love having all the info right there. Yeah!
-You're other stop downtown tonight is Home Sweet Home (131 Chrystie St.) for the
Common Folk party
. This is a special one, as it's the first time I think that there's going to be a live band, as Lismore will be playing a set at midnight. Of course, Sweatshop Labor and Rage Mountain will deliver the usual dance party destruction, as they do every single week here. There's free Zygo vodka from 11-12, this seems like a perfect early part of the night stop, but I'm not a dictator, do as you see fit. No cover, 21+, lovely flier as well.
-For those who want something bigger or a little closer to the L or further uptown, there's always the
Cheeky Bastard Thursday party at Hiro Ballroom
(371 W. 16th St.@9th Ave). Tonight's another jammed packed line-up, definitely want to make sure to catch
Ed Banger's Mr. Flash
spinning later, one of the less heralded names from the amazing label and Paris scene. There's also going to be a live performance by hip-hop legend Masta Ace, plus DJ sets by Baltimore club-ers
Aaron LaCrate and Samir
. That's a really nice, eclectic bill, the GBH guys consistently impress with this night. On top of all that, it's a celebration of
the 20th Anniversary of legendary label Delicious Vinyl
and
the 150th issue of Urb magazine
, just in case you need something to celebrate. There's a Lucky Beer open from 10-11, 2 for 1 vodka drinks from 11-12 and 2-3, all for
free if you RSVP at the going.com site
. 21+, doors at 10 pm.
-Finally, in my heart's home Philadelphia,
Seclusiasis Thursdays
goes off at Sal's (200 S. 12th St.) tonight, as it does every Thursday. Tonight, resident
DJ Ghost
is joined by
Isaac Jordan
for a night of the heavy bass music, lots of grime, rap, dubstep, booty, you know the stuff. No cover, $1 PBRs and $3 mixed drinks until 11 pm, 9-2 am, check it out.