Hard to believe, but it's nice to be back in New York City. Clearly, people wanted to celebrate my return, as there seems to be more going on tonight than there has been in a while. Let's start off with the
Disco Down party at Happy Ending
. I must apologize to Jeremy first, the man behind this party, i.e.
DJ Bastard
. I mistakenly attributed it to his DJ partner for the
NC-17 parties at Lit
,
DJ Jess
. I was wrong, but I wasn't wrong in recommending this as a necessary stop for your Tuesday night. DJ Bastard and host
Marika a.k.a. Sparkle Nation
do this one every Tuesday night at one of my favorite spots in NYC, expect lots of good music from the genres of Britpop, disco, indie, and new wave. Sounds good doesn't it? No cover, 21+, doors at 10pm, open bar from 11-12. The
Six Six Sick party
is in the basement too, this has the potential to be a really amazing event, so get behind. And me, I need to get my facts straight.
-Speaking of Lit (93 Second Ave) sadly tonight is the final ever Rebel Rebel party there, the night dedicated to the music of David Bowie.

-A lot of people don't know this, but post-crunk was actually my concentration for my English major. Think of tonight's party at the
Southside Speakeasy
(245 S. First St.) in Williamsburg as a 6-hour recitation with the coolest, most talented professors/TAs in the city,
Lauren Flax and Social Work
. They will take you to school all night on the various party tunes that have come out in the last few years. No cover, 21+, $1 PBRs.
-Close by in the hood, a
new Tuesday night weekly at Hugs
is getting started called
Do It
. I'm not gonna lie, I love the name of this party, I feel like I use that exact phrase here often at
Pound for Pound
(I'm actually not sure, since I don't read this blog, just a hunch I guess).
Resident DJs Supervixen of Now That's What I Call A Party! and Carrie White[noise]
will bring you a night dedicated to dancing and getting drunk and making Hump Day a real struggle. You're only young once, though, so stop complaining! Expect a great night of music of electronic and punk music and everything in between. They've brought in a special guest for this one all the way from London,
DJ Squideyes
. Don't let the name scare you, the dude will fit in perfectly with the night, should be an excellent set. No cover, 21+, this is definitely going to be a great look on Tuesdays for Brooklyn.
-Back in the home city I just left, two nice weekly parties to choose from. First, another great-named party,
Girls Rule Boys Drool
takes over
Sal's
(200 S. 12th St).
DJs Scotty Ack (nee Too Dope) and Diamond Girl
will resolve the eternal battle between men and women tonight, or at the very least, throw a great dance party and make your Tuesday rad. No cover, 21+.
-A little further West in Center City, you can land on
Sex Planet at Bar Noir
(112 S. 18th St.) The
Turbostation DJs - Steven Bloodbath, Strawberry Mansion, Jacci Stallone and Oh Murder Inc.
- provide a world of slow jams, classic rap, indie, whatever pops into the heads of the many DJs in the house for this one. This one's each and every Tuesday as well, good to see Tuesday making a case for your weekday night out in Philly. Yeah!
-If it's Tuesday in Chicago, it's
Outdanced
time at the
Funky Buddha Lounge
(728 W. Grand Ave) Tonight,
Avant Trill and Odd Obsession Movies
has brought in
DJ Skyrka, a.k.a. Erika from the band Office
, and
Rene Gold Metal Romero
to keep the dancefloor moving. The $1 drinks should keep said dancefloor swaying and spinning.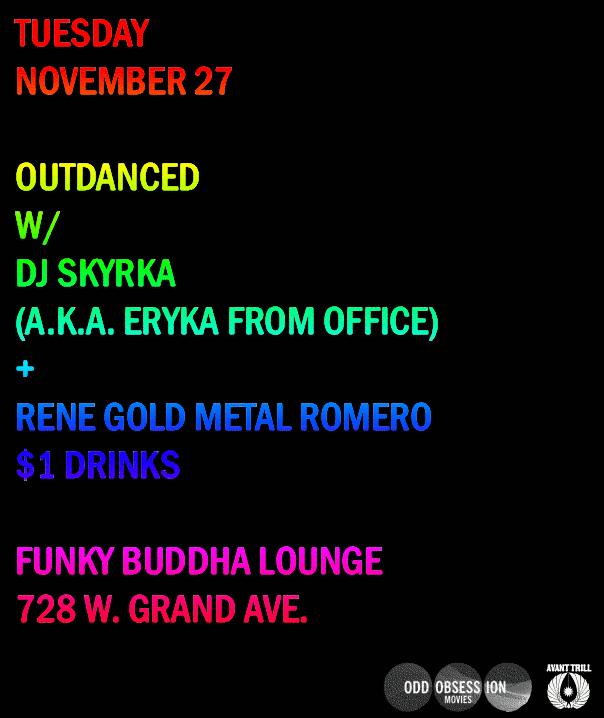 -In Dallas, Texas, a new club called Dolce is opening and they had the brilliant idea to bring in the LA Riots to destroy the place on the first night. Presented by Be Scene Productions, this
-Back in LA, the
dANCE party at Arena
(6655 Santa Monica Blvd) keeps on impressing with its DJ line-ups. This time, everyone in LA is gonna want to see this up to catch headliner
Tronik Youth
, another of the amazing DJ/producer/remixer working in London. This is the second stop of a mini-LA tour, catch him while you can as he will be leaving sweaty, tired dancers in his wake. He joins up with some of LA's best,
Paparazzi, DJ Hyphy Crunk, Joaquin, Bip Jeffington, DJ Score and Bul!m!atron!
for another huge Tuesday night. Doors at 9:30, 2 rooms, free parking, smoking patio. $5 before 10:30 with a flier (
print out here
), $10 after
-Finally, another great San Fran party jumps off tonight with the
Hold Yr Horses party
at Aunt Charlie's (133 Turk and Taylor) Brought to you by Bigstereo.net, Rchrd Oh?! brings you the best of new indiedanceelectronitemusic every second and fourth Tuesday, all for a measly $3! Yeah!