It's here, one of the three biggest parties nights of the year, or ratrher it is for the cousin you are going to see tomorrow and the douche-y lawyers back home in Jersey. For my dear readers, I know that this is just another night supporting all of the great DJs and party people, offering you the bizarre chance to pretend you are back in high school, waking up hungover in your childhood bed. Anyway, let's get right to business, short and sweet tonight,starting from where I am and expanding out. Oh, but wait, I'm not in Brooklyn! I'm in Philly! Dave P & Pink Skull are moving his [click.] party to Fishtown, taking up a spot in the monthly lineup at the new Barbary. They've got special guest David Gilmour Girls from Relish Records, the regular dose of nitemusic, they may have a special blogger in the house. 21+, $5, Philly, give thanks, freak out!
-The
White Ts and White Belts
guys -
Emynd and Bo Bliz
- are doing The Pre-Thanksgiving Jump Off at the RUBA club (414 Green St). This one goes late, until 3:30, but you know it's a small space and it fills up quick, so get there early to make sure you get in and enjoy cheap drinks and good music.
-For those who really dread tomorrow or who could care less how hungover you are when you do hang with the family, hit up the late-late night party at Frantic nightclub at Post 153 (24th & Passyunk) where dev79 and Darrell Asbury will give you a healthy dose of booty music that you can store away in your head and return to at dinner the next night. Free before 2 am, $10 after, party goes until 6 am.
-Near my current home, the FUN party does a special Wednesday version at Studio B (259 Banker St.) for the holiday. The Bangers are spinning with Devlin and Darko of Spank Rock fame, best of all you get a live performance by Kap10Kurt from the amazing NYC label Plant Music. RSVP at funrsvp@gmail.com for free entry, $5 otherwise, 2 for 1 drinks from 2-3, 21+, doors at 10 pm.
-LATE ADDITION: Sweatshop Labor comes through at the last minute with a party at Hugs (108 N. 6th St.) with DJ Kevy. Williamsburg, be thankful that these guys are around keeping things interesting in Brooklyn and that this place just opened and has brought the hood back to life. Yeah! 9-4am, no cover, 21+.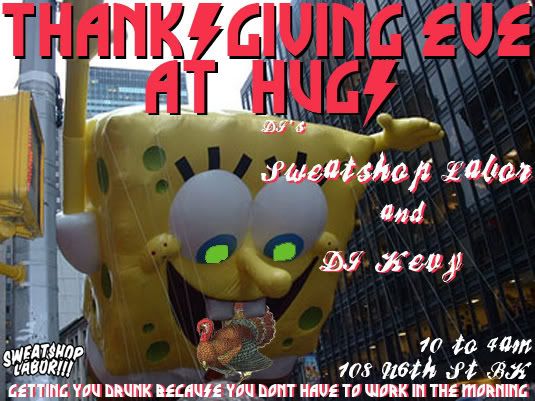 -We can't choose our families, but if I could it may very well be the people behind the Family Affair party -
DJ Dances With White Girls
, host and future NYC party empress Lorraine Sangre and bartender Nikki Sneakers. They will be holding down the basement at Lit (93 Second Ave), getting you drunk and happy and allowing you to forget that you have to hang with your real family tmrw or that your family didn't want to see your ass this year. BTW, if you can name where the image above DWWG's head comes from, you can request any song you want.
-It may be a big, special night for the amateurs, but for us, it's a Wednesday night. Therefore, it's High Voltage. The party's moved to The Annex (152 Orchard),a much bigger space, which means more people can check out one of the best weeklies in the city. My Brooklyn brother Dimitry and Jason Hates You have a live performance from Vampire For Hire, some special guests and the equivalent of turkey on Thanxgiving, Zygo open bar from 11 until its gone. I mean, you know the deal, let's do this people!

-Happy Ending keeps impressing me with their weekly party line-up. This Diabolik party looks to fit perfectly where Pound for Pound's head has been. Darkwave, electro and industrial, served up by DJ Patrick, Ian Fford and .DZGRA, no cover, free Bass Ale from 11-12, plus free Vitamin Water and energy drinks all night. Shout out to the Revive Fruit Punch Vitamin Water, best drink ever, get at me Vitamin Water people, glad to hype it for money and/or free drinks. Anyway, if you want some hip-hop, mash-ups and the like, head upstairs where...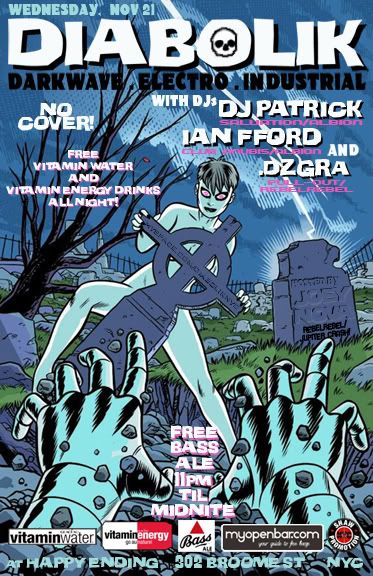 -Cousin Cole, Rev McFly and DJ Morsy will give you just what you need. Open from 11-12, 21+, no cover for all of this funness in one space.
-For my NYCers looking for something big and massive and packed to the gills, I'd recommend the
YoYo party at Love
(169 MacDougall St.), which has a special live appearance by
Mark Ronson
himself and
Rhymefest
. Resident DJs at the London version of this party,
Seb Chew and Leo G
, are spinning with guest
Aaron LaCrate
, should be an insanely fun night, going from 9-4 am. $10 before 12, no clue about after, I'd recommend getting there early regardless as I imagine this will be a big draw with so few big name events going down.
-Cambridge, get ready for the big day and Bass Your Turkey. I mean, amazing flier and party name, love it! DJ Die Young, Knowlton Walsh and Matthew Savant take over Shine Lounge and will give thanks to BASS, just as the Pigrims did, not far away from here. 19+, no cover, 9-1 am, this is Boston.
-I give thanks for Chicago, as they have kept the party posts constantly supplied with amazing events this year. I also give thanks to Chicago house every day and therefore I give thanks to
Green Velvet
. If you are in Chicago tonight, say celebrating with your family, staying at your grandma's place, sleeping on an air mattress, get to this!
Smartbar 25th Anniversary
! Green Velvet live in Chicago for the first time in 5 years! Like whoa!
DJs Sombionx and Dysqo
are also there, you need to be at Smartbar (3730 N. Clark St.) too. RSVP at the going.com site, $15, 21+, 10-late. Yeah!
-Check out Mamby at Moonshine (1824 W. Division Ave) also, where Sativa, Hiroki, Trancid of Dark Wave Disco and Chris Santiago provide the perfect start to the night, as things kick off at 8pm. From 8-10, it's make your own margarita/mojito, which sounds like a dangerous concept, but I trust the party pros. 21+, this one goes down every Wednesday night.
-I dream of a Robotic Thanksgiving, passing the cranberry sauce to a mechanic being who thanks me with a vocodored voice. In the meantime, I'm happy to settle for the
Robotic Thanksgiving at Electro Lounge
(5929 N. May Ave) in Oklahoma City. The Dance Robots, Dance DJs and DJ Sam Sam will play robot music all night. $3 or free if you dress as a pilgrim or Indian, 21+w.

-Mang, Seattle might be the place to be tonight. I like everything about this
Loose Joints party at Moe Bar
(925 Pike St.) Amazing flier, amazing. "Italo Disco and Classic Dirtbag"? Yes, please. Great guest DJ, Rezound from NYC. Great resident in
Pretty Titty
. Party named for classic Arthur Russell project? Check. No cover? Thanks.
Presented by Death of the Party
every fourth Tuesday, we will definitely keep up on this one.
-You'll also want to check out Hot Mess, which returns to Neumos (925 E. Pike St.) Resident DJs Colby B and L.A. Kendall, special guest DJ Barbeau of Dirty Sanchez and D$ have prepared a dance feast that will have you giving thanks for 4/4 beats and remixes. No cover, 21+, doors at 9 pm. For the record, these two parties are right next together, no excuses Seattle!
-Lots going on in the LA area, let's start off in Riverside where the Liquid Wednesdays party happens at Sevilla's (3252 Mission Inn). Give thanks that Le Castle Vania is the special guest DJ, dude is one of the best in the game now and will melt your face. Damn, you also get Eli Smith and Mr. White, plus residents Mochee, Nineteen and M@rio, lots to be thankful for. 18+, 21+ to drink, doors at 9 pm.
-Like I said, it's a Wednesday night for us, so it's time in LA for Club Moscow at Boardner's (1652 N. Cherokee) Keith Wilson has put together a bigger-than-usual night this week, with DJs Keith 2.0, Mr Sleep and DJ (N) and guest Black Light Odyssey, plus bands Black Palms, Pink Enemy and The Mulhollands. Free before 10:30 with flier, everyone is young and beautiful and you will feel that way too for a night. Now, that's something to give thanks for!
-Finally, the pick of the night in the LA area is this MUTE vs. Busywork party at Detroit Bar (843 W. 18th St) in Costa Mesa. Tons of DJs - VNDLSM, Skeet Skeet, Luv Tek, Dan-O, Chris White, Dan Sena, GMO, Mr. Hands and Legit - plus a live show by Pony Boy Curtis. RSVP to muteoc@gmail.com for $5 admission, $10 otherwise. Shadowscene will be taking photos, you will be having fun, all will be right with the world.