Tonight's on some LA vs. SF for event of the night, battle of California, I decided to lead with the San Fran jawn cos I think I may move there.
BPM Magazine, Blow Up SF, L Star and Harlot
have decided to beat the holiday party rush by throwing before December even starts! Okay, RSVP right now to Linda@overamerica.com, before you even read who's gonna be at this party, you trust me, right?
The BPM Holiday Party
is guest list only, so it's the only way to get the chance to go to an amazing party, so send the email! Okay, with that out the way, it's time to tell you that the special guest DJs tonight are actually from Los Angeles, which hopefully alleviate some of the intra-city tension.
LA Riots and Them Jeans
join up with San Fran's own
Jeffrey Paradise (a.k.a. Jefrodisiac from the Frisco Disco)
for an amazing night of dance music at Harlot (46 Minna St.)
Hosted by The Rachels, Rachel Esterline & Rachel Mann, photos by Silke Labson
, it doesn't get much better than this San Fran.
-Here's the other great Cali party, again featuring lots of Pound for Pound favorites. It's called Get Low and it's a new Wednesday night party for everyone in LA. The
resident DJs
-
Luv Tek, Joaquin and Hyphy Crunk
- are rising local stars , although I feel like they've already kinda risen a lot. For tonight's grand opening, you get a special, late-addition set from the Tronik Youth duo, along with local stars DJ Paul V. of 103.1 Neon Noise, Royal Rumble and Classixx (formerly known as Young Americans) It all happens at Crash Mansion (1024 S. Grand Ave), which features 2 stages with dance floors, 5 bars (!!!), outdoor terrace, the place fits 1500 so it's up to you to fill it up!
RSVP here
and get in for free before 10:30 or for $5 before 11, 18+. 500+ people already signed up, don't be left out!
-For those of you caught in the crossfire, I recommend the Databass party in San Jose tonight. The Missingtoof.com guys, Basura and Disaster, will be bringing you the best of indie electronic music, expect to hear lots of the stuff they post up at their excellent site, but instead of listening to it in your room on your shitty headphones, you get to hear it a bar on a nice system with friends. Win win. Doors at 9pm, $2 cover, 21+.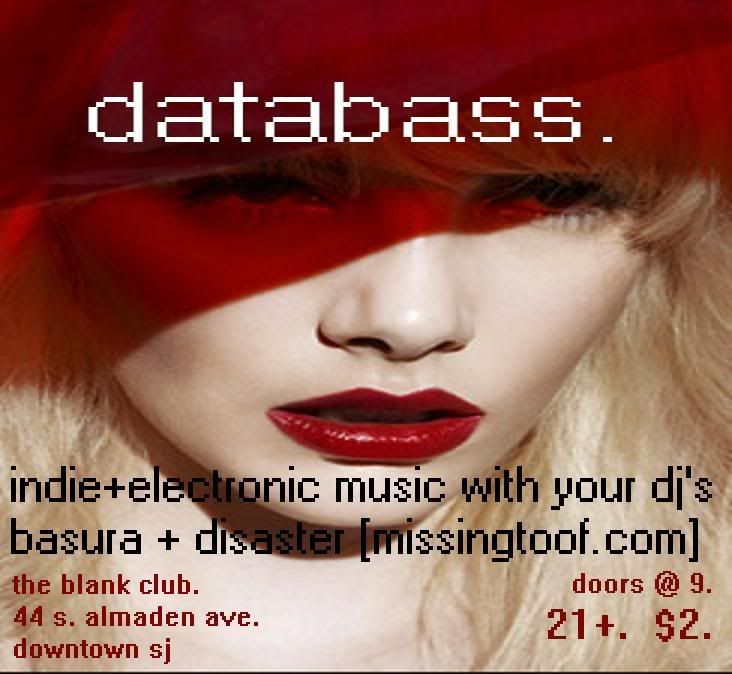 -This Wednesday party with the Tactic guys at NARA in Kansas City, Missouri serves as a nice segue from West to East, love a good segue. Anyway, they say that this is "officially the most fun thing to do in KC on wednesdays." I'm not one to argue and I like the confidence. The duo will be spinning disco, funk, electro, new and old. The place features a reverse happy hour which lasts from 10-12. I have no idea what a reverse happy hour is, but how bad could it be when they promise drink and food specials? Doors at 9:30, goes til 1:30am, 21+.
-Yeah!
The Barbary
(951 Frankford Ave) parties finally have fliers! Yeah! The new venue in Philly has been putting together all kinds of nice-looking stuff and now they are adding nice-looking fliers and the world seems right. Tonight is
Doyle and Devore
featuring
Chris Doyle of the A-Sides and Don Devore of Souls She Said and Ink & Dagger
, who will alternate between DJing and bartending, the equivalent of running a triathlon in the nightlife olympics.
-The grind don't stop for
DJ Scotty Ack (TooDope)
, as he's back at Sal's (200 S. 12th St.) for his
Riot! party with Ryan Todd
. You know I love exclamation points, you know I love free PBR and while I don't love Scotty, I think that he is an excellent DJ who is another great addition to the Philly scene. No cover, 21+, the free beer is from 11-12.
-
-You know I love me some High Voltage! Well, I'm super psyched tonight as Dimitry!!! has brought in guest
DJ Sam Sam from the
Dance Robot, Dance crew of Oklahoma City
. I've recently caught on to the good stuff these guys are up to, nice work by Dimitry to bring them to New York City. Again, this party moved to
The Annex
(152 Orchard St), but everything else still goes - open Zygo vodka bar from 11 until its gone, great music, people actually dancing, young, beautiful people being young and beautiful.
RSVP at the going.com site
, don't sleep on this one, have a feeling this one's gonna be a good one.