I considered having last night's Blow Up San Francisco as the top billing, but I figured that I would wait a night, move it to LA, add
The Glass live
,
James Fucking Friedman
,
Pink Skull and Acid Girls
, bring it to a boil for 6 hours and voila! A rager.
Anne Lee, Shadowscene and Metromix
have put this one together and it really should be massive, what with The Glass performing live, the Throne Of Blood head honcho Friedman, the Acid Girls and Philly's own Pink Skull,
Sleazy V, Bul!m!atron and Eli Smith
all spinning. Thankfully, this one goes late (4 am), meaning everyone should get a chance to blow your mind with dance music. RSVP to BlowUp@princehouserecords.com, then head to the Pico Lofts (316 W Pico@Olive) to the spot (it doesn't appear to have a name), $5 before 11 with the RSVP, $10 after, 18+.
Blow Up LA!
-Back in San Fran, there's no sleep for the wicked, as two cool parties go off. First, the
Frisco Disco
continues to serve as the perfect outlet for anyone looking to end the night, drunk, sweaty, half-naked and happy. To help achieve that,
Richie Panic and Jefrodisiac
have brought in two special guest DJs,
Montreal's Hatchmatik
and
LA's Gina Turner
, who will have The Transfer (198 Church St.) going crazy. It's free before 10:30, only $5 the rest of the night, 21+.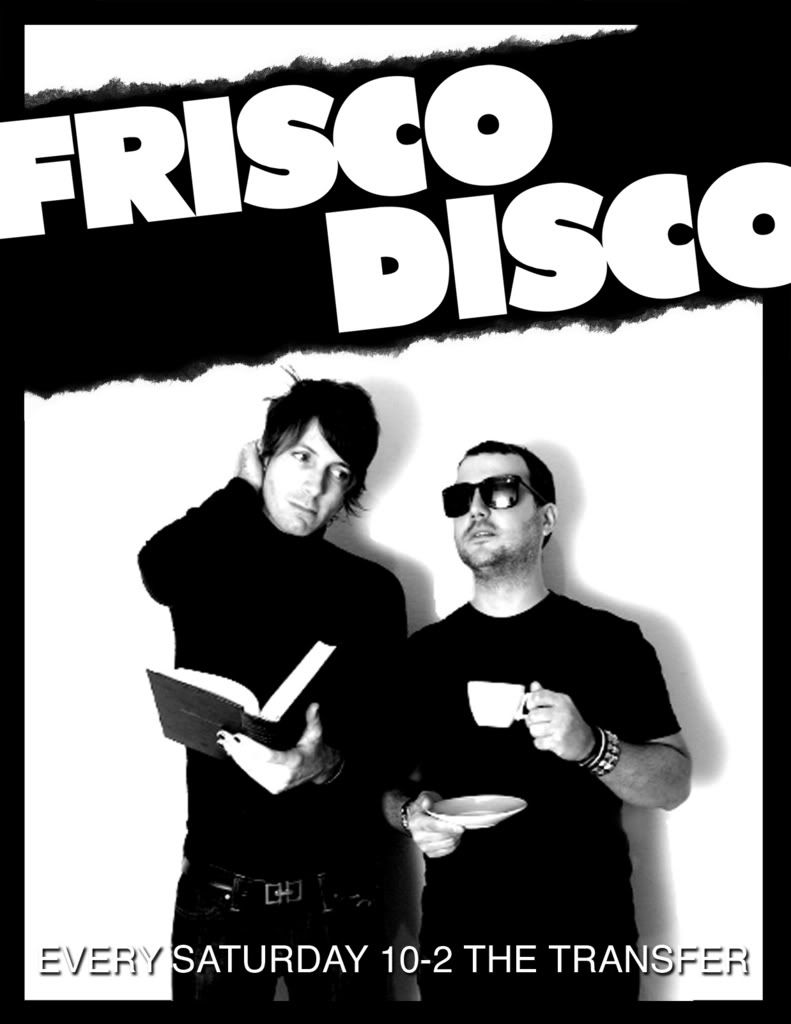 -You'll also want to the Beauty Bar (18th & Mission) for the
Bad Habit happy hour party
. Unfortunately, I don't know the details on this one, i.e. if it actually is going down right now, earlyish, or what. But,
Rchrd Oh?! of Big Stereo
is spinning, so it's definitely worth a stop, perfect lead-in to Frisco Disco. Big night, San Fran, have fun!
-Moving across this great country, it's time for another Too Much Love in Minneapolis and it looks to be massive. The Now That's What I Call A Party crew makes its last stop in their Midwest tonight, sure they'll want to end with a bang before heading back to Brooklyn. Who's they? Todosantos, DJs A:/, Supervixen, Purple Gold Pony, Pharaoh and Peach, that's who. Of course, Soviet Panda will hold it down for MPLS, get to First Avenue (701 First Avenue N) and see who comes out victorious. $3, 18+, doors at 10pm.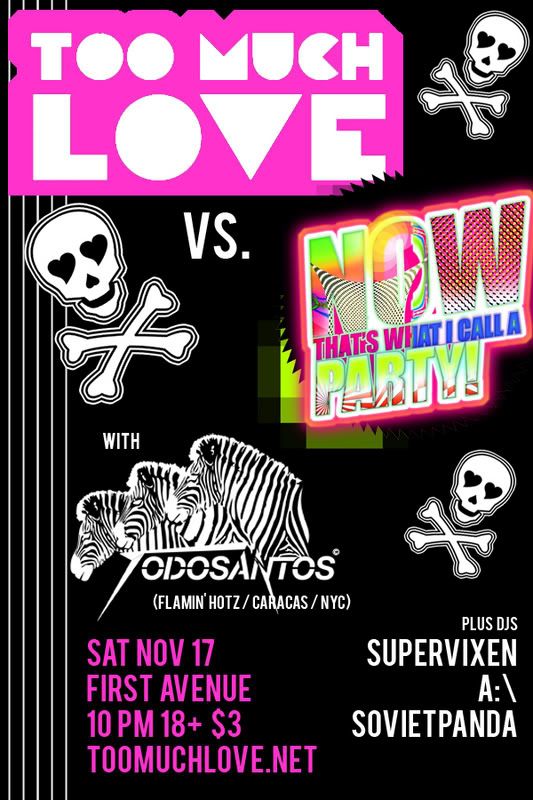 The party isn't stopping at 2 am, though, as Dance Fresh Inc. is presenting a special Minneapolis edition of Now! That's What I Call A Party, as all of those people will move to the 117 Studios (117 Washington Ave N) and party until the sun comes out.
-Chicago, there's always something cool going on, lots of dance parties and big DJs, it probably gets a little hectic and intense. Here's your chance to relax a little and stay smooth, as Stay
Smooth VI: Last of the Smooth-icans
takes over the main room at
Schuba's
(3159 N. Southport Ave.) for a night dedicated to yacht rock. My bol
Bald Eagle and DJ Stv Slv
are going to spinning music from the likes of Steely Dan, Toto, Michael MacDonald, ELO and much more. Listen, man cannot live on booty music, acid house and electro bangers alone. He needs a chance to relax and listen to 70s AM rock and 80s FM pop in order to feel complete. You also get a live performance by local band Bronze, who won't upset the smooth vibes. Smooth attire is recommended, i.e. ship captain's hats, tight pants, jean shorts, knee-high socks, sandals, you get the idea. 21+, the ship sets sail at 10:30, $5 to board.
-It's all about the 90s tonight in Williamsburg, as
Lauren Flax
has started a new party with
Le Tigre's JD Samson
called
U.N.I.T.Y.
dedicated to the music of that amazing decade when everything seemed easier. This one's gonna happen every other Saturday at Hugs (108 N. 6th St.), can you feel that? It's the rumblings of Brooklyn coming back, people! Get psyched for this! Lauren Flax! JD Samson! The 90s! U.N.I.T.Y.!
-There's also a new party going down in
Providence, Rhode Island
and it's called
The Get Down
.
Knowlton Walsh
is going to be spinning lots of music to make you dance, indie, electro, 80s at Local 121 (121 Washington St.) It may be the tiniest state, but that doesn't mean the parties are. No cover, 21+, look for me to finally get dudes mix up soon.
-Finally, it's a huge night in Philly, with three really great parties happening all over. First, a long-running party that we've never mentioned before for no good reason,
Tech Support
happens as it does monthly at the
Bubble House
(3404 Samson St.) on Penn's campus.
Resident DJs Kenny Raw and Properganda
are joined by
Philadelphyinz APT One, a.k.a. Mikey Dreidels
for a night of pure, unadulterated funk. Dock Street drink specials, 21+, no cover, a simply amazing flier.
-At Transit, Brooklyn invades Philly tonight in the form of The Rub. Cosmo Baker, DJ Eleven and DJ Ayres are headlining this week's edition of Paper Street and Simplefly's Mad Pu$y party. Representing the 6th Borough in the main room is the Broadzilla crew, who will open from 10-1, good to see those guys back with a vengeance. There's three floors, tons of bars, so much good music,
RSVP for reduced entry
, goes until 3:30, 21+.
-No flier for this one either, but you'll want to check out the first official monthly at The Barbary (951 Frankford St). It's called Bounce! and it's presented by Bo and Emil of White Ts and White Belts fame. You know how they do it, lots of hip-hop, Bmore club, dancehall, mash-ups, some surprises, they will definitely take advantage of the amazing soundsystem in the club and blow your ear drums out with bass. $5 to get, $1 well drinks and $3 citywides until 11, good new party Philly. Get into it!
-boys noize