Well,
Pound for Pound
is still on the DL, stuck inside on Friday night with jealous boots. Since I'm such a self-loathing masochist, I figured that we'd start with all of the amazing shit happening within blocks of my apartment and work my way out. First stop is a 2 Live Crew record's throw away and it's a good one. The most excellent blog
Palms Out Sounds
are putting on a little party at Hugs (108 N. 6th Street) that should be completely out of control in a good way.
Bangers and Cash, Benny Blanco, Purple Crush, Todosantos, Sweatshop Labor DJs, Estaw, Chew Fu Phat, Mr. Johnson, Hubba Hubba, Boody B & Chaz
and special guests will form like Voltron tonight and transform into a massive, sweaty drunken bash. Free before midnight, $3 after, doors at 10 pm, 21+ (or bring a good fake and none of that New Jersey shit everyone had in college).
-I also desperately want to hit up the
People Don't Dance No More party at Studio B
tonight. One of my favorite parties in the city is making its first foray into the Brooklyn territory, it comes in peace with disco, house, electro and dancing. Headliner tonight is
Dan Selzer of Acute Records
, an amazing producer who I feel like doesn't get anywhere the attention he deserves. Here's a chance to check him out at one of my favorite spots joined by three of my favorite DJs in NYC -
Wurst Edits' Jacques Renault, Dave Bruno of Slap You In Public and Eamon Harkin of FUN
. This is like a dance music version of the Yankees' 1927 line-up. RSVP at peopledontdancenomore@gmail.com, no cover, $4 beers all night, 2 for 1 drinks from 2-3 am, 21+, it's a disco Brooklyn!
-The final stop of the night is another favorite, the
Finger On The Pulse party at Royal Oak
. My bol
DJ Never Forget and Terry Diabolik
have invited
Portland's Hoop Dreams
to town to join their danceathon in the bar that kinda looks like a house when you pass it. Oh, but don't let that nice exterior fool you, dirty, filthy things are going on behind that door, you just need to take the blue pill and step forward. No cover, 21+, another amazing flier. Yeah! Williamsburg!
-Across the river, lots of good things are going down as well. Let's see, there's no flier, but I cannot recommend more highly the Stop Progress party in the basement of APT (419 W. 13th St.) Resident DJ Max Pask has invited the amazing DJ Naughty to come from Berlin and melt your faces. It's $10, take a chance as this is a special one.
-Okay, so you don't want to go to the Meatpacking District, understandable. Head down to the LES instead, where the Lewd bols will take care of you at The Skinny (172 Orchard Street). rekLES and Sean M'F'n Roberts will spin music that makes you want to do dirty things. This one happens every second and fourth Friday, no cover, 10pm-???, $3 well drinks from 11-12, take note of the ??? marks. Y'all know that I'm a big fan of this party, I can't think of a better spot for the latter part of the night. Or hell, for the early and middle parts too.
-Like a half a block away,
the Ruff Club
keeps on truckin' at The Annex (152 Orchard). This is a tough city to be a weekly, as everyone gets so bored here with cool things after so long.
Spencer Product and Denny Le Nimh
seem intent on not letting that happen by bringing in some great DJs week in and week out to the main room; tonight,
Alexander Technique of DJs Are Not Rockstars
headlines, but you're gonna want to make sure to catch
Sleazemore of San Fran's Lights Down Low party
(see below), as dude will make your Friday night so much better. Down in the basement, Japanster and Danzie are spinning, and the regulars will also be in the house. Free Svedka from 10 until it's gone, $10, hosted by Sophia Lamar.
-I'd also suggest checking out Club 205 (205 Chrystie@Stanton), where two of NYC's rising stars, Team Facelift and No Surrender, play live. Doors are at 9, so this should be a great start to the night.
-If you'd like to have a more relaxed night, head to the Stanton Public (17 Stanton St. btwn Bowery & Chrystie) where Frog, a.k.a. Dances With White Girls, is going to be spinning all night, expect lots of indie, britpop, punk, 80s tunes.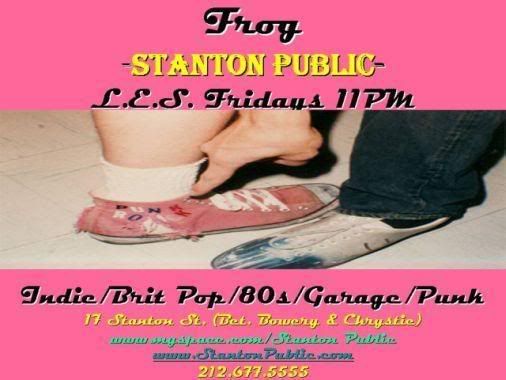 -Secretly, I just wish I was home home in Philly. The PiLam house (3914 Spruce St.) at my alma mater UPenn has been throwing some of the best parties in the city for the past few months, from the Bang Gang DJs to The Holy Ghost, this one doesn't have that sort of star power, but it'll give you a chance to realise what a great place this is to party and freak out. It's the Normal Love CD release, Yukon, Bad News Bats and Snowstorm also will play live, not sure about DJs. $5, presented with the radio station I once DJ'd at WQHS. Ahh, memories
-clapperjaw
-Okay, tonight was a great flier night, but this one for
Lights Down Low
is a work of art. I mean, whoever does these fliers should have an exhibit or something, as they are on some genius shit. Anyway, this party will be as good as the flier with the San Fran debut of Sleazy V. He joins resident DJ Rchrd Oh!? and guests Omar and Forever 21 for this rager at 222 Club (222 Hyde and Turk).
-brrokly berlin