Okay, this is a first. We're gonna lead off with a party that has no flier. What!?!?! That's right, in the blogosphere, rules are made to be broken, that's just how we do. Tonight is
the (re)opening night of The Barbary
(951 Frankford Ave.) under the new management of
John Redden
. I cannot tell you how cool a thing this is, as it's a club owned and operated by a DJ that will just be an amazing place to party and hear some of the best DJs in Philly and beyond. Tonight is the grand opening and to celebrate
DJs Dave P, Ian St. Laurent, emynd and Bo Bliz of White Ts and White Belts, Gregg Foreman, Mike Z, Designer Drugs, Scotty Too Dope
and the man himself, JHN RDN will all spin. You, you have to pay zero dollars. Philly, get psyched for this! This is a super rad development, but you need to go out and show some support early and make the potential live up to reality. Yeah!
-Okay, I lied, it was kind of scary not having the support of a flier. Ah, and such nice info on this flier. It's Thursday night Chicago and therefore it's time for another Thursday with
Dark Wave Disco
at
Debonair Social Club
(1575 N. Milwaukee Ave.) This is a special for two reasons. First, it's founding DWD member Mark Gertz's birthday, so make sure to wish him a happy birthday and thank him for starting one of hte best parties in your fair city. Secondly, Ms.
Lauren Flax of White Lightning!
is in town from NYC and she will make you dance and be happy. Seriously, Chicago, what are you waiting for? Lauren,
Trancid, Mark Gertz, Greg Corner and guest C-Mass
will make this a special night, I can just feel it. No cover, 21+, Dark Wave Disco and White Lightning! Yeah yeah yeah!
-Wow, our girl is on the fucking grind in the Windy City, as she's also going to be doing a 2 AM set at
the Elevated party at Berlin
(954 W. Belmont Ave.) This weekly features
resident DJs Heather Doble of Sound Navigators and Zebo
, another great dance party Chicago. 21+, $3 cover, this one is a great late-night choice as it goes til 4 am. Electro house, Chicago classics, old schoo, can't go wrong with this one. It'll be like Berlin in there!
-You're also gonna want to stop Empire Liquors (1566 N. Milwaukee Ave.) for
Fly By Night #7
, as
residents Willy Joy and Capcom
are joined by more New Yorkers, in this case
DJ A:/ and DJ Supervixen
. More importantly, you have a chance to catch a live show by one of the next hyped bands,
Todosantos
, before the hype has gotten annoying. The Brooklyn via Venezuelan band has their first EP out on Flamin' Hotz Records, a great slab of hard-to-categorize punk dance music. The night is free and best of all starts at 8 PM, so make this the first stop of your night, head across the street for Lauren and DWD, then head home to bed. I should be a travel agent.
-"I'm going back to New York City...." I'd recommend making it a downtown night, as there are two nice parties, one classy, the other debaucherous. First,
the weekly Art After Midnight party
is happening at
The Gallery Bar
(120 Orchard St.), I've mentioned it once before, it's a dance party/gallery night, where you can check out the work of an artist, have some drinks, dance, meet boys and/or girls and talk about either art or dancing. Tonight you can check out the
photos of Ashley Gilbertson
and even better you can dance to the songs spun by the
Finger On The Pulse DJs
. Here's a chance to see them out of the natural Williamsburg environs, hopefully
DJs Never Forget and Terry Diabolik
won't get the bends before they have a chance to rock the proverbial Casbah. Presented by
Chris Alker and Sushi Steve
, no cover, 21+.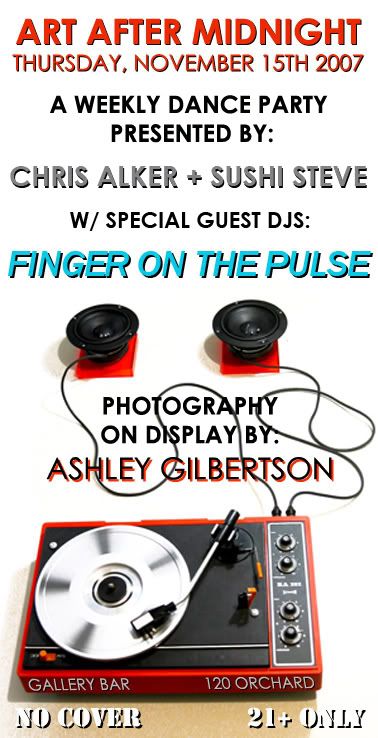 -Now, for the debauchery. Head to the basement bar Home Sweet Home (131 Chrystie St.), the Sweatshop Labor guys await you. They have a Sunglasses at Night party happening, they are waiting with great music, guest DJ AC Slater, free Zygo open bar from 11-12 and a safe place to make a fool of fool of yourself when the music and vodka set in. No cover, 21+, wear your sunglasses!
-If you stay uptown (or uptown in my view), hit up the monthly Degenerates party that Moby has started with Cheeky Bastard at Hiro Ballroom (371 W. 16th St.) Lots of big names tonight, something for every musical taste as well with Moby himself spinning, the Spank Rock DJs - Devlin and Darko + XXXchange - and Tommie Sunshine. There's a Svedka open bar from 10:30-11:30, then 2 for 1 vodka drinks from 2-3 am (yikes), so being drunk shouldn't be a challenge. $5 advanced tickets are available at GBH, 21+.
-Now, all the way over to the other coast, where the
Alive and Direct party in Costa Mesa
looks to be the class of the West Coast tonight. The main draw imo is
DJ Spun and Scotty Coats of NYC label Rong Music
, one of the best dance music labels anywhere. There's also a live set by Free Blood, featuring former !!! member John Pugh. In the back room,
Ryan Esca, Tea Long, Jay $ and BB Gunz
will spin as well, making this a jam-packed night at The Detroit Bar (843 W. 19th St.) It's only $5, 21+, make this happen Costa Mesa.
-Finally,
tune into Beta Records from 11-12 EST tonight
(okay, okay, 8-9 PM PST) to watch Daniel of LA Riots spin. After that, those in LA can see the man in person at the Swerve party rather than via a webcam. He's the resident DJ at that one, Don't Believe The Hype (DJs Obese and Sonuvagun) is the special guest. If the photos are any indication, this party features only cute girls in varying degrees of undress. If that's your thing, you may want to get to Scorpion (6679 Hollywood Blvd@Las Palmas) right now. No cover, 21+, 9-2 am.