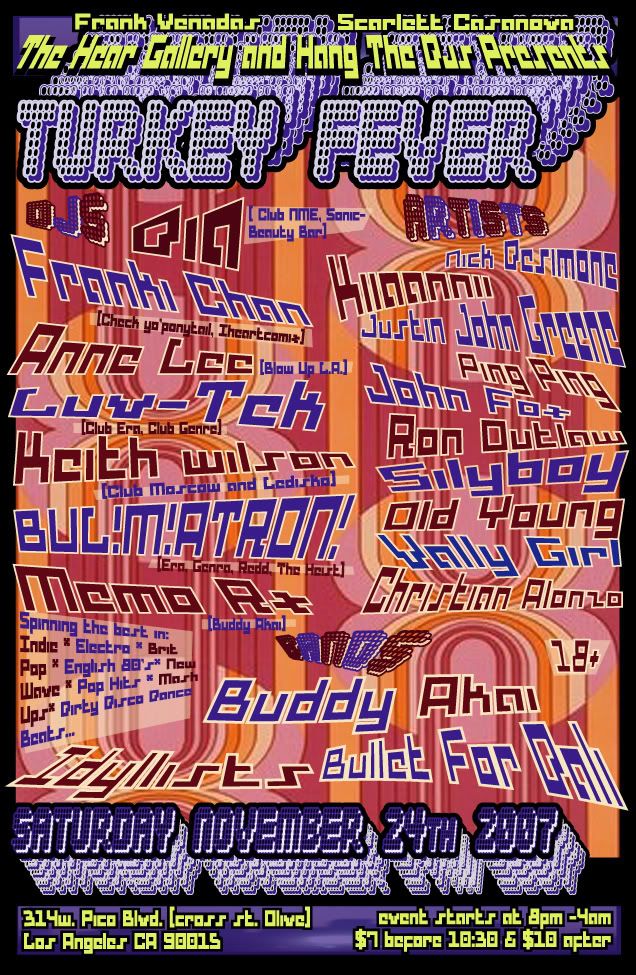 Okay, we're gonna get back into the swing of things, as the Thanksgiving holiday comes to an end. Since I'd rather be anywhere tonight than where I am, let's start on the opposite side of the country in LA for our party update. You've got it, I've got it, now there's a party to celebrate it -
Turkey Fever
! Clearly, look at the line-up, people really love turkeys, as this one is jam-packed with amazing DJs like
Pound for Pound
favorites
Franki Chan, Luv Tek, Anne Lee, Bul!m!atron! and Keith Wilson
, plus bands and artists. It's happening at 314 Pico Blvd, no clue what the name of the place is, I'm guessing it's a warehouse-y kinda thing, you know that we love those. Things get start early (8pm) and end late (4am), 18+, $7 before 10:30, $10 after. Hosted by
Frank Venada's The Hear Gallery
and
Scarlet Casanova's Hang The DJs
, this is the one LA. Get turkey fever! Yeah!
-For those not in the city, there's always Trust at the Proof Bar (215 N. Broadway) in Santa Ana. Tonight, special guests Dan-O and Eli Smith join residents DJ_SHH, Mr_Peaches and DJ Quantum at one of those rare parties dedicated to any and all electronic music, regardless of genre. Hosted by Whiskey Pete, it's free before 10:30, $10 after, rsvp@thekatstep.com to get on the mailing list and find out about what's coming up and how to get in for cheap. 21+, just don't call the area The OC, for everyone's sake.
-Or how about you Lose Control in Oakland with DJ Basura of the most excellent blog Missingtoof.com. This one goes down every Saturday night at The Uptown (1928 Telegraph Ave), $5, doors at 9 pm, 21+, special guests and great music.
-Speaking of losing control, you will at the
Frisco Disco
. You will, don't fight it, just let it happen.
Richie Panic and Jefrodisiac
are joined tonight by
Glass Candy
, who are going to be playing a live set for everyone. San Fran, do not miss this duo, you will have your mind blown by this
Italians Do It Better
act. They go in around 11, get to The Transfer (198 Church St.) when the doors open at 10. Trust me. 21+, 10-2am, Frisco Disco + Glass Candy = your Saturday night.
-It's not all West Coast, as the Midwest has a big night ahead too. First up, the
Too Much Love party in Minneapolis
has imported one of the West Coast's best DJ/producer/band member,
Blake Miller of Moving Units
, to make this an extra-special version of the weekly.
Soviet Panda and Dan Cruise
are also going to hold court, this party just keeps on doing it. As always, First Avenue (701 First Avenue N), 18+, doors at 10 pm, $3 or free with student idea. What are you waiting for, it's Saturday night, you already knew you were going here.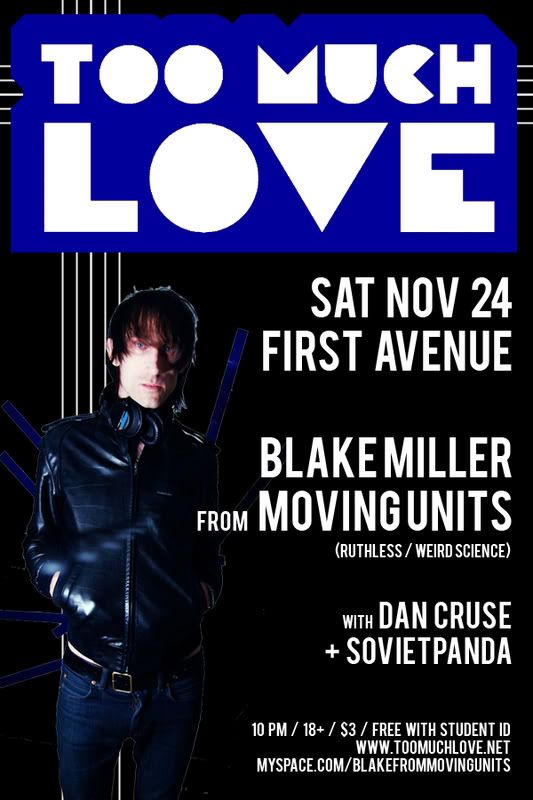 -Ahhh, yes, the original Pound for Pound Midwest favorite,
Life During Wartime in Chicago
, Illinois. It seems like just yesterday this was a tiny, little soiree in this fledgling city that is windy, featuring two young kids known as
Bald Eagle and Mother Hubbard
and now look at it. It's all grown up, taking over The Hideout (1354 W. Wabansia Ave), featuring special guests
The Republic Tigers
and
Ultra Sonic Edukators
, the talk of the town. G-d, I'm very emotional this weekend, I'm sorry. Hell,
this little preview of the party
had me in tears, hearing about the beginning days of the party and how it came about. 21+, $8, $5 after midnight, awesome flier, help legalize freedom.
-Down in the city that figures in one of my favorite (but not the favorite) Counting Crows song, Omaha, DJ John Bourke of the Dance Robots, Dance crew spins at Lit Lounge (209 Flaming Lips Alley). I cannot say for sure, but the likelihood of hearing a song by Mr. Duritz and company is as close to zero as you can get. You will hear the best in electro, indie dance and robot rock, all for $5, plus $2.50 well drinks and free keg party, yes, you read that right, keg beer! "Omaha, somewhere in Middle America, get right to the heart of matters, It's the heart that matters more. I think you better turn your ticket in and get your money back." Wow, that don't look good on paper, let this party make up for that.
-All's quiet on the Eastern front tonight it appears, except in Providence where The Get Down gets down again at Local 121 (121 Washington Street) Knowlton Walsh is holding it down all night with the bassiest, bestest music around, all of which goes nicely with the $3 Naragansett pints and food menu til midnight. No cover, 21+, 11-2am, get down!
-In my two cities that I am thoroughly sick of, hit up the Beauty Bar in NYC where Dimitry!!! will be spinning as he does every Saturday, while Philly should not miss the
Mad Pu$$y party at Transit
where
Spank Rock
is playing live and the
Taxlo DJs from Baltimore
(
Dave Nada, Cullen Stalin, Chris O and Simon Phoenix
) are in the basement with Brendan Bring'em and the drink specials are insane (ciroc vodka and whatever $2 from 10-1).
Buy a $5 ticket now
for guaranteed admission, this will be crazy and fun and is probably just what I need.
-Finally, we go across the ocean where I most want to be, for the We Are Your Friends party in Berlin at the 103 Club (Falckensteinstrasse 47). Mr. Ed Banger Busy P is headlining, D.C.'s own DJ People's Champion is spinning too, along with residents Benji Hanoban and Emil Doesn't Drive and guest Schowi. G-d, someone please get me a job in Berlin and/or Paris and get me out of this country. Stat!