Okay, I normally wouldn't do a party post on Sunday, but we've been a little slack the past week with staying on top of things and I know y'all want to go out and celebrate that miraculous Eagles victory and/or the scheduling of elections in Pakistan for February (only 4 more months of martial law!) Plus, tomorrow's a holiday for lots of people, so you can go out and make sure the weekend doesn't die yet! Let's start off with a new party from a DJ crew that we first mentioned last week, the

Dance Robots, Dance crew

in

Oklahoma City

. Tonight, two of the guys,

Joshua Distance and Chitty Chitty Bang Bang

, are gonna be at the

Electro Lounge

(5929 N. May Ave) for a cool, laid-back night of good music called Confession Sundays. Basically, they're spin lots of good music from all sorts of genres, whether The Clash or Daft Punk or whatever. In fact, they are more than happy to put on something good that you've brought, so bring your iPod or burn a CD of whatever it is that's been on repeat. There'll be places to sit and a mini-dancefloor, drink specials, 21+, no cover, 9-2 am. A great way to keep the weekend going in a relaxed and cool way, nice.

-From a new one to one of the first parties we ever mentioned here, Le Disko in LA. This one features lots of great LA DJs, including regulars Daniel of LA Riots, Keith 2.0, DJ (N) and Marshall Barnes, plus special guests for the night, DJs More Dillon and Ben N, a.k.a. Mr. Hands. They're taking over the Spider Club (1735 Vine St.) as they do every Sunday, bringing you lots of indie and indie dance and dance to start the week off right. Even better, tonight it can keep the weekend going one more night. Free before 11 for 18+ with a flier, free all night for 21+ with flier.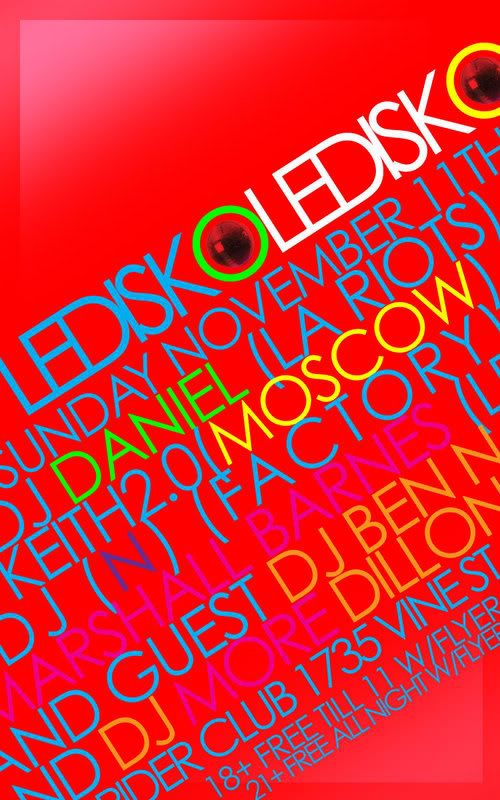 -Here's another ol' reliable, Club Era in Riverside, California. DJs S!n and Luv Tek have added another resident to the mix, Joaquin, creating a triumvirate as formiable as the one formed with Caesar, Pompey and Crassus. I can assure you that Caesar couldn't kill a dancefloor like these dudes. Head to Club Sevilla (3252 Mission Inn) to experience this for yourself, 18+, $5 to get in or become myspace friends and message them there to find out about guest list action. Dress nice, hail Caesar!
-Late update: tune into Gtownradio.com to hear the Seclusiasis Radio show from 11-1 tonight only. Normally they are on Radio Volta, but not tonight. It should be a good one, there'll be an interview with Vex'd of Planet Mu Records, a chat with Pavan of Sweden's Flogsta Danshall, plus Seclusiasis' Starkey and dev79 will spin the best of grime, dubstep, rap, the heavy, bass-y stuff.
Seclusias Radio
, every second Sunday of the month, 11-1, tonight on Gtownradio.com.