This one makes me extra happy. Two of my favorite party/DJ crews meet up in Chicago tonight, as Life During Wartime hosts the Sweatshop Labor bols in a Pound for Pound dream of match of sorts. I mean, I'm so psyched to see this one take go down, if you are in Chicago you really need to be there and go crazy. I mean, c'mon Chicago! Life During Wartime! Bald Eagle! Mother Hubbard! Sweatshop Labor! Johnsville! Lucas Walters!
-On the real, Chicago is just running this night, the rest of the country can barely compete. Let's see, there's The New Indie First Fridays at Sonotheque (1444 Chicago Ave), featuring special guest DJ Drop The Lime, a.k.a. Curses!, of Institubes and Trouble & Bass fame. He joins up with DJ Jordan Z and host Jillian Valentino for a night of bass-heavy music that'll have the indie kids dancing. RSVP at the.new.indie@gmail.com for $8 reduced admission, $10 without, 21+, $3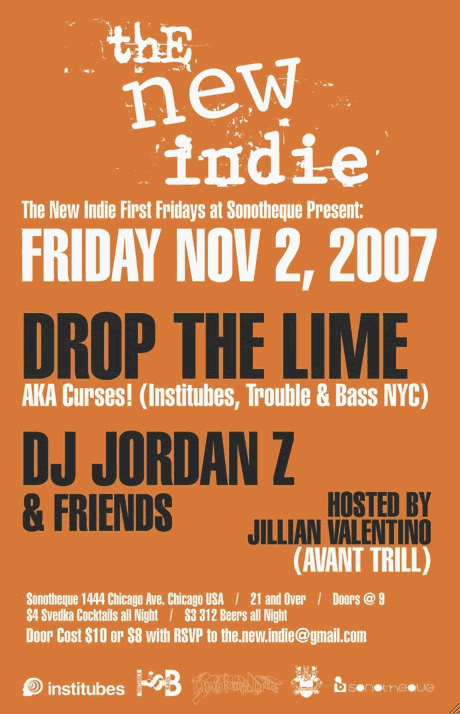 -Whoa, we're still not done. Smash and Crunch goes off againsmash crunch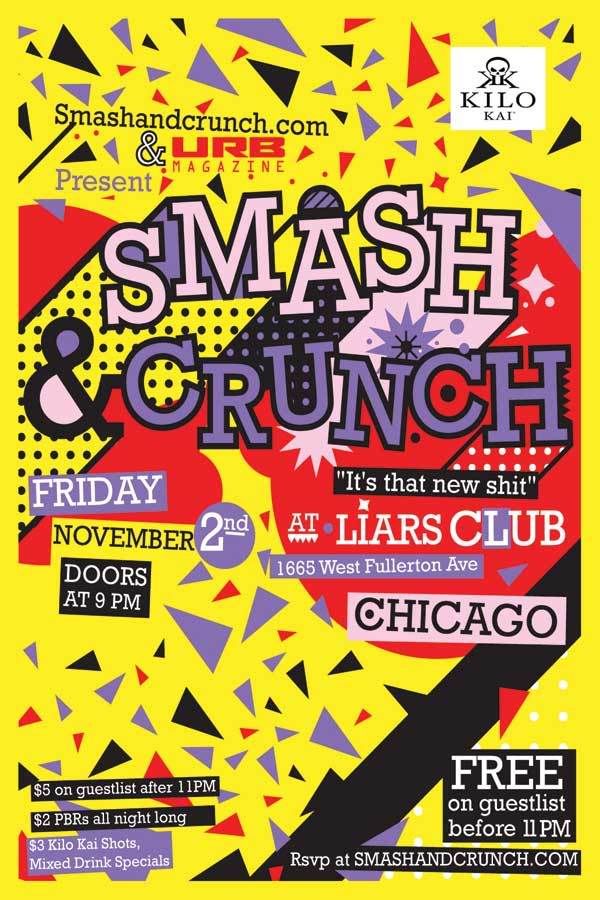 -Finally, Fridays at Debonair (1575 N. Milwaukee Ave) looks to be a good spot all this month. They're starting things off nicely, as the Dark Wave Disco-ers Trancid and Mark Gertz join the residents Heather Doble and Ryan Paradise for a dance party, plain and simple. $2 Colt 45s and vodka drinks, might as well get your feet wet as you're gonna wanna be back at this party all November.
-Philly actually gives Chicago a run for its money tonight, with the main event being the return of the amazing White Ts and White Belts party. I feel like it's been a few months since the last time this one went down (ed. note: it's only been a month, time flies when you're not going to cool parties), but no complaining, as it's just nice to have Emynd and Bo Bliz and Dan the Swede back for one of the best parties anywhere anytime. This one's extra nice, as NYC's Rezound and Workweek are the special guests, dudes that need to be on your radar ASAP as the biweekly Wed. night Happy Ending party is essential. This one's a Halloween party, so dress up and freak out or just freak out in your regular outfit. The key is to freak out when you get to The Arts Garage (1520 Parrish St.). $10, free Sparks, PBR and vodka or BYOB, midnight to 4AM.
-Hit up Sal's early in the night for the First Friday at Sal's jawn with the Super Todd Bros and Oh Murder! Inc. and HTSHELL. Tonight, they've brought in the super special guest JHN RDN, who will melt your face with aciiiieeeeddddd (and electro and indiedance and edits), who will go on around midnight. They're bringing in better sound, lights, smoke machines, the whole nine yards, no cover, perfect start to the night.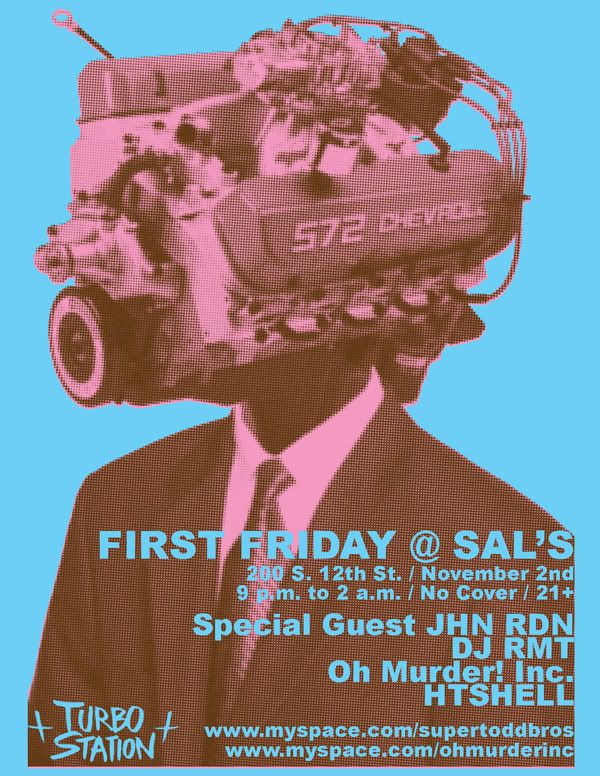 -I went as a glow stick for Halloween. I mention this solely for its segue value, as it allows me to mention the new Friday night weekly at Glow in Kansas City starting tonight. It features the Tactic dudes, it was a monthly I believe and tonight's the first night that it's going weekly. There's no flier for this one, hopefully we'll have one for future editions, but for now head out and show some support to
-Finally, the other city besides Chicago that really has caught my attention, San Francisco, has an abolutely insane rager about to go off. The Loaded party takes over The Rickshaw Stop (155 Fell St. btwn Van Ness and Franklin) and the place may never be the same again. DJ CoOp is in from Berlin