Menomena, "Rotten Hell"
(
YSI link
)
Menomena's
Friend Or Foe
is one of the first hyped records of 2007, as it's been getting lots of blog and
Pitchfork love
. It's my first time hearing this band, as I haven't heard their earlier albums. The consensus seems to be that this is their most accomplished, so I don't feel so bad. It was released on the excellent
Barsuk label
about a month ago, complete with an amazing cover and packaging.
The music inside is pretty good too, definitely not the typical indie retread crap that passes for buzz today. I'm reminded of bands like
Animal Collective
,
Flaming Lips
,
Deerhoof
,
Man Man
and
Neutral Milk Hotel
, just to give you a sense of what to expect. It's got lots of falsetto vocals, stops and starts, interesting instrumentation (love the baritone sax!). It straddles the line between pop and experimental, like the bands I mentioned before. On first listening, it seemed like I wasn't quite getting it. Nothing sounded terrible, but it wasn't that great either. Repeated listens are the key, as the songs started to make more sense to me and my ears kind of adjusted, so to speak. The band uses some sort of computer program to create loops that they then build songs from (correct me if I'm wrong about this).
I recommend this one, definitely worth a purchase. It's held my attention, despite the fact that I've been pretty soured on indie and more experimental music lately. So, all my dance and rap and booty fans, give it a chance and get some new sounds in your life.
Grab a copy here
and let me know what you think.
-There's an amazing party in Manhattan happens tonight celebrating the 2 year anniversary of Chinatown reggae shop
Deadly Dragon Sound
. This is a serious list of performers - Tony Screw, Johnny Osbourne, Ranking Joe, Carlton Livingston. Wow is all you can say. It all goes down at Happy Ending (302 Broome St.), not to be missed.
-Flier of the night goes to
High Voltage
at Sutra (16 1st Ave.) with Dimitry and DJ Tanner. Special guests tonight are Zachary Palmer from L Magazine and Miami's John Vincent.
-
Pound for Pound
is all about the kids. So are
Guns 'n' Bombs
apparently, as they guest DJ
Trash and Diamonds
, a new Wednesday LA dance party that's open to 18+ crowd. Get yourself to The Social (6525 Sunset Blvd.) and be young again!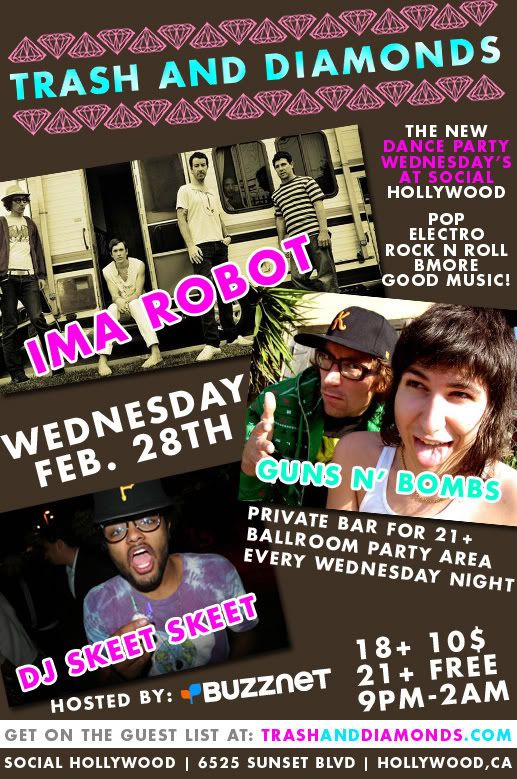 -Or if you don't like being in the same room as teenagers, head to Moscow at Boardners (1652 N. Cherokee). Heart of the Sunset Strip, baby!
-Finally, DJ JJC and APT One have the party name of the night with Hakeem Olajuwon Is The Next American Idol at Upstairs at Sal's (12th and Walnut-ish).