NYE is a holiday ripe for disappointment and bad feelings, trying to pick the "perfect" spot and get everyone to go and dealing with the bigger crowds and drunk a-holes. First, deep breath. I've tried to come up with an event for every city we consistently cover, with an emphasis on rad DJs and affordable prices. I'm gonna start close to my physical location and move West.
Studio B
has been my favorite venue in NYC this year, so it only makes to lead off with their
NYE Party
. It's a fucking doozy btw, check the line-up: my favorite band
Kudu live, Slick Rick live, DJ sets by Moby, FUN's Eamon Harkin, The Bangers and best of all, Runaway and 205 Tuesday's Jacques Renault
. Did I mention this one goes from 8pm-8am? Well, it does. The afterhours party starts at 4am and some DJ named
Frankie Bones
spins for the rest of the night. Frankie Bones! $20 advance tickets are available, $25 at the door with a flier, $30 without, $10 reduced admission if you arrive between 4 and 8 am. There's a vodka open bar from 8-10, alcohol until 8 am, dear G-d people, pace yourself here.
-Not too far away in Greenpoint,
Myopenbar.com and Bass Ale are doing New Year's Eve with Yeasayer
, a buzz band that killed at CMJ. There's also
live sets by Shellshag and Shilpa Ray of Beat the Devil
. But, dear readers, the real reason to go is for the DJs and dance party, as Pound for Pound favorite
the Lewd DJs, a.k.a. rekLES and SeanMF'NRoberts
, will spin, along with
Michael Levitan
.
RSVP at the myopenbar.com site
for $15 admission, then enjoy complimentary Bass Ale and vodka all night. Yes, you read that right, Bass Ale and vodka free all night. Doors at 10pm, 21+.
-Cross the imaginary border into Williamsburg and hit up the
Hugs (108 N. 6th St.) NYE party
to celebrate the end of the year/start of a new one and everyone's favorite new spot. This one features DJ sets from all over the world, as
NYC's Sweatshop Labor, London's Kesh and LA's Boy Boy
spin all night long. You can do this one all night for $80, which includes a 3-hour open bar from 11-2am, or hit it up late night for $10 and deal with a cash bar.
Presented by new Williamsburg streetwear store Yune and NY Style Diary
, this is a great option for anyone in my hood looking for something smaller and more intimate yet just as rad.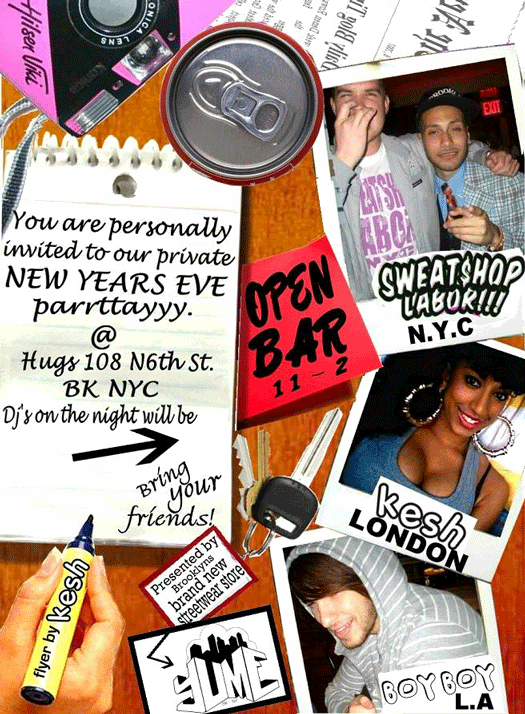 -There's also a bash at the Graffiti Warehouse (29 Wythe Ave@ N. 13th St) where Snapshot is doing a NYE party. I had to put this one up, as it's called Magic 8 Ball, a reference that is funny to me and like two other people. Anyway, this one's more for my gay readers, as the Tuesday night queer party at Bar 13 crosses the river to do a huge warehouse jawn. This one features Lesbians On Ecstasy live and Kim Ann Foxman spinning, a rad line-up, plus DJs Daryl Raymond, Noa D, Qui and Sophia H.
$25 advanced tickets
, $30 at the door, open bar from 9-10 pm.
-This is a good night to get as far away from the city as possible, so hop on the L to the Halsey stop and head to the
Y2K8 Dance Party at the Silent Barn (915 Wyckoff Ave)
This one looks damn good with live music all night from
Lismore, Todosantos, Ninjasonik, Laini Li, Bradley D and Neon Coyote
.
Presented by Famous Friends and Big Stereo
, this is an all-ages party for everyone. Only $5 cover, free Sparks all night, doors at 10 pm.
-You want a late-night? Wanna pretend you are in Berlin for a day or so? Hit up Galapagos (70 N. 6th St) tonight where
The Bunker presents Blood and Thunder II
.
Berlin's Lee Curtiss, Spectral's Derek Plaslaiko, Dennis Rodgers, Spinoza, Taimur Agha and Naudio
will bring you a night of techno and house, which should let you start 2008 in the right frame of mind. The party starts at 10 tonight and won't end until 4 pm tomorrow afternoon. Love it!
-I know it doesn't seem like it here, but there's more to Brooklyn than Williamsburg. Down South, The Rub does its annual NYE party at Southpaw (125 Fifth Ave) in Park Slope. There's not much for me to say about this one, legendary party, amazing DJs, loyal crowd that shows up each and every time, guaranteed great time. $40 ticket includes food and champagne, 21+.
-I can't really recommend doing it up in the city, as the thought of the gross crowds give me panic attacks even from the safety of my apartment. But, if you live there or plan to hang there tonight, here's a few options. I'd say two great bets for a great night with great music, hit up
APT (419 W. 13th St.) for the New York City New Year's Eve party with Rong Music (Lee Douglas and DJ Spun), the Wurst Edits (My Cousin Roy) and DFA (Liv Spencer of Still Going)
Expect lots of disco, funkm house, food, drinks and good people dancing and enjoying the start of another year. $100 for an open bar from 10-1am or $25 for general entry after 1am. A disco oasis in the midst of mediocrity.
-I'd also try to hit up
205 Club (205 Chrystie)
for their NYE jawn, as
Crashin'in presents The Return 12 Hour Party People
. This one happens upstairs and downstairs, with live performaces by Purple Crush and ex-Anticon member Beans, plus DJ sets by Sune of the Raveonettes, Brodsinski in from Paris, Eamon Harkin doing double duty, Kanine Records' Oil, Other Music's Gerald, Elliot Golden and Sunnyside Up. The party starts at 8pm and won't end until the sun comes up at 8am. $20-30 cover, pretty damn great deal for a NYE party in Manhattan at one of my favorite spots.
-Not too far away, Gift Shop presents
a NYE 2008 party at The Annex
(152 Orchard St) where Spank Rock's XXXchange spins along with Lily Of The Valley and Pete Suzuki. One of everyone's favorite clubs with the big upstairs and crowded basement, this should be a good night for the indie and rock kids to dance away the night. Tickets are $35, which gets you an open bar from 9:30-10:30 and free admission to the afterparty at Lotus at 4am.
-Or further uptown, GBH gives you another option with
a New Year's Eve 2008 party at Hiro Ballroom
(371 W. 16th St) This one is for everyone who really loves the Thursday night Cheeky Bastard party and indie dance music. There's live shows by 33HZ and Young Love, plus DJ sets by VHS Or Beta and Alex English. $60 for the same deal as The Annex.
-Finally, Lit will be a good stop at some point, as the basement will be going all night. Dances With White Girls, Nate Turbow, Mark Ryan and Prince Terrence will give you house, indie, rap, hell, every genre will probably come up in this marathon party. Best of all, no cover, so you can save your money for getting drunk or buying food tomorrow or just being a little less poor.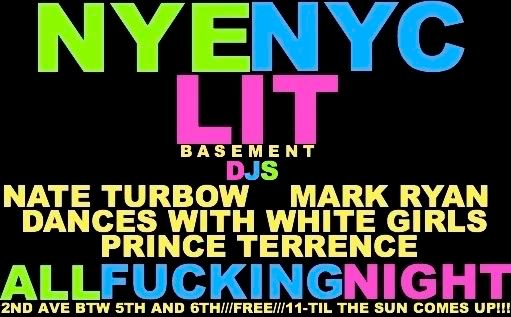 -Ahh, Philly, a great night lies ahead. The Making Time NYE Freak-out party is now a tradition and it's as good as it gets. This is like the Making Time template, no special guests, just the regulars spinning - Dave P, Dave Pak and Mike Z in the main room, Rock Tits in the basement and Adam Sparkles, Pink Skull, JHN RDN and Broadzilla DJs upstairs.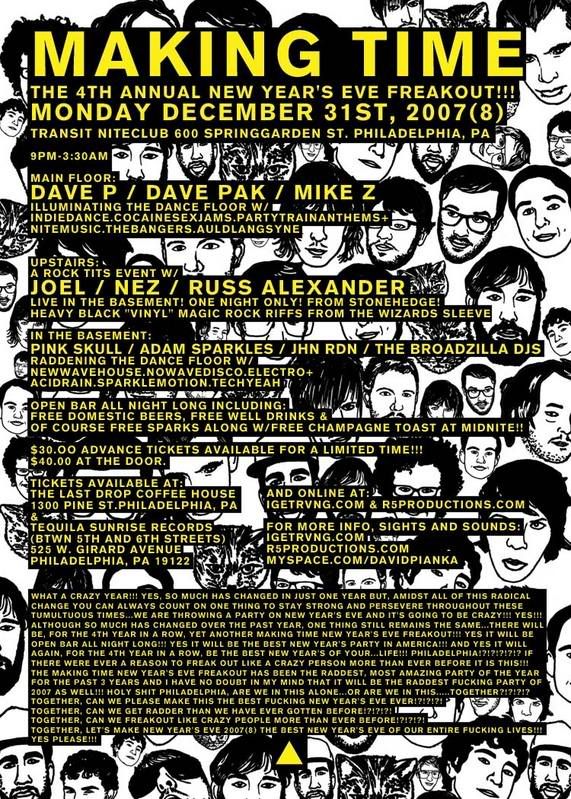 -I'd also highly recommend this one at
Medusa Lounge (27 S. 21 St)
, in fact, I would do this in a heartbeat.
Family Affair: A Disco New Year's Eve features DJs Mike Tee, Billy W., Darklord and Meg E Mitch
, with sound and visuals by Trixine. No cover, $2 Sparks from 10pm-12am, 21+. Listen, there's no better way to start this new year than with the magic sounds of disco ringing in your ears.
-Louisville makes it first appearance at the end of the year, better late than never. Not many better than Le Castle Vania, he's headling the Really Into Partying New Year's Eve at Fuzion Night Club (1335 Story Ave) $10 for 21+, $15 or 18+, dress in black and white, have fun.
-Chicago, why not have a Dubsided NYE? The UK label and Pottymouth are throwing a party at Smartbar (3730 N. Clark St) and it's a killer. Switch, Santiago, Justin Long and Justin Amato will spin all night, 'nuff said. It's only $35, 21+, a great night of music and dancing with some of dance music's finest.
-Or head to Darkroom for their New Year's Eve party, being put on by the Dark Wave Disco and The Beta Theta. All of the residnet DJs will be in the house - DWDers Trancid, Mark Gertiz and Greg Corner and Beta Thetas Tobias and Brock. $75 for premium open bar all night, doors at 9pm, goes until 2am, 21+.
-Here's a late addition up in Seattle, as Chapel (1600 Melrose Ave) and Colby B do a NYE 2008 party. DJs Colby B, Thrills, Marty Mar, Res, Rhett Elliot, Mitcho and Lady Bob will spin dance tunes through the wee hours into the morning. 5pm-8am, $15 at the door, happy hour 5-8pm, champagne specials all night.
-Big year for San Francisco, no surprise it's a big New Year's Eve too. The Blasthaus Golden New Year looks to be the pick of the litter, as Miss Kittin is the headline DJ and that's a rad choice. The electro goddess is joined by Junior Boys' DJ Nikola Baytala, Lights Down Low's Sleazemore, Kontrol's Alland Byallo, Night Class' Shane King and Solar. This one goes forever, 8pm-4am, 21+.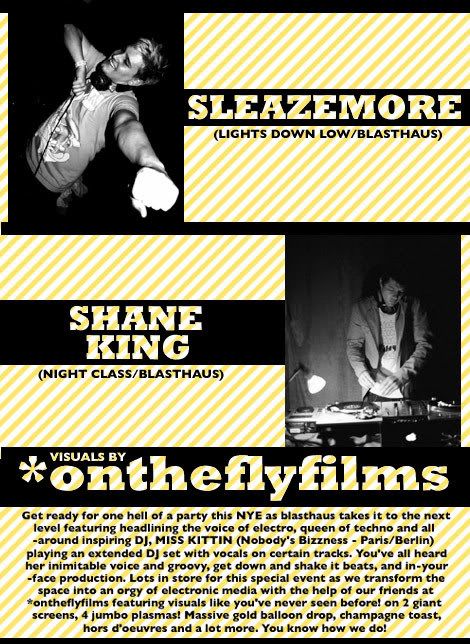 -I you want something a little more indie, head to
Mezzanine (444 Jessie St) for Disco 2008
. This one's got
live performances by Black Audio, Moving Units and Katy Perry
, a DJ set by Pound for Pound favorite Junior Boys, plus the
Popscene DJs, Omar, Aaron and Nako
.
$60 advanced tix available until 6pm
, $70 at the door, $100 VIP as well. Doors at 8pm, party til 3am, Peroni Beer open bar from 8-9pm.
-Finally, if you want to go crazy and freak out in a smaller space, the Frisco Disco has you covered. Richie Panic and Jeffrey Paradise will take over The Transfer (Church & Market) and turn it into a din of iniquity. Hell, they do that every Saturday, so picture those parties turned up to 11. Hot Tub plays live, 9-2, 21+.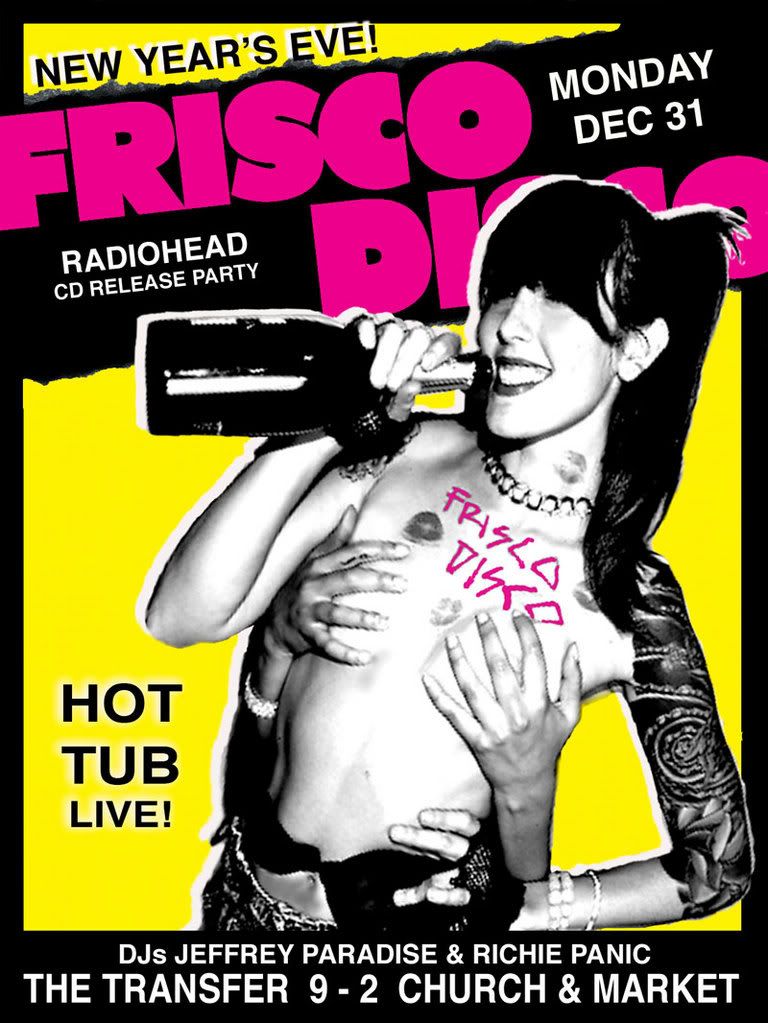 -Across the bridge in Oakland, it's Party Time at Oasis (135 12th St), as Smartbeat do their dub disco party for NYE. This one's extra cool, as Brennan Green of Chinatown Records is special guest, one of the best DJs and producers out there. Ben Cook, Dubrocker, Rebecca Watkins, Ry, Dmtz, Prana and Mike C. also will spin, it's a long, wonderful night of disco, 9-4am.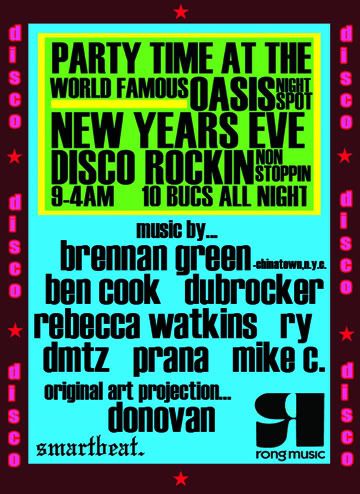 -Two massive parties in LA. First up, Nitrus, Tik Tok, Dim Mak and Modular are putting on the 1st Annual HARD New Year's Eve Music Festival at a huge warehouse space downtown, Premiere Arts Center (613 Imperial St) Check the line-up, then pick your jaw back up - Justice, Peaches and 2 Live fucking Crew, plus Busy P, Steve Aoki, Whitey, A-Trak, Uberzone and Jason Bentley. There's also a who's who of local stars, from The Cobra Snake to Gina Turner and Louisahhh. Things kick off at 8pm and go til 4am, $75 tickets, 21+.
-Or there's Giant Maximus, which is just insane. There's 3 stages, huge superstar DJs, all under 3 big tops outdoors. I want to focus on the
-I'm out of words. I Love Neon. I love Guns'n'Bombs, Drop The Lime/Curses!, Crystal Castles live, Jokers of the Scene, Jordan Dare, Thomas Von Party, Nu Ravers On The Block and Peer Pressure DJs. I love Montreal. I love my roomate who is at this. SAT (1195 St. Laurent) $55 at the door, fall in love tonight.