Tonight, there's two of the coolest parties I could imagine, the
205 Tuesdays
at 205 in NYC and Dave P and Adam Sparkles at Woody's in Philly. Let's start off in New York and work our way around. I've been hyping this party at
205 Club (205 Chrystie@Stanton)
for a minute; well tonight things get real serious real fast. The special guest DJ is the one and only Mr.
James Murphy of LCD Soundsystem and DFA
fame. He joins
residents Jacques Renault and Justin Miller
tonight in the basement and it will be disco inferno that keeps you warm and toasty. I'm not gonna say much more about this, if you aren't already putting your scarf, jacket and mittens on and heading out to this, there's nothing I can do for you. No cover, doors at 11 pm.
-Nearby, the
Six Six Sick party
happens in the basement of
Happy Ending
tonight. I got the chance to check this one out last week and was impressed. It was packed, people dancing, great mix of people, lots of great tunes, including some Daft Punk which I will assume was somehow in honor of me, or at least my narcissism. Tonight's edition should be extra good with guest
DJ Nick Hook of Men, Women and Children
, he'll spin a great mix of stuff and fit in quite well with resident
DJs Micprobes and Sean Nouveau
. The Six Six Sick girls are hosting as always, open bar from 11-12, no cover.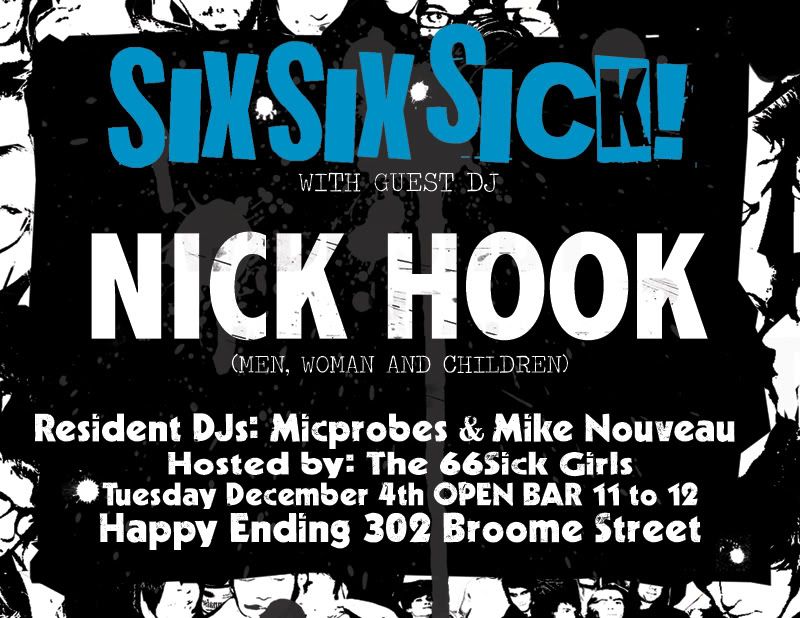 -Leave it to me to start mentioning
Suji's Basement party at APT (419 W. 13th St.)
when there's only two weeks left. Well, better late than never, right?
Resident DJ Sujinho
is inviting some friends - DJs Krames, Morsey and Dances With White Girls - to help say goodbye, in this, the second to last party at the Meatpacking District club. One of my favorite spots in the city, this is a great party, especially for everyone into the booty tunes and a nice mix of genres. No cover, 21+, don't stay home crying that this one is going away, make the last two count!
-For those who just can't brave the cold and want to stay in Brooklyn, head to
Hugs (108 N. 8th St.)
for their
Tuesday night weekly, Do It
.
Resident DJ Carrie White[noise]
and guest Shinratek will spin a healthy mix of electro, dancerock and pop, get you dancing and make you happy you went out. No cover, 21+, doors at 10 pm.
-Okay, here's the another headliner for tonight.
Dave P and Adam Sparkles of Making Time
are taking over Woody's (tonight for a dance party. This is the legendary gay bar in the heart of Center City, it's been around for years and years, throwing crazy parties. They're opening their doors tonight to Dave, Adam and crew and it should be an amazing night. Free PBR from 9-11, 21+, do this Philly! If this one is a success, you never know what might materialize.
-There's also The Underwear Party at the Raven Lounge (1718 Sansom St.), which features the DJ skills of Scottytoodope and Ryan Todd, electro and bangers and hopefully lots of attractive people in their underwear. I know, I know, the last thing you can imagine is being in your underwear on this freezing ass night, but take advantage of the $10 VIP open bar upstairs and those inhibitions will soon go. Presented by Jess K, $5 to get in, 21+, make sure other people take their clothes off before you do, just to be safe.
-While it's a big night on the East Coast, there's also two great weeklies going down in two of our favorite cities. First,
Outdanced
does its regular Tuesday thing at
Funky Buddha's
(728 W. Grand Ave.), tonight
DJs Zebo and Mr. Bobby
take control, spinning all night long. It seems like this party has a monopoly on this night, I imagine that there was some sort of party brawl years ago and Outdanced kicked ass and no one challenges it now. I like winners. $1 drinks, presented by
Avant Trill and Odd Obsession Movies
, 21+, no cover.
-Out West in LA, the land of giant fliers, the dANCE party takes over Arena (6655 Santa Monica Blvd) as it has for the past few Tuesdays. This one's all about the residents, as Paparazzi, DJ S!n and Raulie hold down the main room, while Bip Jeffington, Luv Tek, Joaquin and Steve(n) do the same upstairs. Both floors are open for dancing now, twice the fun! Photos by Red Slurpee and Neil Favila, smoking area, huge club, lots of people, the best in new dance music and party tunes. Doors at 9:30,
$5 before 10:30 with flier
, all ages, it's probably 75 and mild tonight in LA, i.e. there's no excuse!