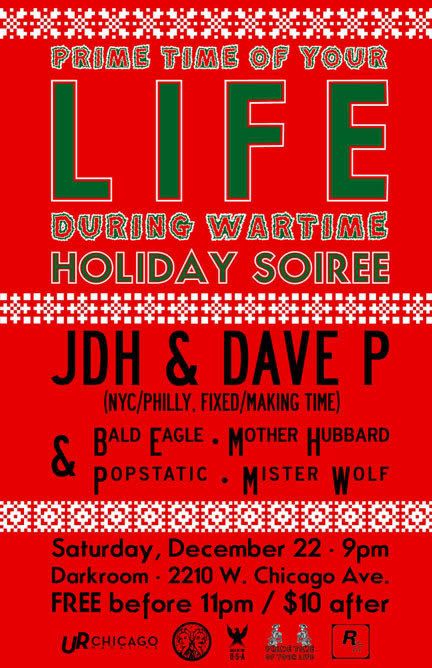 It's been a shitty year in a lot of ways, never a great way to start a party post. But, when I look back on all of the great parties we've covered and learned about this year, I feel good. And when I see my favorites come together, it truly makes me happy. Tonight's
Prime Time of Your Life/Life During Wartime Holiday Soiree
at the Darkroom (2210 W. Chicago Ave)
really is the perfect example as my Chicago favorites,
Bald Eagle, Mother Hubbard, Popstatic and Mister Wolf
have brought in special guests from Philly and NYC,
Dave P and JDH of the Making Time and Fixed parties
. It's like seeing your friends become friends; if I had a heart, I'd shed a tear. Chicago, this should be an insanely rad night, the sickest dance music, lots of people, the perfect way to celebrate the holiday. Doors at 9pm, free before 11, $10 after that.
-Speaking of rad combos, one of the best Philly parties,
Crimp Yr Hair
, has found a new home at The Barbary (951 Frankford Ave) and are bringing in the excellent
Adam Sparkles of Making Time
fame to kick their monthly spot. Like the Chicago party, this one will feature all of the best dance music, digging a little deeper than the electro dance scene. Your mind will blow and your face will melt, these guys are that good. No cover, 21+, 9-2am. Yeah yeah yeah!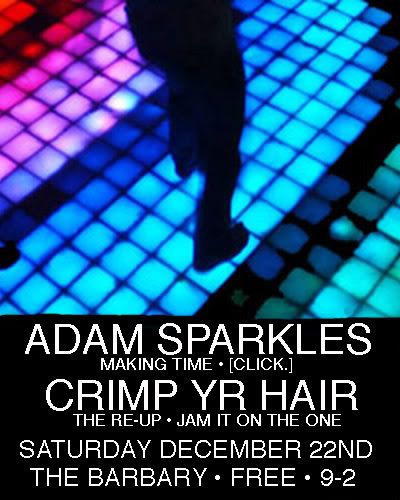 -The 80s Saturday party is celebrating the holidays, a.k.a. Depechmas, at Sal's. DJ Solobuns will spin the best music from that unremembered decade and you can recall past Christmases when it was the 80s and you were happy and living in the present and coloring and playing with toys and the world seemed so easy. No cover, 21+.
-Always nice to see something new in Brooklyn, well this is something old and classic in a new spot, but close enough.
The Rub, Mean Red Productions, 10 Deep and PalmsOut Sounds
are doing
a loft party in Bed-Stuy
at 12-Turn-13 (172 Classon btwn Park and Myrtle)
Cosmo and DJ Ayres are doing it up real big, bringing in dancehall selector Max Glazer from Federation Sound and Wajeed of Platinum Pied Pipers. This is a great space, the music should be even better, covering all sorts of genre ground.
$10 advanced tickets here
, only way to guarantee you can get in, same price at the door, get there early if you want any chance of getting in.
-If you don't feel like dealing with the G train (and I totally understand that), head to Hugs (108 N. 6th St) for the
Now That's What I Call A Party
.
Flufftronix
is in from Bloomington,
Purple Gold
are in from Venezuela,
Supervixen
from Brazil and Chad of Palms Out is in from the Internets. You are in from somewhere in New York City. The music will be from the dancefloors around the world No cover, 21+.
-There's a new party starting up nearby at
Galapagos (70 N. 6th St)
called
Dizzy
and it's put together by the legendary
Larry Tee and fellow DJ Kevin Graves
. Tonight is the unofficial afterparty for the Daft Punk movie showing at the Music Hall of Williamsburg tonight. I feel like this would be a nice way to follow that up, look forward to seeing where Tee and company takes this one. Definitely worth a look, no cover, party is in the back room and starts at 11pm.
-If you are in the city, stop by Lotus (409 W. 14th St) and head downstairs tonight for the second anniversary of the
Changez Le Beat party
. Marc-Alan Grey has brought in all of the DJs who have been a part of this party over the past year, including Stretch Armstrong, Sujinho, June D and Bridget "Shaka 23" Marie. Y'all know how hard it is to have a party last 6 months, so 2 years deserves huge props.
-Hmm, West Coast I will have to look again in a bit, didn't see anything on my first go-through. Leave a comment to remind me if you want.