Sometimes, it's just a phrase that can get you top billing here. "Get your holiday weekend started with disco." That's all it took for me to fall for the new party at
Williamsburg's Hugs (108 N. 6th St)
called
Men Of Mystery
, featuring two of the best, rising DJ stars in NYC,
Eamon Harkin of the FUN party and Johnsville from Sweatshop Labor NYC
. I think that this is a one-time only event, but oh, it is timed so perfectly. I've said it before, I'll say it again, disco will save your life. I need it to save mine. No cover, 21+, 10-4am. Be there, Brooklyn.
-Been a minute since I've heard about
The Pull-out Method party
, not sure if it was my overwhelming ignorance or the party took a break. Whatever, it's good to have this
party at Club Midway (25 Ave. B @ 2nd St) from
Leah and Rachel
back on Pound for Pound. This night's for all my indie and rock kids who aren't afraid to dance and get wasted. Tonight, in the basement,
Brooklyn's Luke Temple
will play his fuzzed out, harmonized folkish music, while openers from DC,
Tereu Tereu
, will play similarly rhythmic and pop rock music. With trombone! Yeah! $5 to see the bands downstairs, free if you just want to hang out upstairs where
DJ Headz & Tailz
will spin rawk all night. 2 for 1 vodka drinks from 1-2, 21+.
-Or if you are closer to the westside, it's time for another
Robot Rock at Le Royale (21 Seventh Ave South @ Leroy)
.
GBH and Cheeky Bastard
continue to outdo themselves each week, bringing in bigger and bigger stars from the indie world. Tonight,
Kele from Bloc Party is special guest DJ
, not sure that they'll be able to top that, so you're not gonna wanna miss out. He joins with
Alex English and Ryan McKnight
, plus
Marc-Alan Grey in the lounge
, for what should be a crazy packed, indie dance party. Email list@gbh.tv for free admission, $10 otherwise, 21+, doors at 10pm.
-Down in Philly, two legendary parties are joining forces to bring you twice the rad.
The Turnaround vs. Immediate!
is now a monthly at The Barbary (951 Frankford Ave)
Residents Mr. Pharmacist (Gregg Foreman), Rusty Seger and the Brothers Geida
will give you a night of underground rock, soul, funk, r&b and anything else that will make you dance. Tonight, they are bringing in the legendary
Ian Svenonius of Nation Of Ulysses
and various other DC bands to spin, he may be a semi-regular fyi. You would have known all about this on Wednesday if you had checked out
my Philly Weekly preview
. Again, just FYI.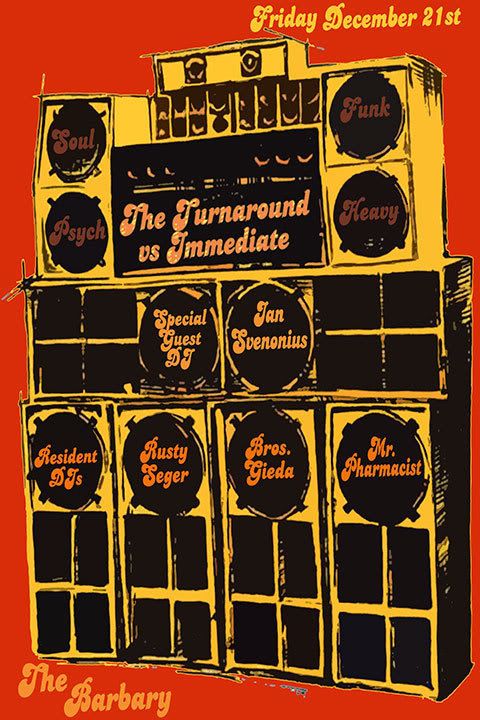 -d.c.
-Expect a few Chicago-centric posts tomorrow. In the meantime, check out the
Beta Theta's 3rd Annual XMas Party! at Darkroom (221o W. Chicago Ave)
You'll get to celebrate the holiday with a live set from Assassins, who opened for New Order and Interpol and will not disappoint fans of those bands. There's also DJ sets by Trancid and Brock, photos with a drunken Santa and elves. $15 at the door, 21+.
-I recently received a text with a photo of someone wearing one of the ugliest Christmas sweaters ever. I mention this as a segue into
the Honeymoon party in Minneapolis at First Avenue VIP Room
(701 First Ave N), which has as its theme, ugly sweaters. I'm not sure if they want you to wear one or what, but I do know that
The Moongoons
are presenting this one and have brought in
Adam from The Chromatics
as guest DJ who should fit in perfectly with the normal sounds of death disco, Italo, filtered house and robot rock. Mike the 2600 King will also spin and designed the t-shirt you see on the flier, which you can get with admission for $10, $3 otherwise, 18+.
-Huge night in California, but there's only one place I can start :
Parker Day's Stiletto party in San Francisco
. Okay, I will just say that the theme of the party is
Beyond The Valley Of The Dolls
, Russ Meyer's magnum opus and one of the weirdest 60s movies ever. If you know me, you know why he is my favorite director. If you read this blog, you know why you can't miss this party.
DJs Rchrd Oh?!, Omar from Popscene and Primo spin, live performances by We Are Champagne and V., a fashion show featuring the designs of Erin Emslie and Workin' Girl, photos by Vvandi Xvandi and Rohini Moradi
, like whoa. It all happens at
AsiaSF (201 9th St @ Howard)
, doors at 10, goes til 3 am. RSVP at the going.com site, $8, 21+.
-There's also Blow SF tonight at Rickshaw Stop (155 Fell), where Gold Chains is headlining and performing live. The Frico Disco DJs and Missing Toof DJs will spin,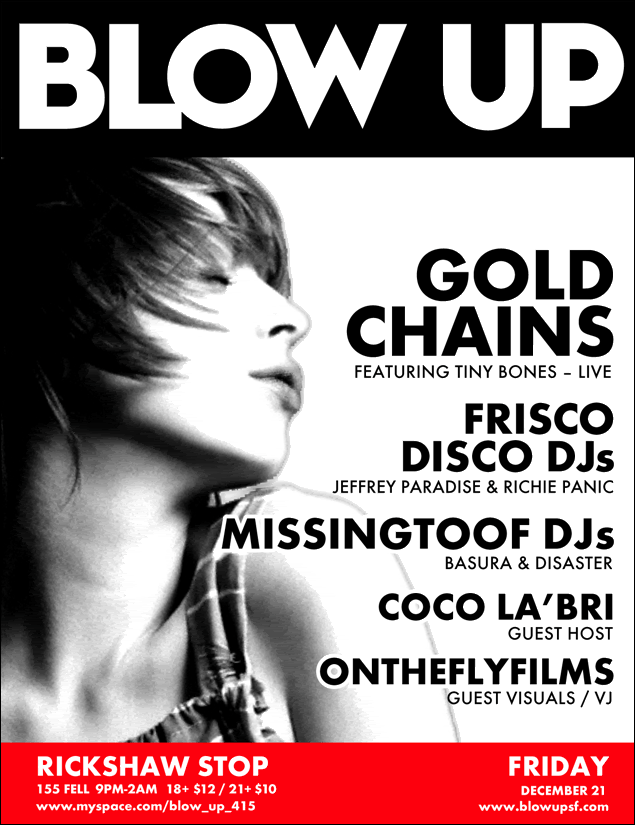 -I love a good battle and there looks to be one tonight in LA at Safari Sam's (5214 Sunset Blvd) It's
Cinespace vs Le Disko
in a battle to the indiedance death.
Cinespace's Them Jeans and Dan Oh
take on
Le Disko and Club Moscow's Keith Wilson and DJ [N]
, with
DJ 19 a.k.a. Young Sunn
serving as a mediator, I guess. Shadowscene and Red Slurpee will be taking pics, free parking and cheap drinks should seal the deal. Free before 11 with a flier, $5 after, 18+.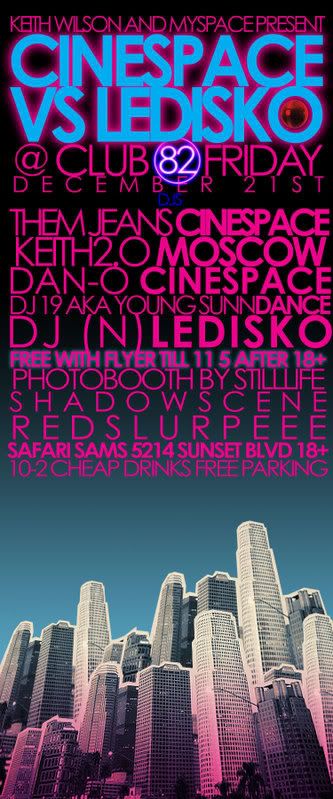 -Finally, the Push party in Long Beach does a XMas edition and this looks to be about all you could ask for. LA Riots, Blu Jemz, DJ Metric and Dan Sena will spin at this one, Sevilla Nightclub (140 Pine Ave) will serve as the metaphoric tree in my strange analogy. Dress nice, 21+.
-Finally, San Diego has the good fortune of getting a visit from Pound for Pound favorite, High Voltage main man and NYC's own
DJ Dimitry!!!
tonight, as he is the guest at the
Feel The Noise party at Beauty Bar (4746 El Cajon Blvd)
Residents Gabe Vega and Saul Q
will spin lots of discopunk, new electro and even indie tunes, Dimitry should fit in well. $5 cover, doors at 9pm, 21+.