It's the first day of December, so glad to have the month of November over. I mean, so glad. We're wiping the slate clean in life and blog, so tonight's a chance to celebrate! Another fun night in Brooklyn awaits, I'm gonna lead off with the
FUN Meets Down 'n' Derby at Studio B
(259 Banker St.) The Down'n'Derby party people have been putting on a roller-skating party here every so often, they're joining up with another great Studio B party and this one looks like the best one yet (and foretells future P4P genre posts) Why this one? Mainly because there's gonna be disco tunes spun by the most excellent
Jacques Renault of Runaway
, plus the usual fare from . I really can't think right now of music I more want to hear or a DJ I more want to hear spin, it's that simple.
RSVP at the Down and Derby site
and get in for free, otherwise $7 at the door. Remember, it's a night of roller skating, $3 rentals are available but there aren't many, so bring your own if you have them. Open Bass Ale bar from 10-11, 21+, the disco tunes go til 4am.
-Not too far away,
Lauren Flax and Le Tigre's JD Samson's UNITY 90s Party
goes down at
Hugs (108 N. 6th St.)
! This is the third one and it's already gotten to be a favorite for many, especially psyched for this one as
Kim Ann Foxman of DFA's Hercules and Love Affair
is the special guest DJ. That's still not enough, huh? How about a Bushmill's open bar from 9-10:30? Wow, still not totally sold. How about the chance to relieve the decade when you were still young and innocent and not jaded, when the country wasn't run by a madman and blowjobs were the biggest source of controversy. Simpler times, super music, rad DJs, Williamsburg, Brooklyn. 21+, 10-4 am.
-Across the river, here's another chance to check out space (shout out to last night's Planetarium video, good job Harrison Ford!) while drinking and dancing.
The Jupiter Crash! party
lands at
Don Hill's (511 Greenwich St.)
tonight and resident
DJs Scott Free
and Shar Gorgiiss
has invited the partynauts and Pound for Pound favs
Sweatshop Labor
to come and help you figure out if anyone really can hear you scream (out of happiness) in space. This one happens every Saturday night, hosted by
Joey Nova
, indie, mod, electro, spacemusik, fashion and art stuff going down as well. $3 Kryptonite cocktails from 11-12, $10 cover, $5 with a flier or
printout
, 21+.
-I could easily have lead off with Philly tonight, as so many good parties are happening all over the city. I'm giving co-headliners on this one, starting off with the MIA afterparty. Her show is sold out at the Electric Factory, but don't let that stop you from enjoying in the festivities. I mean, this is all about the return to Philly of Low Budget, who has been the DJ on the entire MIA tour, There's also sets from Pase Rock, Brendan Bring'em, Dirty South Joe and Dan the Swede. Advanced tickets are gone, so you know this is gonna be crazy packed and drunken madness in a way only Philly parties can do.
top bill to the return of the
Sorted party
, the legendary Philly indie/mod party that has been going for quite a few years in various venues. It has found a new home at
The Barbary (951 Frankford Ave)
, perfect fit.
DJs Dave Pak and Mike Z
aren't just resting on their laurels, as they are adding a new feature to the party starting tonight. For the first hour of each Sorted, they will spin the music of one essential Britpop, beginning with Blur tonight. Such a great idea, such a great band. $1 well drinks and PBRs during this period, absolutely no reason that you shouldn't be here for this. $5 at the door, cheap drinks all night, amazing music, great crowd. Yeah!
-That's a lot of firepower above, but for those of you hanging out further west, check out
Show Up Showdown party at Level Room
(21st and Market Sts). It's a great chance to check out some of the up and coming stars in town,
DJ Scotty Ack and Designer Drugs
, at a big, new(ish) space.
Hosted by Oh My Todd!, photos by Johnny Sorber
, $5 cover, free Coors Lite from 10-11, check it out.
-It sounds like there was some serious snow and ice in the Midwest. I have a feeling that the
Too Much Love party in Minneapolis
will melt all of that in a single night with the hottest dance and indie music being spun all night. This one's the Panda Radio edition, with
DJs Soviet Panda and Talk Radio
. Head to
First Avenue (701 First Avenue N)
and warm up by dancing like a crazy person, $3 or free with college ID, 18+
-San Francisco has their own special afterparty tonight, as
Frisco Disco
is doing the VHS Or Beta one at The Transfer (198 Church St.), with the band stopping by and hanging and signing autographs and showing that their real dudes just like you.
Richie Panic and Jefrodisiac
are not real dudes just like you, they are DJs who make people dance and girls disrobe and therefore they have the power of Gods. This looks to be another special Disco, as there's a live set at midnight by
Monistat
, giveaways for Bloc Party records, all of this for $3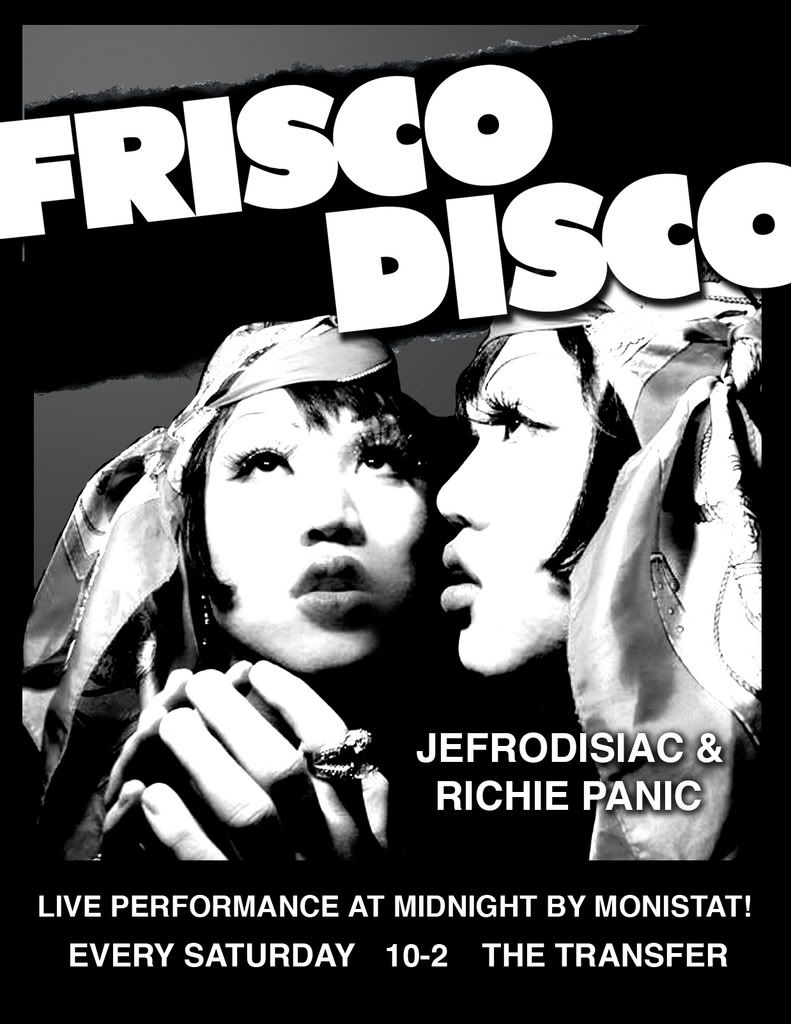 -As a lifelong East Coaster, I picture LA as place of eternal sunshine, where every day is hot and sunny. This image is especially prevalent on a day like this in NYC, when it is so cold that it just hurts to be outside. I dream of going to the new Check Yo' Ponytail at the Echoplex tonight, where Iheartcomix, Viva La Rock and Monster have brought in the boy wonder, Institubes' Surkin, to destroy. He's going to be spinning with Dre Skull of Juiceboxxx fame, DJ Hyphy Crunk, Franki Chan and Paparazzi, I picture everyone coming in their bathing suits, straight from the beach, tanned and beautiful. $12, doors at 9, 18+.
-You'll also want to catch the
Big Trouble!!! party
after you've soaked up all of that sun and warm weather. This one features
art by Ben Cope, photos by Shadow Scene
and music spun by
DJs Shark Attack!, Mr. White, Colossal KXNN and Devyn C
, should be a rad time. It appears to be at a place called E. 3rd Steakhouse (734 E. 3rd St.), but I can't say for sure that's the name of the space. RSVP at bigtroublersvp@gmail.com for $5 admission, $10 otherwisel, doors at 9 pm, 21+. BTW, Los Angelenos, please don't ruin my fantasy, I desperately need it tonight before I head back out into the cold.