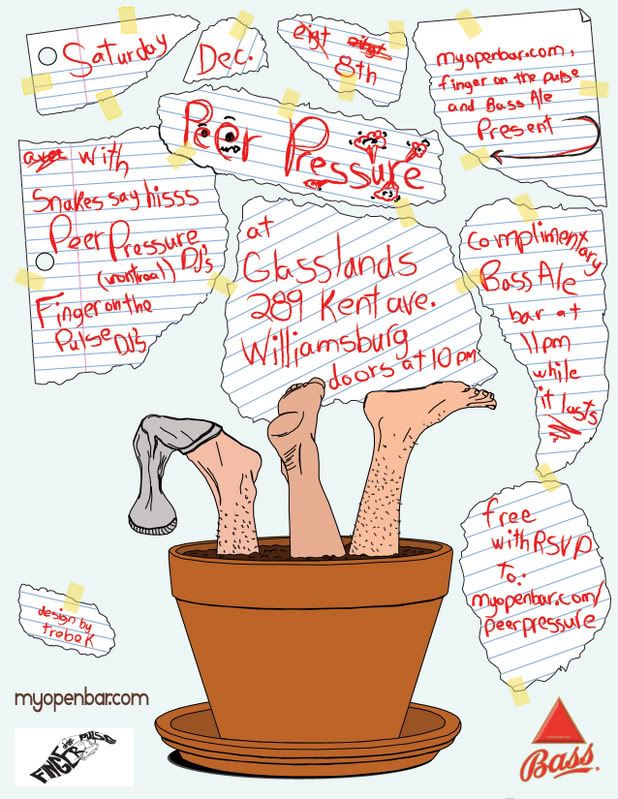 Always great when there's lots going on within minutes of my front door. Even better when those things involve many of my favorite DJs and people, like the
Finger On The Pulse
guys.
DJ Never Forget and Terry Diabolik
are putting on one of their biggest and best parties ever tonight at one of the best spots in Brooklyn,
Glasslands (389 Kent Ave)
They've invited the
Peer Pressure DJs
down from Montreal and my favorite new group Pink Skull from Philly along with the
bands Snakes Say Hisss and Faggot Fairies
for a rager on the waterfront. That means that there's no excuse for you not to get here from Park Slope, the LES, Bed-Stuy or wherever you are in the boroughs, no excuse! I'm so psyched for this, should be a great night of music, dancing, drinking and smiling. Oh, drinking, right. I should mention that this one is being presented with
MyOpenBar.com and Bass Ale
, so there's free Bass Ale from 11pm until its gone. Sounds rad, right?
RSVP at the myopenbar site
and it's all free free free.
-A little north of Pound for Pound HQ, the
Fixed party
returns to Studio B (259 Banker St) and they are not fucking around.
Dave P and JDH
have special guest
DJs Tiefschwarz a.k.a. the Schwarz brothers
, celebrating their 10th Anniversary and recent CD chronicling that time,
10 Years of Blackmusik
. For dance music fans, you know this is a big deal. For the rest of you, their electro house music is essential, deep and dark, they've dropped legendary remixes and original productions on labels like Get Physical, International Deejay Gigolos and Classic Recordings. Coolest of all, this is the only scheduled American stop, a rare rare chance to hear these guys. NYC, the rest of the country has jealous boots, don't pass this up.
$10 advance tickets
, $12 at the door, 21+, doors at 10pm.
-Damn, one more Brooklyn favorite tonight.
Hi-Tops and Hearts at Royal Oak (594 Union Ave)
!
DJ Tiny Pants' dance party
is what you need, a super fun night with great music, dancing, cheap drinks and a complete lack of pretension and attitude. This would make a great early stop or late night one in Williamsburg, or just show up and hang all night. Sponsored by the rad Love Brigade clothing label, no cover, 21+, doors at 9 pm.
-In a similar vein, the Sound Advice party at Supreme Trading (213 N. 8th) is dedicated to playing music, any music regardless of genre. Resident DJ Elsewhere will be joined in this free-for-all by D.C.'s Moose of the True Grooves party and Ninjasonik's Pastor Chill. No cover, 21+, 10-4am.
-Philly, I was gonna write an elaborate school analogy here, where Broadzilla were the teachers and the syllabus was about raves or something. But, I realized that I should simply say that this
High Grades party at Pi Lam
(3914 Spruce St) on UPenn's campus is where you should go tonight, strike that, where you need to go tonight. That is, if you need to party at a super cool spot with great DJs and great bands. The Broadzilla DJs and DJ RMT are going to spin, bands Ravens and Vultures and Brown Recluse Sings play live, Vice Records will give away free shit. In appropriate rave fashion, the party goes all night and it's BYOB. Doors at 9 pm, face melting at some point in the night.
-I like to consider myself one of the many good people bringing the word rad back. Thankfully,
DJ Solobuns
has joined in the cause with this great flier for his Saturday night weekly at Sal's (200 S. 12th St.), 80s Saturday. It's a night dedicated to everyone's favorite unremembered decade, what's not to love? No cover, doors at 9pm, 21+.
-The Mad Pu$y party goes down at Transit as it does every Saturday. Tonight's edition is being headlined in the main room by the
TurboStation
crew, which features
Steven Bloodbath, Hurrah's Shawn Ryan, Oh Murder Inc., Strawberry Mansion and Plastic Little' Si Young
. Like I said, there's a whole new group of great young DJs in the city, this is a good chance to catch them all in one big space. You also get Brendan Bring'em in the basement, DJs Dirty and Sean Thomas upstairs.
Sign up here
and get in for $5, free PBR from 10-12, $2 Ciroc vodkas, things go until 3:30am.
-
Eamon Harkin of Brooklyn's FUN party
continues his upper Midwest takeover, guest DJing as Minneapolis' best dance party, Too Much Love. Sounds like he killed it at Life During Wartime, I expect the same when he meets up with
Soviet Panda
tonight at First Avenue (701 First Ave N) I cannot tell you how nice it is to see my favorites get together like this, even more psyched to see the Midwest parties getting the attention they deserve. $3, free with college ID, 18+, doors at 10pm.
-Speaking of amazing NYC DJs destroying out of town dancefloors, San Francisco, this is your warning. One of the New York's best, James Fucking Friedman, is in your hood, the special guest at this week's Frisco Disco. You know that this party is crazy when it's just a regular one with Richie Panic and Jefrodisiac, add Friedman and it'll be the one you remember for a long time. Get to The Transfer (198 Church St) early, trust me on this one.
-For those in the LA area, trust me on
Trust
. This
Santa Ana party
at The Proof Bar (215 N. Broadway) is dedicated to providing a night for all the different types of electronic music. I've mentioned it before, but tonight's looks to be the best one yet. The amazing
LA Riots
headlines with
Atlanta's Treasure Fingers
, they will steal your face with electrorockdance bangers, lethal combination. It's also a
CD release party for Villains
, who will play live.
Residents DJ_Shh and Quantum
round out the bill, hosted by Whiskey Pete. Email rsvp@thekatstep.com to get on the list and get in for free, or show before 10:30. Otherwise, $10, 21+.