So yeah, light at the end of the tunnel meet
DFA Holiday party
. I mean, this is such perfect timing, I don't know what to say. One of the best parties I've been to in NYC was last year's DFA holiday jawn, three apartments and many panic attacks ago, it's kinda hard to believe that I've made it around to another one. The
DFA label
has had the complete opposite year as me, completely owning 2007, turning into a dance juggernaut. LCD Soundsystem, Holy Ghost!, Hercules and Love Affair, Death From Abroad,
45:33
, like whoa. Come to Studio B (259 Banker St) tonight and celebrate your year, their year, the new year coming up, whatever, just get there. DJing tonight are
James Murphy & Pat Mahoney
from the recent Fabric mix,
Juan Maclean
,
Tim & Tim (Tim Sweeney & Tim Goldsworthy)
and
Shit Robot
. $10 admission at the door, open vodka bar from 11-12, doors at 10 pm. Disco will save your life, people.
-Hit up Hugs (108 N. 6th St) before or after Studio B for a Williamsburg night, especially for those who want their music on the dark side. In other words, it's time for the
Leatherete monthly dance party
with
Carrie White[noise[ of Machine Punk, Even Further's Vida, Nayra of Drawn and Quarted and .dZGRa of Rebel Rebel & Diabolik
. This one is really worth a look and support, nice to see something new pop up that's tackling a whole different spectrum of dance music that's not the new electro stuff. I love it as much as the next person, but there's so much more out there. No cover, 21+, my favorite new spot, yeah!
-I normally split it up Brooklyn and Manhattan, but let's face it, south and north Brooklyn are as seperate as it gets. Splitting our borough up also gives me a chance to hype this rad party being put on by the good folks of the
Taste NYC, Ishlab Music and The Real Live Show
called
The Hidden Circus
. They're throwing a carnivalesque party in DUMBO tonight featuring DJs , bands, burlesque and surprises. DJs Equal, Stimulus, Dhundee and Jamin will spin, The Seducing Lamazing, Emanuel the Great and Betty Black as P.O.P. will perform, you will dance and have fun. Free Heineken from 10-12
-Holy shit, Park Slope stand up! The
Good Foot party
returns to
Royale (12th St. & 5th Ave) with Cousin Cole, Morsy and Jess Jubilee
spinning for your dancing pleasure. Nice to see something happening down that way, feel like it might be an untapped area waiting for something rad. Brownstones, baby strollers and bass, maybe? Support this party and it could come true. Nice, small dancefloor that'll be packed, good music, get there early and stop by
Suki Sushi (18th St & 5th Ave)
, best I've had ever, no joke. RSVP@nanachill.com, no cover, 21+, shout out to JH-B since she lives here and it may be awhile before I list another PKSLPE party.
-Not often you get to hear legends in the Meatpacking District, so don't sleep on the
Top Billin' party tonight at Lotus (419 W. 14th St)
with
Junior Sanchez and Cosmo Baker
spinning. Expect a night of classic house, hiphouse, OG rap, soul, funk, I mean, don't even think about it, just trust these two. RSVP to topbillinrsvp@mac.com to get on the $10 reduced list, ladies free until 11 on the list. Not on the list, you're probably not gonna want to pay the money, so RSVP! Hosted by my man
Project Matt, Nelch, Scott of PegLegNYC, Yossi C
and a ton of other good people, 21+, doors at 11 pm.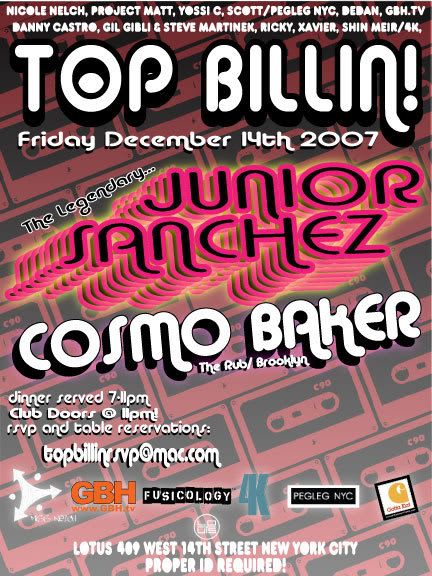 -A few avenues away in the West Village, the Robot Rock weekly goes for the second time at the
brand new Le Royale (21 7th Ave South @ Leroy)
and they aren't slipping on the special guest from, as Peter from Peter, Bjorn and John is the special guest DJ tonight. He joins with Dimitry!!! and Alex English for a night of indie dance and dance tunes, with Marc-Alan Grey providing a similar vibe in the lounge. Presented by GBH and Cheeky Bastard, you know how great their Thursday night Hiro jawn is, so trust that this one will cover your next night too. RSVP to list@gbh.tv for free admission, 21+, doors at 11pm.
-For something downtown and a little more laid-back, head to
Lolita (266 Broome St)
for
the Vibrate monthly party
, where
DJ Chris Alker
is spinning indie dance and rock music all night at the bar. Drink specials all night, should be devoid of the typical LES weekend crowd, great music, check it out, 2nd Friday of every month.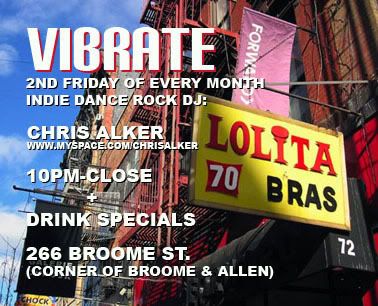 -Whoa, another crazy night in Philly with some serious decision to be made. I will give you the options, but I cannot make the decision for you. First, it's
Making Time at Pure (1221 St. James St)
, the raddest party in America. It's not just any ordinary Making Time, though, it's Making Time with fucking
Boys Noize
! I mean, dude has owned 2007 as well with a nasty, dark electro tunes, listen to Busy P or any of the Ed Banger guys spin and you will hear Boys Noize tunes galore. There's also the regulars -
Dave P, Mike Z and Dave Pak in the main room, Rock Tits in the basement with the dirty rock and soul, Pink Skull, Adam Sparkles and Broadzilla
in the mezzanine melting your face with rave-appropriate tunes. Huge crowd, three floors, free PBR and Sparks from 10-11. $10, 21+, nitemusic.
-Down by South Street,
SimpleFly, Bombpop and Scion
have brought Diplo back to Philly for a sick party. He's joined by Blaqstarr from Diplo's Mad Decent label, plus there's Dirty South Joe and DJ Sega, expect a huge night of rap, dancehall, Bmore, bass at Fluid (613 S. 4th St) To take it to the next level,
RSVP here
and it's free all night.
-If you are looking for a tie-breaker, I would not sleep on the
Robotique party at Medusa (21st and Chestnut Sts)
.
Billy W and Mike T
do this monthly party dedicated to disco and house music, the classic, amazing stuff that Pound for Pound posts and listens to more and more with each passings. Great DJs, they will be giving out a special double mixed CD for free, goodie bags, holiday cheer. But, seriously, go for the music, it will save your life. No cover, 21+,
-No matter what your choice, head right now and check out the opening reception for a new
record store/vintage store in South Philly called Sweet Jane (1742 E. Passyunk)
The store is the work of
Mike Trombley and Jen Zimmerman
, so rad to see cool shit like this popping up. There will be free drinks, plus songs spun by
Shawn Ryan, Billy W, Apt One and Kyle [M]
, good way to get the night started. If you can't make it tonight, stop in soon and cop some sick vinyl, can't wait to come down and grab some stuff myself. Yeah! Philly, I love you!
-Okay, enough East Coast, Schmeast Coast. Everyone in Oklahoma City should head to
Mixology (3165 S. Campbell)
tonight for the
Black Box Revue party
. John Bourke of Trash Yourself and Dance Robot, Dance fame will spin. Best of all, it's a benefit for Toys for Tots, so your drunkenness and debauchery can actually be for a good cause for once. No cover, 21+.
-I feel like I could also have used the phrase Lights Down Low at the end of the tunnel as well to denote goodness on the horizon. Well, it ain't the horizon no more, as it's Friday night and the Lights Down Low party is taking over the
222 Club (222 Hyde @ Turk). Resident DJs Sleazemore and Rchrd Oh?!
are joined by
ATL's Treasure Fingers
, who is not to be missed. Dude has done some of the hottest remixes lately, dancefloor madness guaranteed tonight. There's also a
guest DJ set by Seraphim Delush
, returning to San Fran, and
Jenny Young
,
photos by Parker Day
,
presented by Big Stereo and Fernet Branca
. I don't know the cover cost, can't find it anywhere, but I feel like past ones have been about $5, 21+.
-LATE UPDATE: LA, I was wondering what was going down out there.
Modular Winter Social
is going down! This one should be super rad, as
LA Riots
are headlining in their hometown and may actually start a riot with a massive indielectrodance set. You also get
Publicist, i.e. Seb from Trans Am's band
, in their first LA live show, plus
Anavan
live,
DJ sets from Royal Rumble and Modular's own DJ Daisy O
. Plus photos by the OG himself,
Cobrasnake
! Get to the
Echoplex (1154 Glendale Blvd)
to enjoy all of this, but
make sure to RSVP here first
to get on the $7 reduced list. $10 otherwise, 21+

-Outside the city, in
Santa Ana
, the
Mute party
goes down at
Proof Bar (215 N. Broadway)
as it does each and every Friday.
Resident DJs Legit and Ben N.
bring you the nastiest dance rock and trashiest of disco, the perfect Friday night soundtrack. No cover, 21+, doors at 9pm.
-Oooh, always want to do a better job listing things north of the border, here's a pretty good starting point. The
Random Land party at Circa (126 John St.) in Toronto
should be massive, esp in the main room where
Arthur Baker
is the headlining DJ. Arthur Baker, Torontoans! One of the patron saints of Pound for Pound! That's not all though, as there's also NYC's
Eli Escobar, Fistfight, Dougie Boom and Syntonic DJs
spinning, plus Woodhands live. There's two other rooms with lots more DJs,
hosted by Top Shelf Motherfucker
. $15 before 1am, $20 after, things go from 10-4am. Late Update: Lupe Fiasco will go on in the main room at 11:30 pm, believe it's a live performance. Bonus!