As the year comes to an end, I've been trying to think happy thoughts and look back at some of the great developments at Pound for Pound. One of the first that comes to mind is connecting to the Chicago scene, as I've been amazed and impressed at how great and creative and tight-knit a scene exists there. The
Dark Wave Disco crew
is a great example of all that is good out there. Tonight
their weekly Debonair Thursdays party at the Debonair Social Club (1575 N. Milwaukee Ave)
celebrates its first anniversary. Mazel tov to
residents DJs Trancid, Mark Gertz and Greg Corner
on putting together a successful weekly party dedicated to great electronic and dance music, a yeoman's task. Head there tonight to celebrate the anniversary and the holidays with what looks to be a great party - Effen vodka open bar from 9-11, free haircuts and product giveaways from
local salon Art + Science
, ticket giveaways to the next DWD with The Teenagers, plus the residents spinning all night. No cover, 21+, look forward to mentioning this in 2008.
-Another personal favorite goes down in NYC,
the monthly Unstoppable Perfect party at Happy Ending (302 Broome St)
.
DJs rekLES and SeanMF'NRoberts and hosts Julius O and Antwan of Ithinkyoureswell.com
have put together one of the best parties in the city, period. Great music, from the newest electroindie shit to 80s to post-punk to house, a great crowd that actually dances (yes, dances in NYC), girls, no cover, drink specials. In other words, they get a check on all of the boxes for a great party. Tonight, there's no rekLES unfortunately, but DJ Vikas will fill his shoes for the night. There's also a Bass Ale open bar from 12-1am, no cover, 21+.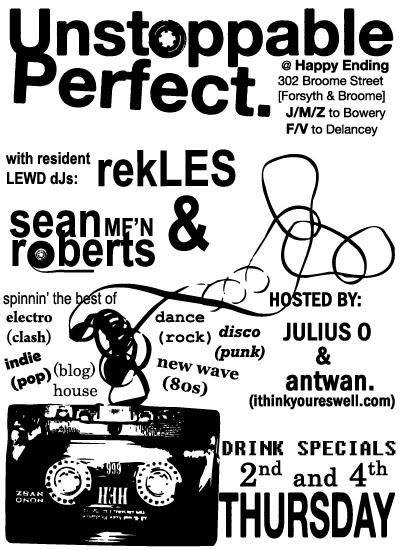 -Another more recent addition has quickly become a favorite as well, as the Art After Midnight party gives you a little art with your music, drinking and dancing. Chris Alker and Sushi Steve are the residents, tonight they are joined by Marc-Alan Grey of Le Changez Beat and Robot Rck and M68 for a night of indie and indie dance in a cool new spot, Gallery Bar (120 Orchard St) No cover, 21+, things start at 10pm.
-Ahh, speaking of old favorites, the Common Folk should be familiar to readers. This Sweatshop Labor affair
-If you are further uptown (and yes, 16th St. is uptown) and want something a little bigger, Cheeky Bastard has Kitsune's Guns 'n' Bombs as the special guest DJs tonight at Hiro Ballroom (371 W. 16th St) The LA duo have had a big year with remixes and original tunes, getting to the front of the electrock crowd. Catch their DJ set tonight at one of the best and most consistent parties in the city. Lucky Beer open bar from 10-11pm, 2 for 1 vodka drinks from 2-3, $4 Sparks all night.
RSVP at the going.com site
to get in for free, 21+, doors at 10pm.
-I always feel like I am missing out on a ton of cool events in
Seattle
, hopefully I can get rid of that feeling in the new year. In the meantime,
Club Pop
pops off tonight at
Chop Suey (1325 E. Madison)
with their annual Christmas party. This one features live music by Holy Ghost Revival, The Pharmacy and Emeralds, plus resident
DJs Colby B and Glitterpants
will bring the dance party late. $8 before 11, $10 after, 18+, a great night of rock and dance.
-Finally,
Mark Rodriguez
has decided to beat the NYE party crunch by throwing a
Pre-New Year's Eve edition of the Heist party at The Airliner (2419 N. Broadway)
. It definitely has the size and scope of the year-end ones, three rooms, two bars,
Trey D of So Sweet Records, DJ Score and Disk Jo Slim
spin in the main room,
Jimmy Boy
has the second floor and
Bulimiatron and Dmndays
have the lounge. Unlike NYE, you can get in for $5 before 11 if you
RSVP at the going.com site
. $10 otherwise, doors at 9pm.