As I look back on this year, one other city has impressed me quite a bit with their DJs, parties and community. As I begin to think about moving and schools, San Francisco seems to have something special.
The Lights Down Low party at 222 Club (222 Hyde and Turk)
exemplifies all of that radness, and they are doing their final one of the year and it's a big one. They have
Felix Cartel
as the special guest DJ tonight, a dude who has gotten love from all of the big names in the electrorock scene. He's making his first US appearance tonight, San Fran, so make him feel welcome. You also get
DJ Hyphy Crunk from LA and DJ Forever 21
, plus
resident DJ and LDL mastermind, Sleazemore
. Hosted by Jen-Elle, photos by Spencer Day, dancing and debauchery by you. I cannot find the price, but whatever it is, it's worth it.
-Down in Santa Cruz, Orthodox brings you
Made You Look Fridays at Detroit Bar (834 W. 19th St)
This is a big one, as
Dim Mak's Steve Aoki
headlines, guaranteeing lots of great indie and dance music, plus some antics from Mr. Aoki.
Mr. White and Devyn C
join him in the main room, while
DJ Cory, DJ Legit, DJ TJ and GMO
get Room 2. Of course, the hardest working woman in show business, Shadowscene, will be there taking pics. RSVP to MYLFridays@gmail.com for reduced list, $15 advance
-All the way back on the East Coast, it's time to finally give some attention to the
Ruff Club party at The Annex (152 Orchard St)
Spencer Product and Denny Le Nimh
have been doing this thing forever it seems like, giving the kids a place to hear great dance music and to go crazy. This is a good one to check out if you haven't already, as
Throne Of Blood's Dances With White Girls
headlines upstairs. I have an inside source on this, but let me just tell you that 2008 is going to be a big year for DWWG. The resident DJs will be in the house as well, holding it down upstairs and downstairs.
-If the LES isn't in the cards, do it up big in the Meatpacking District tonight at Lotus (409 W. 14th St) Upstairs, it's
Top Billin'
, where
DJ Eleven of The Rub
and J-Boogie are top billing. Seriously,
San Fran's J-Boogie
is a huge talent, releases on Om Records and Ubiquity, Expect a really great night of music , covering all sorts of genres from hip-hop to dub and reggae to downtempo. RSVP to topbillinfridays@gmail.com for no cover, 21+.
-Downstairs,
Tatler presents Night Of A Thousand Gays...Or At Least 10
. I almost feel like that party name should be the whole preview, but I must mention that the DJs for this one are top-notch. They're called the
Ladies Of Lilac, i.e. Kim Ann Foxman of DFA's Hercules and Love Affair, Dirty Jean of Crucial Get Down & Girls Girls Girls and DJ Fucci of Love Muscle & Girls Girls Girls
. They will be spinning "super disco, electro boogie, left-field Italo and classic house." They have previewed the next year of Pound for Pound. They will make your Friday night fun. RSVP to tatler@lotusnewyork.com for $10 admission, $20 otherwise, doors at 11pm, 21+.
-I am writing this right before I go to American Apparel to buy a sweatshirt. Fate? Maybe. Potential sponsor of Pound for Pound? Should be. Anyway, do not look at the flier, I did and can no longer see. Just trust me on this one, it's the American Apparel Pajama Party at Hugs (108 N. 6th St), WestPain, DJ Milk Money and Merkin Muffley spin. Info is a bit scarce on this one, but it's a great chance to check out one of my fav new spots and to wear pajamas or underwear to a bar. $5 PBR and whiskey shot for anyone who does, so you can be drunk and cozy and ready to hop in bed at a moment's notice.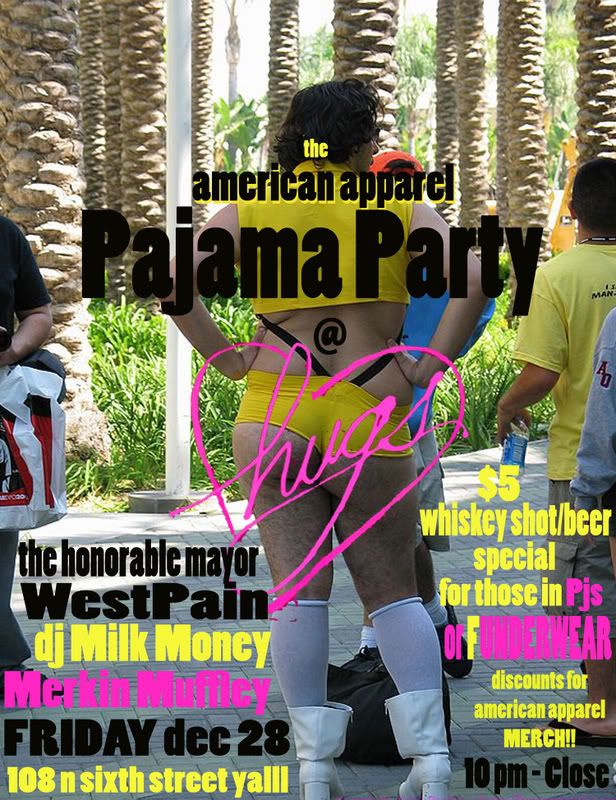 -Down in Philly, it's a good night to get into rap, as Beat Garden and Publicans present Money Folders, the yadibox.com mixtape release party. I'm not gonna lie, I don't know much about this one, but I do know that the Philadelphyinz will wreck shit and that's good enough for me. Next Millen will also perform, plus a ton more rappers will make appearances. This should be a good night at The Arts Garage (1535 Ridge Ave), a chance to see the up and coming stars of the hip-hop scene. $10, women get in free before 10:30, 18+, BYOB, 10-3am.
-For something more grimy in Philly, get to the

Khyber (56 S. 2nd St)

and head upstairs for

The Straight Dope

. This is the

monthly Seclusiasis jump-off

, tonight label members

dev79 and Generic Man

are joined by

Miami's Meddafore

for a big kickoff to the big weekend. Expect a ton of bass, rap, dancehall and electro, heavy yet dancefloor friendly. No cover, $1 PBRs and High Lifes until 11, 21+.