Wow, so much going on tonight, it's a little overwhelming. I'm going to lead off with an old favorite, the
High Voltage party at The Annex (152 Orchard St)
This is the final one for the year, your final chance to hang with
Dimitry!!!
and crew and be young and drink free vodka and get way too drunk on said vodka and dance and enjoy the final night of Hanukkah. Dimitry and Prince Terrence are joined by
DJ Krames of Cobra Kai
, should be a night of serious party music from cheesy pop to Bmore to rap bangers to g-d knows what else.
RSVP to the going.com site
, no cover, open Zygo vodka bar from 11 until it's all gone, support one of the best weeklies and one of the best dudes in all of the city so nice they named it twice.
-Serious downtown night ahead,
Fool's Gold and 10 Deep Clothing
are teaming up for
The Holiday Sweat Out
. It's a full-on label night, as
A-Trak, Catchdubs and Pase Rock
will spin,
hosted by Kid Sister
and
special appear
ance by Kid Cudi
. Open bar from 10-11, no cover, get there early to make sure you get in. It all happens at
Element (225 E. Houston St)
, a big space with a big dancefloor. A few quick flier comments, love the dreydl and gold bar figure, but what's up with the pound for pound reference? Don't make me contact my lawyers!
-
Urb Magazine
is throwing its
Holiday Extravaganza at Club 205 (205 Chrystie)
tonight. They're joining forces with the
Taste Crew
who normally hold it down on Wednesdays at 205.
ADJ from Brazilian Girls
is the headliner, as this party is also the official afterparty for the Brazilian Girls Terminal 5 show. The main draw should be
Justin Carter and DJ Probus
, the duo who do the
Easy Lover monthly at APT
, I dare you to not dance during their sets. Double dare, in fact.
DJ Equal of the Taste Crew
will also spin, not sure if this is both upstairs and downstairs or what. RSVP to 205@thetastecrew.com, this should be a great night
-Another club, another magazine sponsored party. This one involves
ChiefMag.com
and Happy Ending (302 Broome St), as they present the
Ninjasonik Mix Tape 2
Release Party
. This is normally the bi-weekly party with
Morsy, Reverend McFly and Teenwolf
, rest assured those guys will be involved. I'm a big fan of this party too, always a good crowd and people enjoying themselves. No cover, 2 for 1 drinks specials from 11-12, 21+.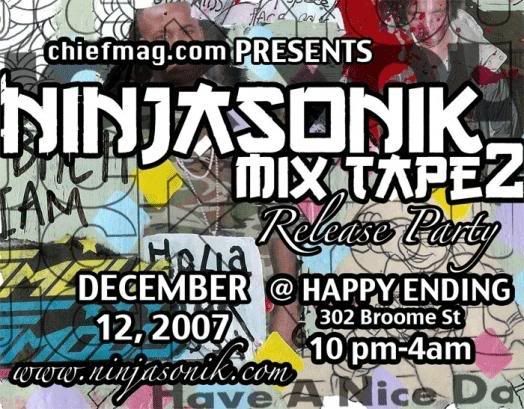 -Just to prove how much we've turned the page and done away with the past, another party at the Delancey (168 Delancey Ave).
The Ill Pro Hibited
goes down there tonight, everyone looking for more rap and reggae should definitely, especially to hear
Queen Majesty
spin. She's one of the best, a part of the
Deadly Dragon Sound System
and as good as it gets when it comes to reggae/dancehall DJs.
DJs Ill P, Teddy King and Will Star
will also spin,
hosted by Mister Never
. RSVP@illprohibited.com, open bar from 10-11, 21+.
-Super rad night in Philly as well, as the
Popped Festival
does a holiday party at Johnny Brenda's (1201 Frankford Ave).
Flying V Productions
has brought in two amazing bands,
Philly's own Pink Skull and We Are Wolves
. Plus, the Popped DJs will spin all night, $10, doors at 9 pm, 21+. Gorgeous flier as always from the Flying V people, yeah!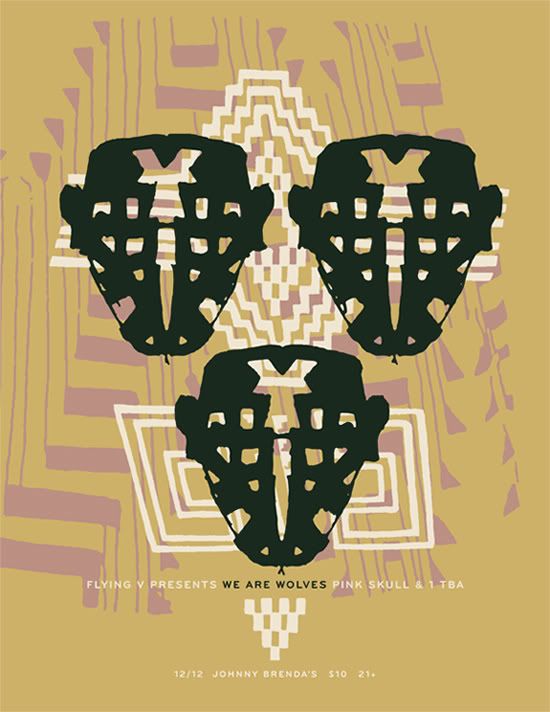 -Head over later to
The Barbary (941 Frankford Ave)
where the
Crescendolls party
returns for one night only.
JHN RDN, Ian St.Laurent and Gregg Foreman
get together to melt your faces with raging electro and dirty rock music. No cover, $1 PBRs until 11, all at your new favorite venue. Yeah! Such a fun night, Philly, make it happen in Fishtown!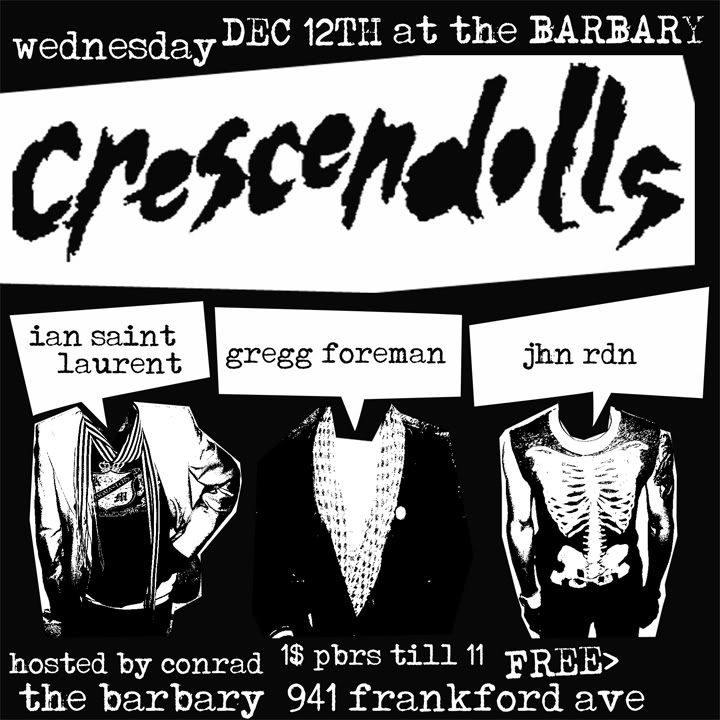 -Now, let's make a stop in the middle of the country before we head West. It's Robotic Wednesdays in Oklahoma City with the Dance Robots, Dance DJs, they take over the Electro Lounge (5929 N. May Ave) for a night of the best robot rock, electro house, any two word dance music you can think of. Doors at 9 pm, goes until 2 am, 21+. I must mention the fact that you need to bring CASH $ to this one, as the phones are down and credit cards are not being accepted.
-In Kansas City, Missori, the Tactic guys are doing their Wednesday night weekly at NARA (1617 Main), expect lots of disco, house, electro, funk, a really nice way to get through the middle of the week with good DJs spinning good music, while you enjoy the drink and food specials (what's a reverse happy hour? anyone?) No cover, 21+, doors at 9:30.
-Whoa, it's a big night in LA too. First, make sure to check out the
Get Low party at Crash Mansion (1024 S. Grand Ave)
, which showcases so many of the talented young bloods out there in Los Angeles each and every Wednesday. I really like their emphasis on building the local scene and supporting DJs, bands, artists and designers from the community. Tonight, you get a special performance from the totally
rad local band Villains
, although the guys are just DJing as far as I know. The other guest DJ,
Buliamiatron
, is debuting a new Ocelot remix, plus there's the
resident DJs Luv Tek, Hyphy Crunk and Joaquin
.
RSVP at the going.com site
and get in for free until 10:30 if you are 18+, 11 pm if you are 21+, $5 for 18+ until 11, then $1o after that.
-You'll also want to head to Awesometown at The Short Stop (1455 Sunset Blvd) for Anne Lee and Shadowscene's party. Population in Awesometown tonight: DJs Cosmic Kids, Ben Lashes, Lauren Rocket and Scarlett Casanova, hostess Anne Lee, photog Shadowscene and you! Let's get a census count of a couple hundred tonight, LA! Dope dance-y party music and $3 Dewar's all night, funny how well those two go together. No cover, doors at 10, goes til 2am, 21+.
-Last but not least,
Modular Records and Big Stereo
get together to put on
The Winter of Our Discotheque tonight at the 1015 Folsom Nightclub
(1015 Folsom) I mean, as if the name of the party wasn't enough (and it is), they've brought in Publicist (Seb from Trans Am) for his first US show, plus the rad
C.L.A.W.S. from Tigerbeat6
and the best local DJs -
Omar from Popscene, Rchrd Oh?! of Big Stereo and Sleazemore from Lights Down Low
. Seriously, what are you waiting for?
RSVP now to get in for $5
, otherwise it's $10 at the door, doors at 9pm. This