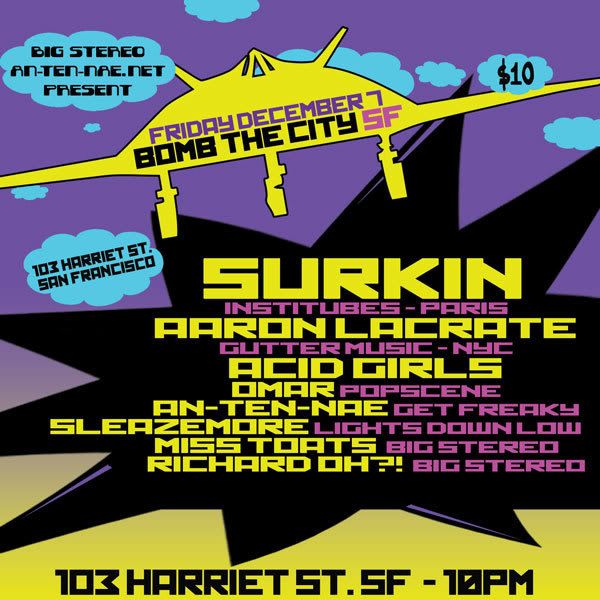 Defying expectations and a natural segue, this post won't lead off with New York City. Instead, we will start on the opposite side of the country, just to satiate my difficulty personality. Actually, think of this as a reward for all of the rad West Coast parties putting their info and fliers up EARLY! Let's start off in San Fran where
Big Stereo and An-Ten-Nae.net present Bomb The City SF
tonight at 103 Harriet St. So many names to mention, so little time. Surkin continues his US takeover, Aaron Lacrate of Gutter Music will bring the Baltimore club to the Bay Area, Acid Girls will bring the bassssss! and the best of the best in San Fran are also spinning -
Sleazemore of Lights Down Low, Omar of Popscene, An-Ten-Nae of Get Freaky and Miss Toats and Rchrd Oh?! of Big Stereo
. Whew, that was tiring. You will be too at the end of this night, which seems to be going down in the basement of a former bathhouse. $10, doors at 10 pm.
-There's another interesting one in San Fran, which has an interesting and cool mix. It's
the Body Heat party at Elbo Room (647 Valencia St)
and it features a live show by
Boom Bip
, who has shed his indie hip-hop producer tag for a more electronic, dance-oriented sound. Even better, there's a performance by
San Serac
, Junior Boys tourmate, Output Recordings artist and maker of great disco-soul infused dance music, you will want to check him out. Damn, there's also a DJ set by the amazing
James Fucking Friedman
and a live set by
Codebreaker
, a band we recently hyped.
$8 advance
, $10 at the door, this looks to be a pretty incredible night of music, to be honest.
-Downstate, LA has a big night ahead as well. First up, what do you get when you combine two great parties? You get one super rad one for one night only! Blow Up LA and Le Disko are doing this just this, in case you thought I was just writing up a hypothetical.
Keith Wilson and Anne Lee present Blow Up LA vs Le Disko at Safari Sam's (5214 Sunset Blvd)
, an epic battle worthy of the old Lakers-Celtics matchups. Your DJs for the night are
Russ from Royal Rumble, Keith 2.0, Anne Lee, DJ 19 a.k.a. Young Sunn and DJ (N)
.
Shadowscene and Red Slurpee
will be taking photos of the beautiful people in attendance. Free before 11 with flier, $5 after, 18+, free parking and cheap drinks too.
-I also can't recommend more highly heading to the Beauty Bar (1638 N Cahuenga Blvd) to check out the Iheartcomix party there. It features a live show by
Thunderheist
, the Canadian electrorap duo, that you are not going to want to miss. Mr.
Iheartcomix Franki Chan
is also spinning, things kick off at 10pm and look like they'll go til midnight. Perfect start to the night, free, 21+, yeah!
-Chicago can't always go it alone, occasionally this great city needs to bring in some special guests from other cities. Tonight is just such a night. First, Pound for Pound favorite
Life During Wartime
has brought in one of the best DJs in NYC, Eamon Harkin of the FUN party, to take it up a notch. Harkin is a great fit imo, should be a great night of indie music with a dance sensibility. He, of course, joins the residents,
Bald Eagle and Mother Hubbard
, in their quest to win the battle against Republicans and wallflowers. Presented by Newcastle and UR Chicago, the Darkroom (2210 W. Chicago Ave) is the place to be in Chicago tonight. No cover before 11 pm, $3 Newcastles, $4 W.M.D. shots (we found them!), 21+, party goes til 3 am.
-Over at the
Debonair Social Club (1575 N. Milwaukee Ave)
, another New Yorker is in town as a special guest. This time, it's house legend
Junior Sanchez
, who will be spinning at the Friday night weekly with resident
DJs Heather Doble, Ryan Paradise, Mark Gertz and Trancid
. Hosted by
Scott Cramer and Jillian Valentino from Avant Trill
, this night also serves as bday for Paradise; a Junior Sanchez DJ set is a pretty fucking good present, if I do say so myself. To make it even more special, say "teen spirit" at the door for free entry. Once inside, enjoy $2 vodka and beers all night. Whoa.
-Huge night in Philly too, starting off with the [click] party at The Barbary (951 Frankford Ave).
Dave P and Pink Skull
have invited a special guest,
Adam Sparkles
, to come in all the way from South Philly. Seriously, South Philly is like its own world, it's like the dudes coming from Berlin. You know the deal, nite music, freak out, best party in the city. $5, 21+.
-It's also time for another
White Ts and White Belts at The Arts Garage (1530 Ridge Ave)
Emynd, Bo Bliz and Dan The Swede
bring you the perfect way to end the night, as this one goes til 4 am. Expect rap, mash-ups, dancehall, cheesy pop, a good mix all night. $10 cover, there's free vodka and beer, BYOB otherwise if you wish to ensure that you have something to drink for the duration of your stay.
-Another great monthly happens tonight as well, as the
Let Me Ride party
takes over Fluid (613 S. 4th St.) again with
special guest Steven Bloodbath
.
Residents Breakdown, Art Cuebik, Kevin Kong and Illy Emcee
will team with Bloodbath to bring you a night of electrorock, Bmore club, rap, classic stuff you know all the words to and the newest shit that you will want to know the words to so you can buy it the next day. $5 all night, drink specials until midnight, 21+.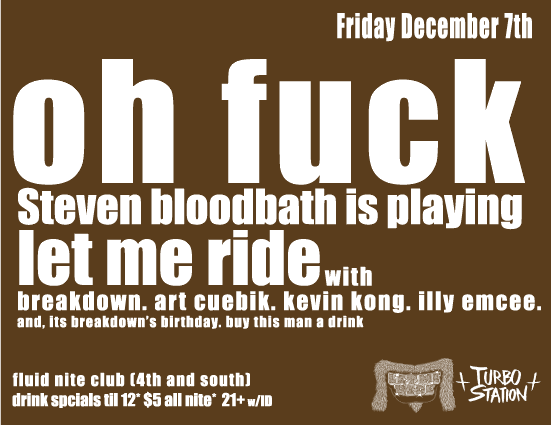 -The big news tonight in New York City is the launching of a new nightclub called Le Royale (21 7th Avenue South) and the return of the
GBH and Cheeky Bastard party Robot Rock
. Le Royale is actually in the space formerly known as Luke and Leroy's I believe, interested to see how much they've changed the space around, hopefully they've kept the mirror vibe going. Things kick off with a bang, as
Robot Rock
has
special guest DJ set by Jamie of The Kills
.
Dimitry!!!, Alex English and Michael Skype
join him in the main room, while
Marc-Alan Grey
spins in the lounge. RSVP now to list@gbh.tv for free admission. Doors at 10:30 pm, Level vodka open bar from 10:30-11:30, this one should be packed to the gills and a nice new addition to the club scene/weekend options in the city.
-What the hell, let's make it a Westside night for once.
Top Billin'
keeps gaining steam at
Lotus (409 W. 14th St.) in the Meatpacking District
, bringing excellent DJs to the club. Tonight, it's
DJ Ayres from The Rub and Blu Jemz of Turntable Lab LA
, expect lots of hip-hop and party bangers, perhaps even a Pimp C tribute.
Hosted by Project Matt, Ms Nelch, Pegleg NYC, Yossi C and many more
, rsvp to topbillinrsvp@mac.com for guestlist info. Don't be scared, the Meatpacking District won't bite you.
-Back in Brooklyn, for those of us still thinking about Daft Punk in Coney Island this summer, tonight at Studio B (259 Banker St) gives us a chance to relieve those memories. Sort of. In celebration of the Daft Punk Alive 2007 LP release, there's an all-night dance party featuring a live performance by the only Daft Punk cover band in the world, Faux Punk. Or is it a cover band? Who knows who is behind those masks? Okay, it's not going to be the guys, but it'll still be fun and
David Bruno of Slap You In Public
will spin and that's worth it alone. $8 advance, $10 at the door, 18+.
-Finally, we end up almost at my doorstep with the
Palms Out Sounds party at Hugs
(108 N. 6th St) This one has been a hit right away, as one of the best music blogs around brings in their favorite DJs and bands. Tonight is no exception, you'll especially want to catch
Lismore
live, really great stuff from a band that deserves more attention.
-What the hell, let's add on two parties across the ocean. First up, in Berlin,

the Ack! party at Maria Am Ufer (An Der Schillingbrucke)

should be a rave, Dave.

Adam Sky, Guns 'n' Bombs, DJ Coop, Tim Thaler and F.O.S.T. and a live show by So So Modern

will melt your faces tonight.



-Finally, in my future home of Paris, the

Toyz party at Maxim's (3 Rue Royale)

look awesome. It's

Uffie's bday party

, she'll be performing live with

Feadz

,

Ken Ishii

will be in the main room too,

DJ Heartbeat and Sven Love

have the second floor Demented room, Headbanggirl and Phil Dark have another roon on the second floor, while the first floor rock room features Eric Debris a.k.a. Dr Mix, Emmanuelle from The Dead Sexy Inc. and Blondie vs. Blondie. 12 euros with flier, I think, this night looks like it'll be a blast. Someone find me work in Europe STAT!