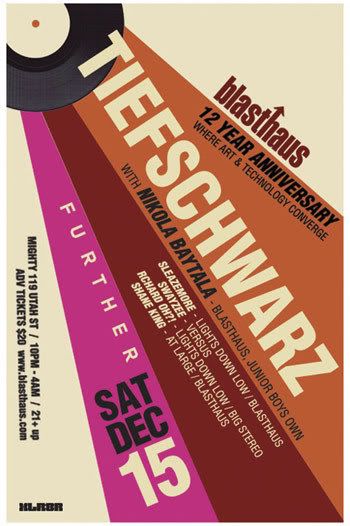 Okay, the East Coast seems to be quiet(ish) tonight and the West Coast put up bulletins early and so the West takes it. East Coast bias what? Not hard to see why when you see the fliers for Blasthuas in San Fran, Blow Up and Check Yo Ponytail in LA. I'm gonna lead off with the
Blasthaus 12th Anniversary party at Mighty (119 Utah St)
featuring a
DJ set by Tiefschwarz
, the legendary German techno duo. I lied a week or so ago and said that their set in Brooklyn was their only US appearance. This is my penance for that misinformation, fyi. Anyway, the Blackmusik ones are being joined in the main room by
Nikola Baytala, Blasthaus resident along with Kontrol, End Up and Bionic
. Oh, but that's not all, there's also an Electro/Booty Lounge (which incidentally the name of my future bottle service Meatpacking club, keep an eye out) which features the best local DJs -
Lights Down Low's Sleazemore and Rchrd Oh?!, Swayzee from Versus and Shane King of At Large
.
Presented by Blasthaus and XLR8R
, this should be an amazing night. $20, 21+, doors at 10, party til 4 am. Yeah yeah yeah!
-For those looking for something cheaper and more intimate, can't go wrong with
Frisco Disco at The Transfer (198 Church St)
Tonight's edition is a battle between two of the city's finest DJs,
Richie Panic and Vin Sol
, a struggle to see who will walk away with the Golden Technics. The only thing certain is that this will be a crazy, fun party and that you will dance to a great mix of indielectro, pop, mash-ups, rap, party bangers, etc. Doors at 10pm, $3, 21+.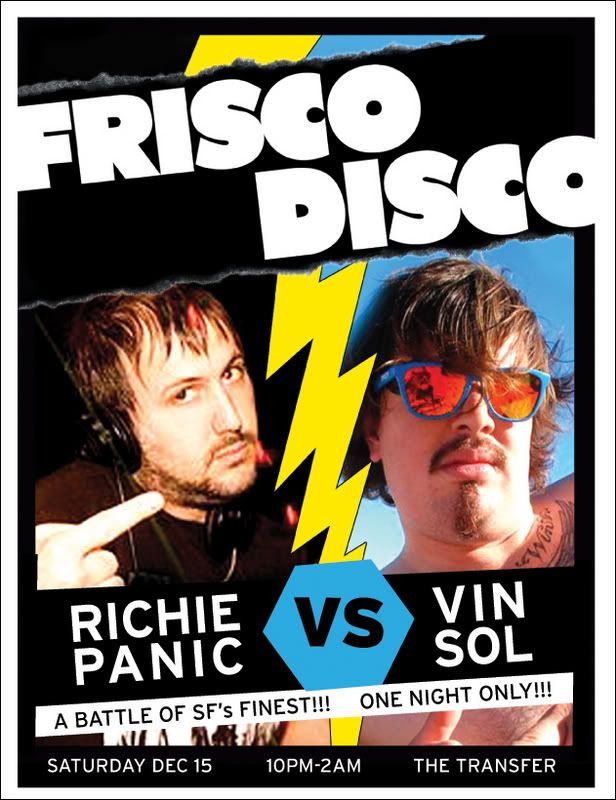 -Wow, really tough choice in LA tonight, as two of the best parties go head to head. They both feature The Black Ghosts and NYC favorites (Curses, Japanther) and great local DJs. I flipped a coin to decide which came first, it might be the best choice for you too.
Anne Lee and Shadowscene
have outdone themselves for their
Blow Up LA Holiday Party
, amazing line-up.
Curses! of Institubes and Drop The Lime
fame is back in the city, ready to tear up another dancefloor with heavy bass,
Simon of The Black Ghosts
will spin and do a mini-live set, you're not gonna want to miss him. There's also
Jefrodisiac of Frisco Disco
and LA's own
Nytel of Gangs of Neon, DJ [N] of Moscow and Le Disko and Billy Noorlag of Club Genre
. The coolest part is that this is at a new location, a loft/warehouse space (2079 E. 15th @ Santa Fe, Section C) that sounds rad. Email BlowUp@PrinceHouseRecords.com to get on the list for $5 entry before 11, otherwise it's $10. $2 vodka monsters from 10-11, cash bar all night, 21+, party goes til 4 am.
-Not to be outdone,
Check Yo Ponytail
looks just as good.
IHeartComix, Viva La Rock and XLR8R
have brought it in a crazy, electic line-up for your enjoyment tonight at
The Echoplex (1154 Glendale Blvd)
. Noisy, punk duo and Brooklyn institution
Japanther
play live,
the Kleavage Tour with Klever and Tittsworth
makes a stop too guaranteeing crazy turntable skills and a party-rocking set, plus a live show by local band
Ima Gymnist
, who have a lo-fi punk thing going that should fit well with Japanther. Plus, residents
Franki Chan and Paparazzi
will spin at some point too, photos by
Red Slurpee
, something for everyone music-wise, all this for only $12. Doors at 9pm, 18+.
-Okay, this one would have been in the running for party of the night if I had seen it first time through. I mean, are you kidding me? A cat saying "Disco fever. I has it." I have disco fever too and I love cats. So, kudos to
Minnespolis' Too Much Love party
for making my day with this one. TML's
Soviet Panda, Jonathan Ackerman and Scott Butters
will make your night with their dance party at First Avenue (701 First Avenue N), honestly what everyone needs now is a great night of disco and some house and techno, some electro and new rave stuff, but most of all, disco. $3, free with college ID, 18+. Thanks again to whoever made this flier, put a smile on my face. This post, as all posts are, is dedicated to Jezebel, gone but never forgotten.
-If you survived last night Philly, you need to head to
The Barbary (Frankford & Delaware Aves)
to check out
The Bounce party
,
Emynd and Bo Bliz's monthly
jawn. The
White Ts and White Belts
duo have been kicking it into high gear lately, I know that they have a big White Ts coming up, get on the bandwagon now if you aren't already. Presented by great local stores
WTHN and Exit Skateshop
, going down at John Redden's amazing new club, just a great Philly night. $5, 21+, 10-2am, awesome flier btw.
-Finally, I was going to write and mention that NYC seems devoid of things tonight. But, then, I saw this flier and was so happy, as you only need one good thing and the
U.N.I.T.Y. All 90s Dance Party
is that one good thing tonight.
Lauren Flax and Le Tigre's JD Samson
have turned this one quickly into a must-attend bi-weekly at
Hugs (108 N. 6th St)
, an entire party dedicated to that decade of innocence and joy, before you realized that adulthood sucks and drinking legally is overrated. Tonight, E-Frank is the special guest, no cover, 21+.


-Nearby at

Studio B

(259 Banker St), you can finally go there and do something good for other people for once, as the

Joy 2007 party

goes down all night. There's literally too many people involved in this to name them all, so let me just pick a few highlights. DJ Craze of Miami Bass Sessions, DB and Jason Jinx from the old NASA jungle throwdown and Nigel Richards, legendary Philly DJ from 611 Records, plus Lauren Flax are all reasons to get your ass to Greenpoint.

Hosted by Good People, Flawless Media, Married To The Mob, Rob Rewind, Beautiful Decay and Takeover Theory

,

newyorkfuckincity

has put this one on to benefit

the annual Joy holiday food drive put on by City Harvest

here in New York City. For over a decade, this benefit has raised 30,000 tons of food that have helped thousands of homeless enjoy a meal during the holidays. In other words, this is a great and important thing and deserves everyone's support. There's even a raffle tonight, where you can win all sorts of cool shit from various streetwear labels, as long as you bring 3 or more cans and donate $5.