-More Cali love, less East Coast snobbery. A new weekly starts in SF tonight and it has a great name, Wall Street, and two of my favorite DJs, White Girl Lust and Sleazemore, and I'm sure that I'd love the others. SF, break out the three piece suit, head to the Arrow Bar (6th and Market) and talk about money and bitches.
-Milwaukee, stand the fuck up! LA's Guns 'n' Bombs are the special guests for Spaced Out, a weekly at Moct (240 E. Pittsburgh Ave.) I mean, Milwaukee! Yeah! More midwest please!
-NYC, it's Saturday night. You know where to be, right? We've gone over this many times, Home Sweet Home (131 Chrysie St.), Project Matt and guests, best weekly (along with High Voltage!), the last refuge in the LES. Look at that flier, how can you not be there? I'll be there, you should too.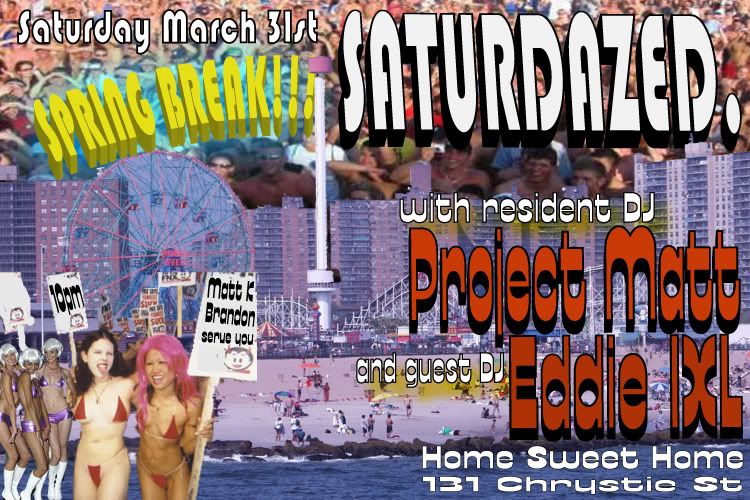 -Cousin Cole
-Fixed is back in Brooklyn tonight at Studio B with a massive night. It's Dave P and JDH's mix CD release. I've had this for a few weeks and it hasn't left my rotation. You want more? How about Data Rock, Lo-Fi-Fnk and The Presets? Game over.
-My future home city, Paris, has a unmissable night, Institubes Paris Terror Club. It's at L'Ambassade, Tacteel is the headliner and Das Glow and Bobmo are spinning. Doesn't this just make you want to make love and dance and be young and look chic?
-Whitey on Neon Noise