Claude Von Stroke, "The Whistler (Diplo remix)"
(
YSI link
)
Claude Von Stroke, "The Whistler (DJ Assault remix)"
(
YSI link
)
Hoo boy! This is a great post, lots of great shit going on all across the country, amazing music above. Can you feel it? Can you feel the fog lifting a bit? I sure can, I feel a
Pound for Pound
renaissance slowly unfolding. Lawd have mercy on the blogosphere, they know not what awaits them!
Claude VonStroke
is another essential name for anyone interested in dance music today. Von Stroke (real name: Barclay Crenshaw, seriously, that's his real name!) has been around for a few years, starting up the
dirtybird records
label in San Francisco. dirtybird has specialized in releasing obscure techno and house records, along with new stuff from VonStroke and fellow producer Justin Martin. He's considered one of the best DJs today, had a highly acclaimed album last year and has dropped a few massive singles.
Here's one of them,
"The Whistler,"
which just got the the remix treatment from the best of the best imo. Diplo, Jesse Rose, DJ Assault (!) all did their thing. I figured I'd put up the Diplo and DJ Assault ones as they're probably two of the biggest influences on my taste. For the record, their versions are the weakest, so you need, need, NEED to buy this CD and hear the Jesse Rose and Claude VonStroke vs. Luca Aginelli verions, which destroy.
-The newest addition to the
Pound for Pound
party list is Bounce in San Francisco. It's covers everything that matters in the world - Miami bass, crunk, hyphy, electro, B-more club, Chicago booty, ghetto tech and French dirtiness. What more do you need? Oh, cheap beer? Check ($1). Amazing guest DJs? Check (White Girl Lust) Great resident DJs? Check (Sleazemore and Omar) Get yourself to RX Gallery (132 Eddy St. @ Mason) tonight San Franciscans, it's your duty.
-It's Wednesday, so you know it's time for High Voltage. MY bol Dimitry and DJ DJ Tanner hold it down with guests Zachary Michael and TKOmri. Let me just add that this is a great flier, really love the design and look.
-My boy David from Slap In You Public is doing Moonwalk tonight at Happy Ending (302 Broome St.) and he promises lots of fidget house.
-We Are Your Friends brings in two more P4P favs in Lauren Flax of White Lightning! and Huggs from Montreal. It's the Grizzly Bear afterparty, if you were lucky enough to cop those tickets.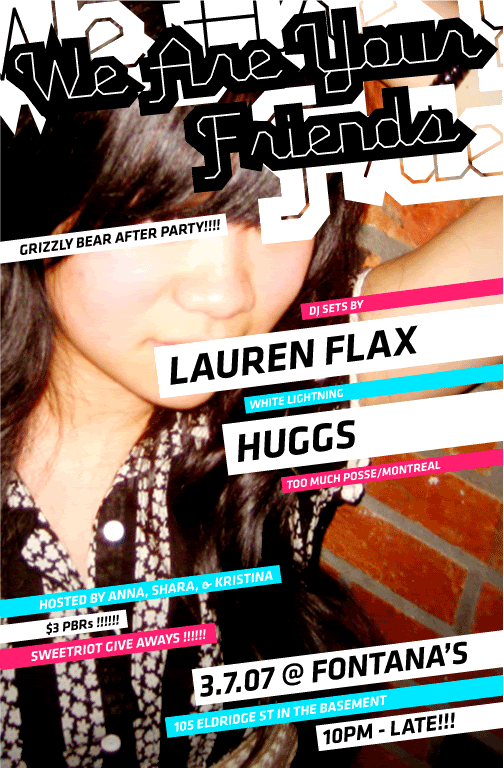 -DJ DJ Dylan is spinning at MJQ tonight in ATL with Brian Parris. Now, if I could just get him to post up some fliers!