Datarock, "Fa-Fa-Fa"
(
YSI link
) 320 for DJs

Datarock, "Fa-Fa-Fa (Princess Superstar's New York Dirty Disco Rabbit Pearl remix)"
(
YSI link
)
Datarock, "Fa-Fa-Fa (Shakes remix)" (YSI link)
Datarock, "Fa-Fa-Fa (Fa-Fa-Fast & Furious Discomix)" (YSI link)
I've been meaning to look at
Datarock
for months now, but it's actually a perfect time now as they are playing some US shows this week. Obviously, we'll put up the fliers for those gigs, including tonight's in San Fran.
Datarock is a Norwegian duo
, Frederik Saroea and Ket-Ill. They've actually been a band since 1997, playing gigs since 2000 and had a 10" that same year. However, it wasn't until their first album,
Datarock Datarock
, dropped that they began to get known outside of their home country. I'll take a look at the album in the near future, but their music is in tune with a lot of the stuff that we love here at
Pound for Pound
. It's dance-floor rock, like The Presets, The Rapture, the Modular bands.
Here's their most famous single so far,
"Fa-Fa-Fa,"
a tune that will make you love music all over again. It's a perfect dancefloor classic, with the catchy chorus
-Philly narrowly wins tonight, as this is a monster of a party at Upstairs at Sal's. First, you're going to get live performances from Pound for Pound favs Plastic Little and Bonde Do Role. There's also going to be a DJ set from Diplo, which alone would have made this a top event. Best of all, this is all part of the weekly Broadzilla party (every Thursday at Sal's), a great chance to check out some of the best up and coming DJs in Philly at one of the best new parties.
-Don't cry for NYC tonight, as Ed Banger crew and The Presets are doing a massive show at Hiro Ballroom. Huge props to Cheeky Bastard for pulling this one off, bringing the French electro bols and the indie dancers together. Tickets are $20, which is a steal motherfuckers, but get there early (9 pm) if you want to guarantee getting in. Don't sleep NYC, this is gonna be a rave!
-There's a benefit tonight in Brooklyn for A.i.R., which provides resources for art groups around the world. Get
more info at their myspace page
. Tonight, there's an early party at Laila (113 N. 7th) with art and food, then later, Nick Catchdubs, Sujinho and Cassiano, DJ Morsy and others will spin at Glasslands (289 Kent Ave), one of the best venues in NYC. Williamsburg, do this.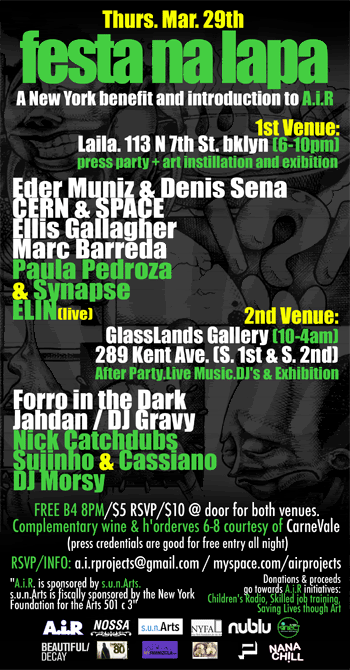 -I'm going to do some politcal links later, so it's fitting that tonight there's a party called Apocalyptico going down in the East Village tonight. DJ Doriana spins post-punk, new-wave and rock, there will be a dirty raffle (no clue either), $5 Beam and PBR specials. Get to B-Side (Avenue B btwn 12th and 13th).
-Finally, Datarock plays at Mezzaine (444 Jessie St. @ Mint) tonight in San Francisco. Codebreaker and Lemonade open and DJs Richie Panic and Jefrodisiac will be spinning. Simply amazing flier, if you did this, let us know.