Human Resource, "Dominator (original mix)"
(
YSI link
)
Human Resource, "Dominator (Joey Beltram mix)"
(
YSI link
)
Human Resource, "Dominator (Frank de Wulf #1 mix)
(
YSI link
)

Human Resource, "Dominator (Frank de Wulf #2 mix)
Okay, time to go back to the early part of the 1990s and take a look at a classic rave tune from the UK. Human Resource's "Dominator" was a massive tune in the early 90s, one of those rave tunes that broke through to the mainstream, so much so that MTV requested a video for the song. I should add that this all took place in Europe, as I don't think it made it beyond the underground here in the US.
Once you listen to the tracks above, I think that this popularity will be stunning. This is dark, almost-frightening music, to be honest. The lyrics convey that state quite well : "I'm the one and only dominator/There is no other. No other. No other." This is definitely not the whole Ibiza, naked on the beach rave scene; there's an amazing urban paranoid energy to this music, perhaps reflecting the increasing harrassment of rave culture at that time. Or perhaps urban producers came to the forefront and reflected the state of the cities after Reagan and Thatcher and conservatism.
Human Resource were actually a group of musicians from Rotterdam, 5 in total, formed in 1991. They would release two albums, drop a few massive tracks, spend the decace touring and making money off of songs like "Dominator," then disband before the new century began. It's the Joey Beltram mix that proved the best and most popular. His is the most unrelenting and heaviest, never letting up for one second.
-Pretty easy to pick the main event tonight, with Diplo, Bonde do Role doing Check Yo Ponytail in LA. In fact, Franki Chan has Tuesday on lock for the next month or two from what I can tell.
-Holy shit, Boston comes alive. Tonight upstairs at the Middle East (480 Mass. Ave.), Paper does it up in Beantown. Resident DJ E-Marce has a few guests DJs, including sets by Head Automatica's Daryl Palumbo, Men Women and Children's Nick Conceller and Cage's DJ, DJ Krazy Glue. Good to see our neighbors up north doing good things, shout out to JC.
-Inyourpants at Upstairs at Sal's (200 S. 12th St.) tonight in Philly, the flier really says it all.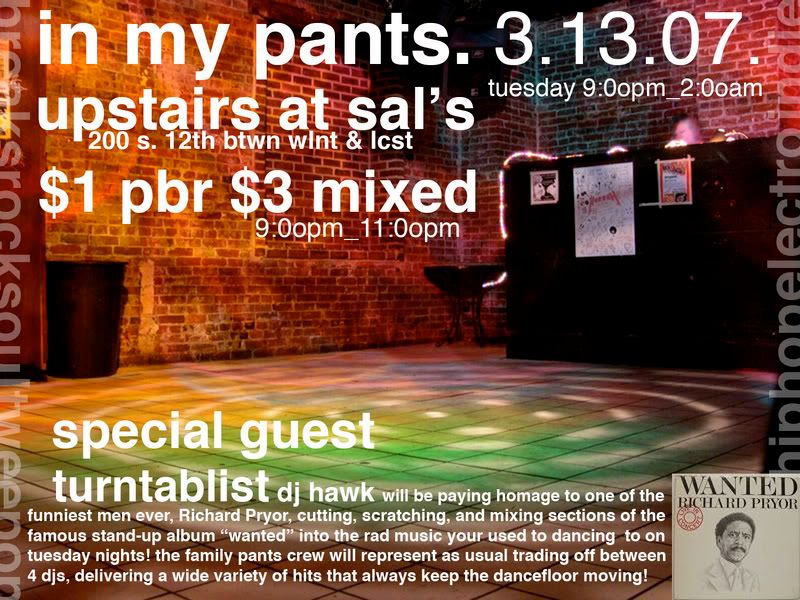 -Finally, DJ Steven Bloodbath has a newish weekly called Love Buzz at Bar Noir, the below-ground bar that specializes in late-night drunkeness. Be warned, you're only going to hear rock'n'roll at this night. I trust Steven to make that work.