Debbie Deb, "When I Hear Music"
(
YSI link
)
I've been meaning to drop more freestyle music, as I've built hte collection up over the past 6 months. No better place to start than one of the stone-cold classics of the genre, Debbie Deb's "When I Hear Music." It's also a perfect tie-in to tonight party at the Ukie Club, as I first came to hear this song there back in the Hollertronix days. Not much for me to add on this one, other than this is a nice HQ mp3 and it's a full version. I was so used to hearing Diplo spin it that I forgot how great it is extended, as I want that bass to go on forever. Vocoders, Debbie's great voice, one of the best freestyle songs, massive, squirming bass and sick synths. You need this in your life.
-White Ts and White Belts. At The Ukie Club. North Philly. Obolon. Special guest DJ (hint hint). 'Nuf said. Game Over. Smoke if you got 'em.
-Hands and Knees with Yo Majesty! JHN RDN & Ian St. Laurent will destroy you with dance music. I promise you will be seeing those rabbits by the end of the night. Acccciiiieeeeeeeeeed!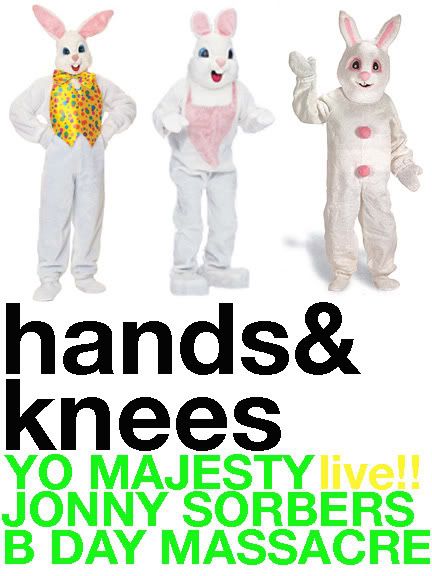 -
White Lightning!
joins forces with Arveene of Dublin (Ireland) and Frankie Banks of Detroit (Midwest) for dance music madness. Lemme take another minute to give props to a party. Lauren Flax has put together
one of the best weeklies in NYC
, it's an amazing chance to hear dance bangers and amazing DJs in a great bar with cheap drinks and no Manhattan garbage. Home Sweet Home (131 Chrystie St.), you know what to do.
-FUN at Studio B (257 Banker St.) continues to bring the heat, this time with special guest bands Teddybears and Radio 4. Resident DJs Eamon Harkin and The Bangers bring the fun. Greenpoint!
-LATE UPDATE: My bol Skinny Friedman is spinning tonight in the LES at Guero (9 Ave. A, right below JulesP, aww mang my old stomping grounds, shout out to the crazy guy who walks around screaming at the top of his lungs listening to his Walkman). It's free, make it a downtown night!
-Here's a party I've been meaning to check out, Ruff Club at The Annex. This one looks especially jam-packed
-
The Pull Out Method
is back at Club Midway (B and 3rd) with The Isles and Elizabeth Harper live
-Shout Out Out Out afterparty in Montreal with DJ Huggs
-Berlin, where ya at? My girl Elizabeth, a.k.a. DJ Almost Tropical, spins tonight at a new bar in the city called Post-Post (No. 10 Brunnen Strasse). Most romantic flier ever, guaranteed kissing to those smart enough to show.
-