Photo by shabphotographic.com
Jesse Rose & Sinden, "Me Mobile (original)"
(
YSI link
)
Jesse Rose & Sinden, "Me Mobile (Duckbeats Ringtone Riddim)"
(
YSI link
)
I kinda feel like Graeme Sinden is the man of the weekend, what with his first appearances in the US in Philly and NYC. He's spinning tonight in Williamsburg, details below. Here's one of his collaborations with another up and coming star, Jesse Rose.
-This is New York City's night, more specifically Brooklyn runs it. The highlight is
The Rave
, which features a DJ set by Sinden, along with the members of The Rub - Cosmo Baker, DJ Ayres and DJ Eleven. Best of all, it's at a warehouse in E. Williamsburg and I can walk to this shit! Tittsworth and Star Eyes are also spinning, hoping that there's lots of acid and bass tonight.
-Williamsburg, how I love thee. I also love
DJ Tiny Pants
, who is doing
Hi-Tops and Hearts
tonight at Royal Oak (594 Union Ave.). He's joined by Les Arrogantes Bastards and it's sponsored by Love Brigade.
-In Greenpoint,
Fixed Meets Modular
for another huge event. Dave P and JDH have all of your favs from the amazing Australian label. It's at my favorite club, Studio B (259 Banker St.) Yea! Favorites!
-Also in my hood(ish), Sound Advice goes down at Supreme Trading (213 N. 8th St.) with guest Krames from Richmond's Cobra Kai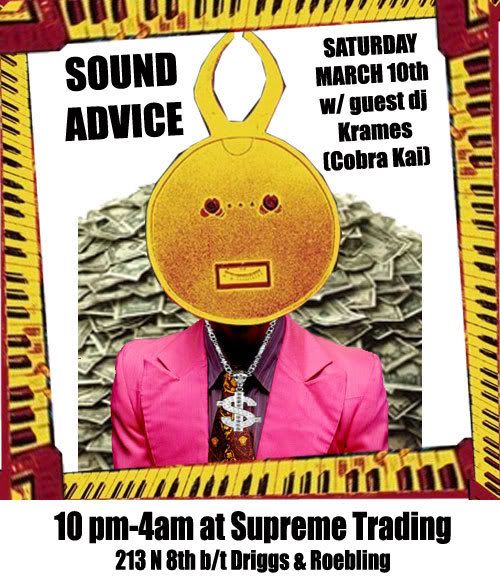 -Dimitry and Alex English! OMFG! Beauty Bar! Tonight! The flier was too tech savvy for me to put up here!
-Philadelphyinz will make your life better tonight, the perfect follow-up to last night's madness. Get to Medusa (21st and Chestnut Sts.) for some basement, underground love.
-Finally, a new city to the
Pound for Pound
map, San Jose. Anyone within shouting distance should hit up
Victim at The Blank Club
(44 S. Almaden Ave.) Resident DJs Basura and Disaster welcome LA's Omar of
Popscene
fame. There are promises of "booty bass hoochiez and electro hoez."