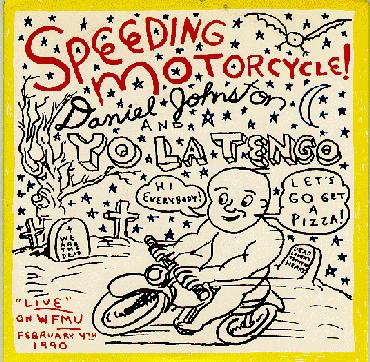 Daniel Johnston, "Speeding Motorcycle"
(
YSI link
)
Yo La Tengo, "Speeding Motorcycle"
(
YSI link
)
Mary Lou Lord, "Speeding Motorcycle" (YSI link)
The Pastels, "Speeding Motorcycle"
(
YSI link
)
Every now and then, a song comes to me that totally floors me and I end up listening to it hundreds and hundereds of time in a row until I wear it into the ground. The latest victim of this terrible habit is Yo La Tengo's version of
"Speeding Motorcycle."
I heard it while hanging out at LM's place and almost lost my shit. I've been trying to dig deeper into the
Yo La Tengo
discography lately, as I loved their last album.
The original song was written and performed by Daniel Johnston. If you havent' heard of him, it's hard to know where to begin with him. His name is thrown around a lot and he seems to be an important influence on many indie luminaries. I don't want to get into the whole controversy over him, other than to say that he is a gifted songwriter and this is a wonderful song. Johnston's own version is a great chance to hear the man and figure out if you'd be into his style (his high-pitched voice can be eerie and disturbing).
I'm throwing in the other two cover versions, one from the UK band The Pastels and Texas singer-songwriter Mary Lou Lord.
-If I was in NYC, I'd be at this. A.R.E. Weapons and Steve Aoki at Hiro Ballroom (371 W. 16th St.), my bol Dimitry is hosting, say his name for free entry, do it.
-Really cool event in LA art show with my bol Daniel
-Lots coming up at Pound for Pound. I'm most excited about a guest post that is going to drop tomorrow, a look at the year in books for one great reader and writer. we're also going to finish up our look back at the year in music, with a look at the best albums of the year and the ones that you need to buy. next week, we'll get back to our regular music posts, including some Valentine Day's love/romance stuff! Mang, stay out the way, Pound for Pound is on the move.