The Black Ghosts, "Face (original)"
(
YSI link
)
The Black Ghosts, "Face (Switch remix)"
(
YSI link
) 320 for the DJs!!!
The Black Ghosts, "Face (Teenagers remix)"
(
YSI link
)
The Black Ghosts, "Face (The Little Digitals remix)"
We're getting back into the swing of things here, so of course we need to drop some indie dance bangers. This one comes from a mysterious group called
The Black Ghosts
, which consists of four members I believe. There's an air of mystery to them, as the picture above is the only one I could find that showed the band members. But, who gives a shit if they're gonna drop such goodness? This one's got all the elements, a nice catchy refrain ("Face the music"), synths, sick bassline, perfectly in line with bands like
The Presets
and
Klaxons
.
There's been a ton of remixes, although the two main ones came from Switch and a new band called The Teenagers. I'm feeling the Switch one the most, but all of them are quite excellent. Switch really reworks the original, chopping it up, add percussion and let's the whole thing build steam until becomes an almost tribal banger. The Teenagers don't fool with things too much, adding percussion, lightening up the darker original.
-My bol
Project Matt
does up
Saturdazed at Home Sweet Home
with special guest
Nick Catchdubs
. Village Voice
called this the flier of the week
and did a mini-interview with Matt. I'll go one better and say that this is the best weekly in NYC, great music, chill spot, no Manhattan douchebags, cheap drinks. People are still kinda sleeping on this, so lemme just say: Stop! Make this a weekly stop,
Pound for Pound
approved.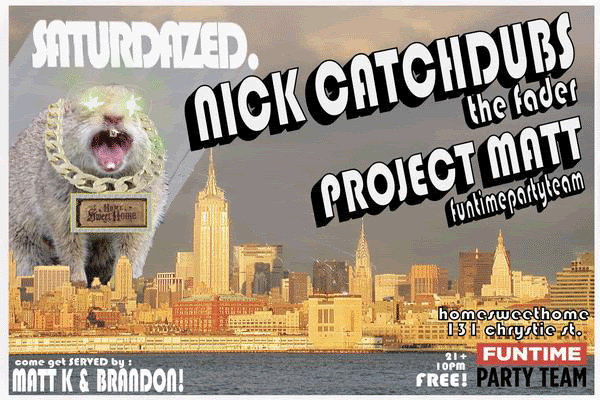 -
DMZ meets Dub War downtown
at
Tonic
(107 Norfolk).
Direct Drive
,
Dub War
and XLR8R bring you jungle, dubstep and drum 'n' bass in the Lower East Side, should be an amazing night.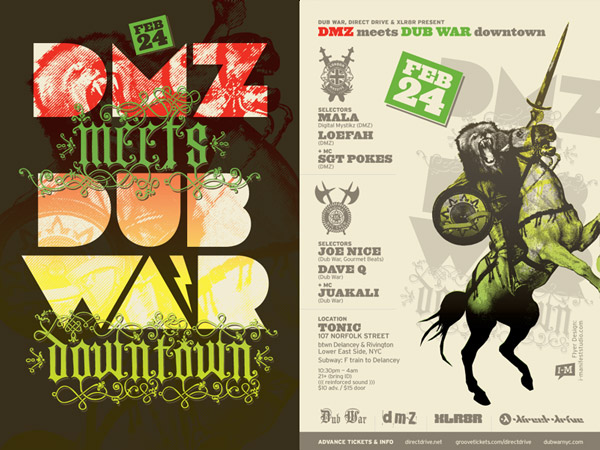 -Philly, what should you do tonight? Spend the night with the Philadelphyinz a.k.a. DJs Skinny Friedman and Apt One at their monthly Khyber jawn. $1 PBR til 11, there may or may not be dirt bike riding, show up to find out.
-Also, stop by for 80s Night at Upstairs at Sal's and relieve that unremembered decade. Free Sparks, DJ Solobuns and the Super Todd Bros on the decks, 80snewwaveromanticindiedance, yeah!
-Finally, DJ DJ Dylan a.k.a. Le Castle Vania spins at MJQ in Atlanta. No flier, but trust me it'll be good.