DJ Funk, Live at Bootyology Part 1
(
YSI link
)
DJ Funk, Live at Bootyology Part 2
(YSI link)
Aww, here's a little treat my dear readers, in honor of DJ Funk's gig tonight in New York fucking City. (Have I mentioned that party? Yes, right here.) Funk is way too underrecorded, especially for being the main figure behind the Chicago ghetto house sound. Dude was on Dance Mania for g-dsakes, one of the greatest dance labels that ever existed and yet it's hard to find anything he's put out. Recent stuff is almost non-existent. Let's work on that everybody, although I may have to step into fill that void. Any one know how to start a label?
Here's a live set that DJ Funk did, although the details are very sketchy. It's done for a party called Bootyology and showed up on CD a few years ago. I do not know the date or specific venue/city, nor do I have the setlist. If you have any of this info, please leave a comment or email me and I will be incredibly grateful. All in all, you get 40+ minutes of jackin' booty music, perfectly mixed. I really don't know how the entire world doesn't love this shit and want to listen to it every minute of the day and get married and make babies and fight and hug and eat and sleep to it. I'm sitting here ready to do all of those, although the lack of a partner makes it kinda creepy. For real, this is dance music, this is what this blog is all about. Enjoy
-NYC, your last warning. DJ Funk, DJ Assault, Spank Rock, Stretch Armstrong and others pay tribute to Disco D at Studio B (274 Banker St.) I cannot recommend this more highly. Prove me wrong, show up, dance, don't worry about the cameras taking your flick for some website, just listen to the greatest music in the world and have fun.
-Dave P join Julie G and AJW for some initials goodness at the Khyber (3rd and Chestnut, sort of) with the Driz Horse in Philly
-Hurrah! at Upstairs at Sal's in Philly (12th and Walnut, sort of) with Kyle M, Stereofaith, Chris Rogy and Shawn Ryan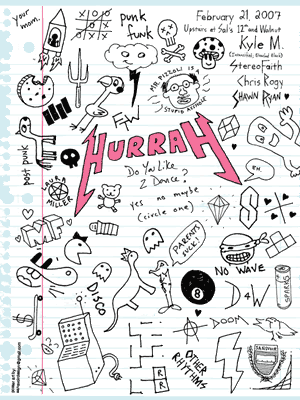 -Denver, White Girl Lust is back together again for tonight's edition of Tramp! at the Rock Bar(3015 E. Colfax) More to come on WGL this week, I am confident that Eric and Clay will channel Funk and Assault tonight