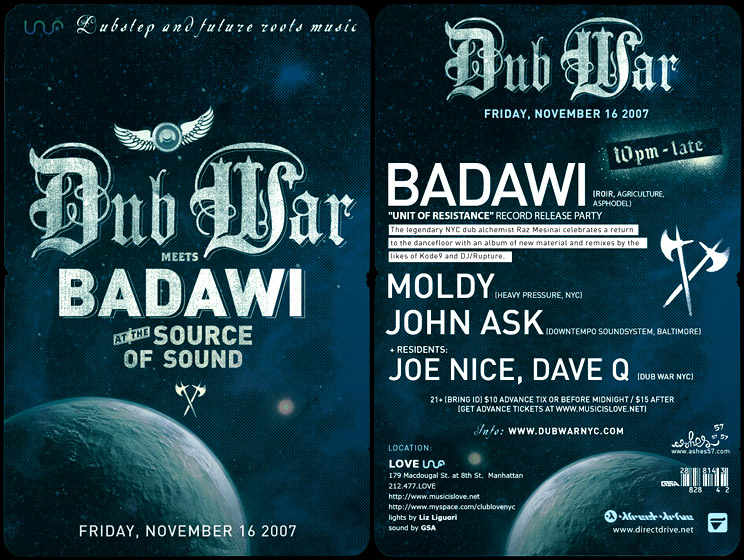 Super psyched to finally mention the
Dub War party
, especially as we've actually been posting some dubstep here lately. The Dub War party was one of, if not the, first party dedicated to the sounds of the UK and it's still going strong, many years and venues later. I can remember when it was at Rothko, remember Rothko? Anyway, this one is taking place at the amazing
Love (179 MacDougall St.) space
in the West Village; I know that the West Village is repulsive and MacDougall might be the worst of the worst on a weekend, but this place is like a hidden treasure that the NYU kids don't know about. It's got one of the best soundsystems of any NYC club, perfect for this music. Tonight's version is
Dub War Meets Badawi At The Source Of Sound
, which means that
Raz Mesinai
will be on the decks spinning his dub and noisy conconctions for the massive. You also get guest sets by Moldy and John Ask, plus residents Joe Nice and Dave Q, awesome. It's $10 before midnight, $15 after, it will go late late late.
-We've mentioned the Friday night thing at
Lotus
(409 W. 14th St.) before, but things are changing up with that and I see big things in store. Anyway, it's been renamed
Top Billin'
and is going to start bringing in some big name special guest DJs to spin alongside The Rub guys in the coming weeks. We'll have more to say on this one, for sure, but get a sneak preview of the goodness tonight as
Pete Rock
joins
Frank White
upstairs for some serious hip-hop. RSVP to topbillin@mac.com for reduced entry, doors at 11, 21+. New York, get behind this, so many good people are behind this night, really looking forward to seeing where this goes. Meatpacking District is the new Williamsburg, you heard it here first. Time Out NY, I'm trademarking that phrase, so don't steal it!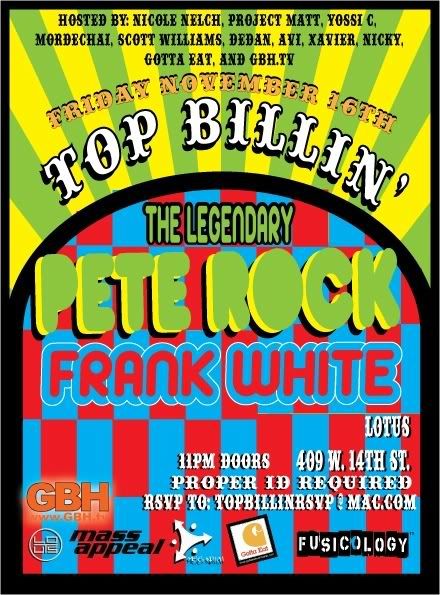 -Actually, thanks to Hugs and the
Sweatshop Labor
guys, Williamsburg is the new Williamsburg.
Johnsville and Lucas Walters
are throwing a Friday night dance party at the new spot called
Hugs (108 N. 6th St.)
, bringing some life back to the neighborhood. Drink specials all night, 21+, 10-4 am, Williamsburg, this is the new thing, let's do it!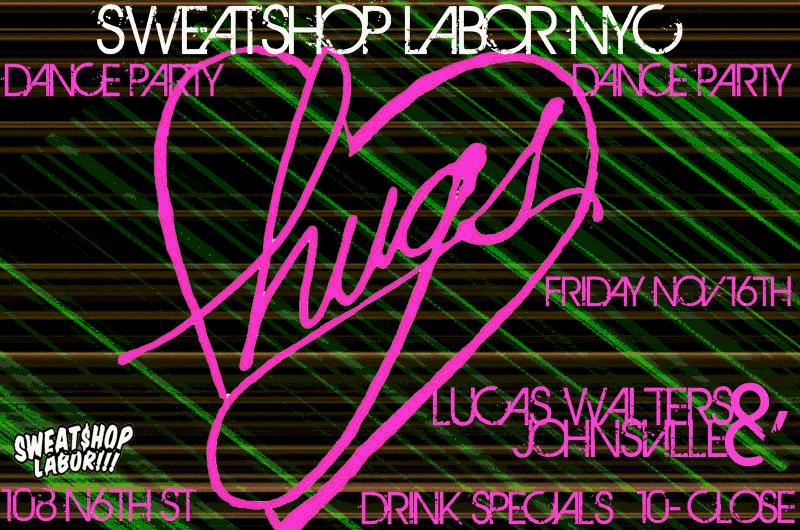 -In the sixth borough, which is better than the other 5, it's an old-school
Making Time
tonight at Pure (1221 St. James St.), no special guests. I really wish that I could have
Dave P
write all of my posts, to be honest. He's right up there with Lethem, Sante et al as a favorite writer. In lieu of him contributing here, I'm going to cut and paste his description of tonight's Making Time, because it makes me happy and want to be back in Philly more than anything in the world:
"
This month we at MAKING TIME are going back to the days of olde. There once was a time long long ago, when we started MAKING TIME almost 8 years ago, when MAKING TIME was simply all about the DJs. That's right....no super rad special guest DJs, no bands that will change your life, no advance tickets....JUST US...it was all about Mike Z, Dave Pak and back then...I wasn't even djing the party....and it was totally fucking insane!!! Well...for one night we want to go back to that time...except I'm gonna DJ this time. We wanna go back to a time where we DJ'd for 5 and a 1/2 hours straight and played the raddest music you've ever heard or never heard and you freaked out like crazy people. We want to go back to a time when we didn't have to charge $10 or more, because we didn't have to pay that super rad special guest tons of money. We want to go back to the days of olde for one night so we have the time to play it ALL...ALL the hits, ALL the party train anthems, ALL the cocainsexjams, ALL the bangers and ALL those new tracks you've never heard that we know and you know will make you freak out like crazy people. Some of you were there when this was happening almost 8 years ago and some of you weren't but....Let's ALL do this Philadelphia...let's ALL experience MAKING TIME for one night like it was....1999!!! Yes Philadelpha, on Friday November 16th, we're ALL gonna party like it's 1999!!! And yes...we are ALL going to freak out like crazy people!!!

Oh, and this time we got Sparks back!!!
Not much to add, free PBR and Sparks from 9-11,
Gregg Foreman
is a late addition guest DJ in the main room, making this a real return to the old days, all the regulars on the three floors, amazing flier. Philly, it's Making Time! Yeah!
-Our boy
Will Eastman
is back at it with his Friday night weekly
Le Freak at the Napoleon Lounge
(1847 Columbia Rd.). Hosted by Remzi and Courtney, this one features a choice selection of booty, disco, pop, soca, rap, whatever Will's feeling, all in a classy setting. How classy? The drink special is half-priced champagne from 9-11, that's how classy. Look for a re-up on Will's recent remixes next week in time for the next edition of his Bliss party.
-Moving west, the Tactic bols from Lawrence, Kansas are taking on the Midwest's biggest city this weekend, Chicago. First up, the Booty Up party at Evil Olive (1551 W. Division St.) with resident DJ Zebo.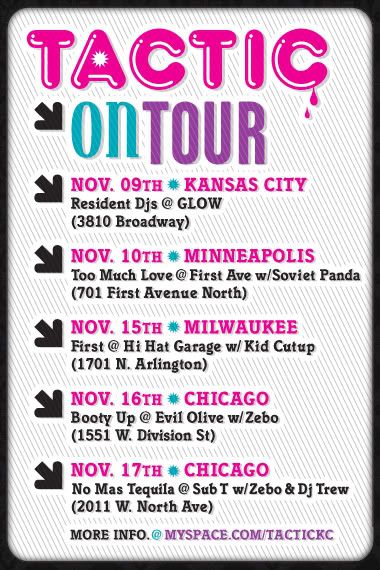 -Over at the
Debonair Social Club
(1575 N. Milwaukee Ave),
DJ Mother Hubbard of Life During Wartime
joins up with the
Avant Trill hosts Jillian & Scott
and Jenny Shah plus resident
DJs Heather Doble and Ryan Paradise
for the usual funness and dancing. The flier is a little confusing, as there's a few ones missing in the dates, but the rest of November is there. $2 Colt 45 and vodka drinks, 9-2 am, 21+.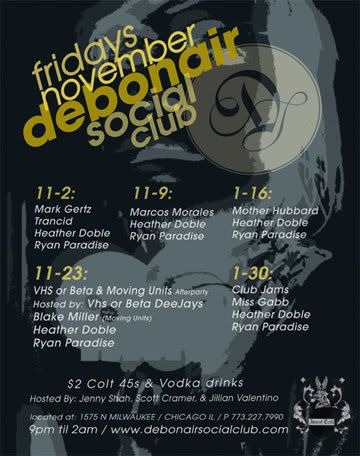 -Another new party here,
Daft Crunk in Bloomington, Indiana at Jake's Nightclub
(419 N. Walnut St.).
Residents Flufftronix and Action Jackson
do this one weekly and looking at tonight and the next one, they've come to realize that Philly DJs are a necessary ingredient for a world-class party.
Dirty South Joe, a.k.a. G-13's DJ Deluxxx
, is special guest tonight, he'll be spinning the best rap, reggaeton, soca and more, while
Philly label Flamin' Hotz artist Todosantos
will destroy the club with a live performance. You also get guest DJ sets from
DJs Supervixen and A:/
from New York City, the Hoosier State arrives in a big way here. $5, 21+, whoa 75 cent pitchers and margaritas, is that for real? Only one way to find out...
-Huge Left Coast night, have to start with the
Blow Up party in San Fran
. Crazy rad line-up,
NYC's The Glass
are playing live, one of the early indie dance bands who have been coming back to take back the crown recently. However, San Franciscans, you need to catch special guest DJ
Pink Skull
, who is in from Philly and gets our highest recommendation. He's joined by
LA's Gina Turner
and
Frisco Disco-ers Richie Panic and Jefrodisiac
for a night of dancefloor mayhem. Will the Rickshaw Stop blow up from a potent mix of acid, sexual energy and debauchery? Show up and find out, $12 for 18+, $10 for 21+, 9-2am. Oh, and don't forget to wish the amazing party photog
Lady Meleksah
a happy birthday! San Fran! Pink Skull! The Glass! Blow Up!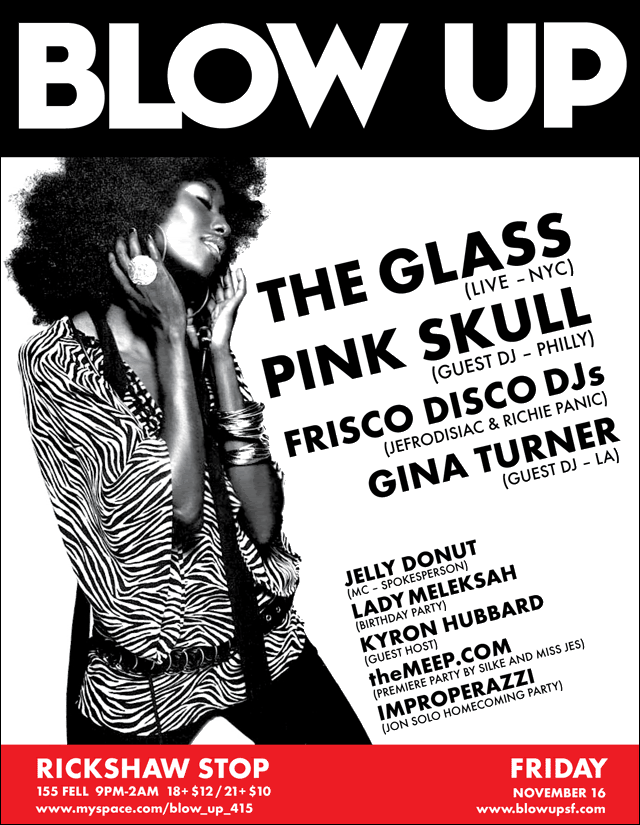 -The state's capital will not be outdone. It's time for
Fuck Fridays
, the weekly dance party at
Townhouse
(1517 21st St. btwn O & P St.) Tonight is resident
DJ Shaun Slaughter
's birthday, in honor of which, he's throwing a bash that may trim a few years off of your life. Live show by Wallpaper, guest DJ sets by
White Girl Lust
and
DJ Omar
, free whiskey, lazers, strobes, smoke and fun. What more can you ask for?
-Purple is the color of royalty. It's also the color of choice for a cool new party in LA, the Purple Loft Party. Yuka and Roger are presenting this one and they've invited along some of the best up and coming DJs in LA -
Luv Tek, Joaquin, Hyphy Crunk, Billy Noorlag, DJ Score and Bulimiatron
. This is for all of the people in Los Angeles looking for something a little DIY, cheap and non-clubby, Free before 11, $5 after, 18+, cash bar, indoor/outdoor areas. A few things they are stressing: it's not BYOB, they ask that you park in the designated parking lot (1451 E. 4th St. corner of 4th and Anderson) as you will be taken to the loft area, and don't hang out outside the place making noise. Clearly, this could be a cool, new event, so make sure you respect the situation, behave and freak out on the dancefloor. Sorry for the uptightness, to make it up for it, let me tell you that there's free Sparks from 9-10!
-I want to end by highlighting the
Trouble & Bass UK tour
that kicks off tonight in Oxford at Chunga Chunga.
Drop the Lime, Mathhead and Star Eyes
have four dates lined up including their first ever appearance at the legendary Fabric next weekend. This is one of the best crews anywhere, NYC's finest, expect massive bass. UK, don't sleep.