Two cool events in LA tonight, as that city continues to specializes in the early weekday jump-off. This
Iheartcomix and Giant party
looks to be the pick of the night, as they've brought in the man, the myth, the legend, Moby to remind you that he's actually a sick DJ. It looks like the bald one is getting back to work lately, what with this gig and the Hiro Ballroom monthly. I'm not gonna lie though, hope dude brings his A game, as the
Acid Girls and Franki Chan
will steal his thunder and redirect to the dancefloor and electrocute people. In a good way. It's going down at the
Elevated Lounge
(811 Cheshire Blvd), which is on the 21st floor, penthouse. The sick view is a nice bonus. This one's limited capactiy (400 people total), so
grab a ticket in advance at Groove Tickets
to make sure you get into for this one.
-There's also
a new weekly party
starting up in La La Land called
Dance
, taking place at a new mega-club
Arena
(6655 Santa Monica Blvd). Ok, I know what you're thinking, mega-club? Are you losing it, oh guy who writes Pound for Pound? Well, I'm losing it, but not in this instance. I can't say what the club is gonna be like, but I can assure you that the music will be top-notch, no joke. On the deck tonights are
Le Castle Vania, Paparazzi and DJ Nineteen
in the main room,
Bip Jeffington and Joaquin
in Room 2. The next few weeks are similarly packed with many of the best local indie/dance DJs and the occasional guest from out of town. The club is 2 levels, 2 rooms, one bar, smoking patio, sounds like a big place that could be a nice respite from the dive bars and small venues most stuff like this happens at. Free before 10:30 with flier,
check the website
and/or
myspace page
for discount admission, then check out tonight's grand opening. Yeah!
-Chicago, of course, has Outdanced on Tuesday nights at The Funky Buddha (728 W. Grand Ave.) Tonight, local electropunkers Parsley Flakes play live (check them out!) and DJ Rotten Milk, Beau Wanser and Sir spin tunes for you to prove that you won't be outdanced. Presented by Avant Trill and Odd Obsession Movies, no cover and crazy drink specials. It's parties like this that make me want to move to the Windy City.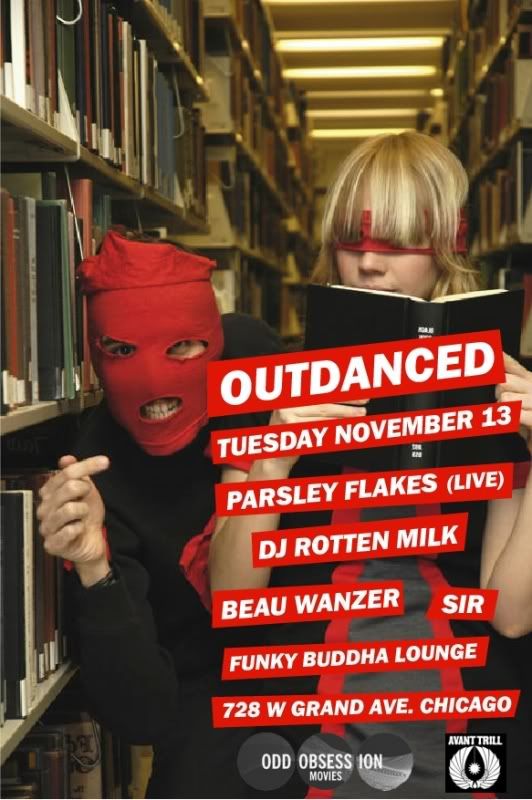 -Finally, one of the few reasons that I would stay in NYC is 205 Tuesdays. One of the best parties in this metropolis, probably the world, dance music and people dancing, basement, Jacques Renault and Justin Miller every week. Tonight, Mike Simonetti from Italians Do It Better is the guest, stop reading and head to 205 Club (205 Chrystie@Stanton) and freak out like crazy people. I can't get the flier to work, just trust me.