I'm gonna try to do a better job this year of referencing bigger parties and DJs, especially in NYC. I'd love to see more connections between the new indie dance music scene and the older one, which has laid the foundation for everything we have now. It seems like the
Hi-Tek Soul party
wanted to make it easy for me, as they've brought in
Detroit techno legend Derrick May
for their party at
Pacha (618 W. 46th St)
the very week we have turned our lonely eyes to that city. My dear roomate recently attended the 2 year anniversary party at the club and told me that it is an unbelievable space. It should be just as good tonight, hearing the lush synths and thumping beats on one of the great soundsystems. Joining May is the
Basic NYC crew
;
Sleepy and Boo
will open in the main room,
Anthony Parasole, KYU and Jay Stomp
will hold down the basement. RSVP to djboo@basicnyc.com or
at the going.com site
for free admission before midnight,
$20 otherwise
. Doors at 10pm, party goes until 6am, this is a dance music.
-The
Robot Rock party
has been going for more than a few weeks at
Le Royale (21 7th Ave South @ Leroy)
, they've established a formula of guest DJs from various bands. They are changing things up tonight and not surprisingly this looks like the best one.
GBH and Cheeky Bastard
have brought in
Toronto band Holy Fuck
, a great band playing live electronic music, loud, glitchy, rocking, excellent.
The resident DJs - Dimitry, Alex English and Marc-Alan Grey
- are also in the house to guarantee a dance party after the mayhem. RSVP to list@gbh.tv for free admission, $10 otherwise, 21+.
-Down in the LES,
the Lewd party
is an oasis amongst the crowds and douchebags.
rekLES and Sean MF'N Roberts
do the
monthly Unstoppable Perfect party at Happy Ending
(see yesterday's post), but this is the OG one at
The Skinny (174 Orchard St)
. Expect lewd, filthy music that would make Pound for Pound proud. No cover, $3 well drinks from 11-12, late night specials, 21+.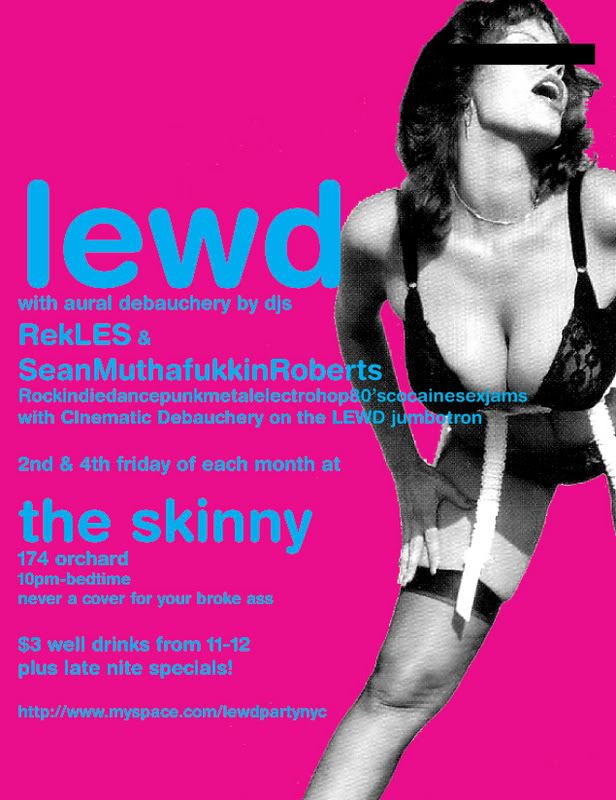 -Back in Brooklyn, it's Friday night which equals FUN, i.e.
the weekly FUN party at Studio B (259 Banker St)
Tonight, the party serves as the final stop on the Kleavage tour with DJ Klever and Tittsworth. They've been all around the country, slaying dancefloors with party jams and crazy mixing. You also get sets from Roxy Cottontail and DJ Ayres of The Rub and
residents Eamon Harkin and Rok One
. Make sure to check out the side room where
Moonwalk presents the record release party for Cousin Cole and Pocketknife's
Tambourine Dream
CD
. Cole and Pocketknife, Caps and Jones and
Rezound
will be spinning in the smaller space, highly recommended.
Presented by Good Peoples, hosted by Mishka, Worship Worthy, Taste Crew and Frank 151
, doors at 10 pm. $10 before midnight, $15 after, 21+, 2 for 1 drinks from 2-3am.
-Not far away, you get your chance to check out a rock star DJ as Ira from CSS joins the Finger On The Pulse guys for their Royal Oak (594 Union Ave) party.
-Down in Philly, another great night looms. First up, the Robotique party makes its first appearance in 2008, taking over Medusa's (21st and Chestnut) for a night of discofunk, disco and funk. Mike Tee and Billy W. are excellent DJs, Medusa's has just been renovated, the carpet is gone, the bathrooms are clean, the soundsystem has been upgraded. No cover, 21+.
-Down in Fishtown, Turnaround vs Immediate! is back again at The Barbary (951 Frankford Ave) The soul and rock party has brought in an interesting guest DJ tonight - Jayson Musson from Plastic Little. I really love the idea of Jayson spinning some NWA for the rock kids. Show up to find out what he plays and to dance at one of the most popular parties in the city.
-On the other side of the country, it's Mute Friday in Santa Ana. The weekly indiedancejawn at The Proof Bar (215 N. Broadway) is sticking to its roots tonight, as the residents - DJ Legit, DJ Ben N. and Rockberry will spin all night. Expect lots of brand spankin' new dance rock and remixes. Doors at 9pm, no cover, 21+.
-Finally, two big LA parties are going head to head tonight at Safari Sam's (5214 Sunset Blvd) It's Moscow vs DANCE, mano y mano, or manos y manos I guess. DJs Paparazzi and Young Sunn of the Tuesday night DANCE party vs. Keith 2.0 and DJ (N) from Moscow, winner take all. Free before 11 with a flier, $5 after, 18+. For the record, there's also supposed to be a special guest DJ making his first LA appearance, I do not know who it is, but I thought that I would build some dramatic tension.