It's a really big night in Philly, something for everyone. The
Mad Pu$y party at Transit (6th and Spring Garden)
has been big from jump street, and I have no doubt that the first appearance by
Kid Sister
in the City of Brotherly Love will continue that trend in a big way. The hype keeps building with her with each new single, she'll be playing in the main room and it should be b-a-n-a-n-a-s. She'll be joined by her
Fool's Gold label mate DJ Nick Catchdubs
, who will spin all the hits and hits to be. Plus some of the best local DJs will remind everyone what city produces the best DJs in the world,
Brendan Bring'em, DJ Sega and Dirty South Joe
.
Go here to RSVP and get on the list
, it's free on the list before 11pm, $5 until midnight, $10 after. Ciroc vodka open bar from 10-11, free PBR from 10-12, this'll be fun.
-Down in Fishtown at
The Barbary (951 Frankford Ave)
, a legend is going to be in the house, as
Unruly Records' Scottie B
is the special guest DJ at
the Bounce monthly
. Scottie is a Baltimore club legend, the man who helped create that sound that everyone and their mother seems to love. He joins the
residents Emil and Bo Bliz
for what should be a nasty, filthy night, which I mean in the good sense.
Presented by WTHN and Exit Skateshop
, it's free from 9-11 with free PBR and vodka and skate videos. $5 after 11, 21+.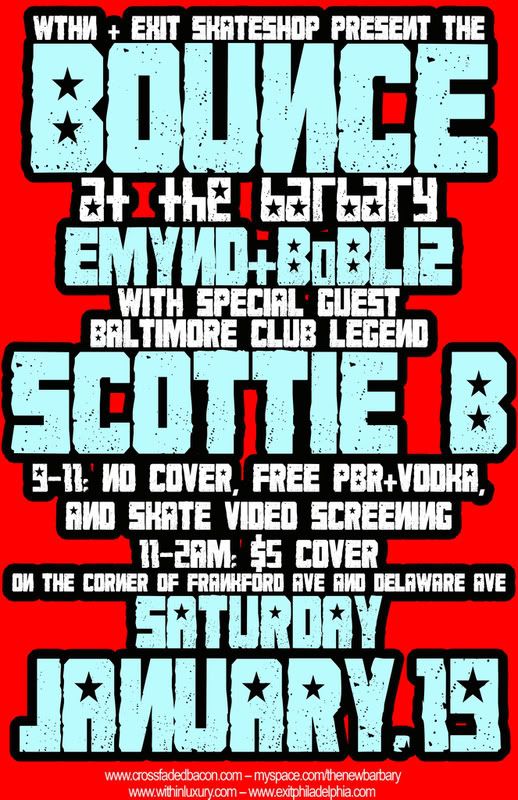 -Finally, you can catch
VHS Or Beta
for free at the
Malibu Rum Winter Beach Bash
. You need to
RSVP ASAP at the going.com site
to get in, so do that now. My guess is that there will also be free drinks featuring a specific brand of rum, not sure why I think this. The show happens at the Electric Factory (421 N. 7th St.), doors at 9pm.

-It's always nice to hear about a new D.C. party, hate to put all of the burden on Will Eastman. Garutachi is a new one for us, but this at The Rock 'n' Roll Hotel (1353 H Street, NE) one looks damn good, as they've brought in the Sports DJ crew, i.e. Nick Hook of Men, Women and Children, Daryl Palumbo of Head Automatica and DJ Glue of Cardboard City. These guys have made a name for themselves pretty quickly here in NYC, good to see them taking the show on the road. There's also going to be live performances by Modular Records' Numero# and Figo. 2 floors, doors at 9 pm, free before 10pm, $10 after, 21+.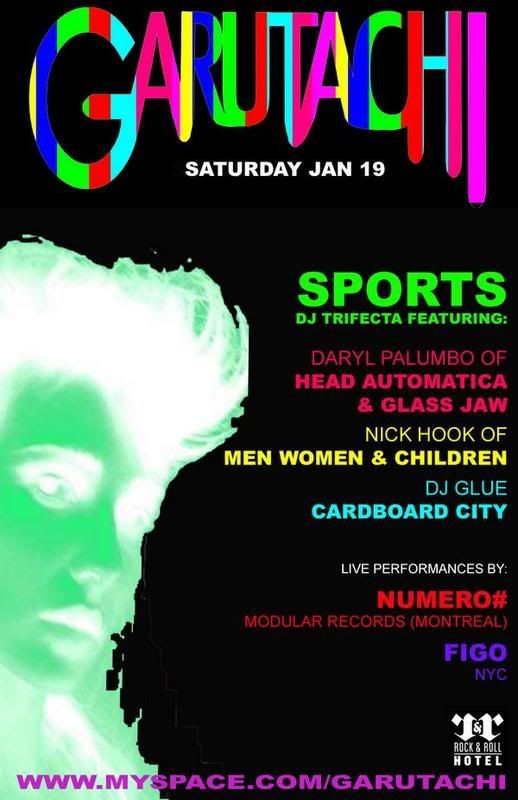 -I'm not a big fan of NYC on Saturday nights, with one exception. Saturday means
U.N.I.T.Y. All 90s Dance Party at Hugs (108 N. 6th St) in Williamsburg with Lauren Flax and JD Samson
. This one is your favorite party in waiting, all the great tunes you grew up with and used to listen to on your Walkman and/or boombox. Wanna taste of what you'll hear and what the party will look like? Then, check out their brand new U.N.I.T.Y. 90's Dance Party! blog, a new favorite. Veruca Salt's "Seether"? Yes please. Hear this and more tonight, no cover, 21+, do not sleep on this one anymore.
-Late addition: Rochester, you're the next stop on the LA Riots tour, as the boys come to Pearl (349 East Ave) to destroy your city. They're joined by Kill The Noise, Richie Salvaggio, Nuroc and Jarvis, presented by Factory Nightlife. $2 Blues and Blue Lights, $2 wells before midnight.
-Moving through the midwest quickly, there's the Daft Crunk party in Bloomington, Indiana at Jake's Nightclub. Resident Action Jackson is being joined by Cousin Cole for this one, lots of mash-ups and rap and dance tracks that would make Truman go crazy.
-Soviet Panda is back in Minneapolis from his Chicago takeover for his weekly Saturday night jam, Too Much Love. Panda and Mike 2600 will turn First Avenue (701 First Avenue N) in a northern dance paradise, $3 cover, free with college ID, 18+.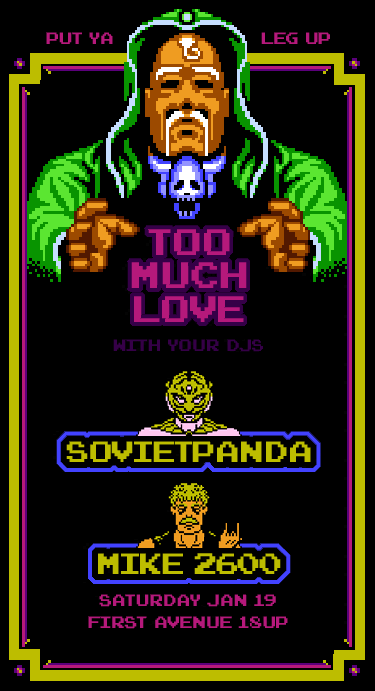 -In the Pacific Northwest,
Club Pop
have brought in Paris' The Teenagers to
Neumos (925 E. Pike St.)
to give Seattle an early taste of the buzz band. I'm psyched to catch them when they come East, one of the better young electrorock bands out there. There's also a performance by The Pharmacy, DJ sets by
Club Pop's Glitterpants and the Ruff Gemz, DJ FITS and Sam Rousso Sound System
. $10, 21+, doors at 8pm.
-LA, I want you to check out this
Solid Gold party at LAX (1714 N. Las Palmas)
tonight. Pound for Pound favorite Dimitry is in town and I feel like he will do really well out there. Check him out tonight and then bring him back for future gigs, trust me on this one. Besides our High Voltage guy, you also get to hear a legend spin, in the form of Junior Sanchez, plus Jay E and Josh Madden. RSVP to events@agendashow.com to get on the list,
check the Solid Gold Events myspace page
for pics of their previous parties.

-Of course, there's also

the weekly Check Yo' Ponytail at The Echoplex (1154 Glendale Blvd)

, the

IHeartComix, Viva La Rock, XLR8R

jawn that brings in great bands and DJs every week for your listening/dancing/drinking pleasure. This week, you can catch another hype act,

The Cool Kids

, along with

Hollywood Holt, Million Dollar Mano, Mic Terror and 87 Stick Up Kids

.

Franki Chan and Paparazzi

will spin as well, should be a great night of hip-hop and dance. $15, 18+.



-