Every so often a party will come around that excites me, that seems so right. Tonight's headliner,
the Night Moves party at 205 Club (205 Chrystie St)
is just such an event. Ooh boy, a night dedicated to house music and house music alone in my favorite space in the city with some of my fav DJs,
Lauren Flax and Cobra Kai
. What more could a boy or girl want? How about a special DJ set by the legendary
Junior Sanchez
? I'm so psyched for this one, it's time for everyone to show respect to the classic music that has helped get us to current dance scene. The three DJs tonight are the perfect guides for newbies and househeads alike, an amazing chance to hear this music in a sweaty basement for no charge, rather than the mega clubs uptown for 30 bucks.
Hosted by Nick the Duke
, this is an essential night New York City, show your support.
-You'll also want to stop by
The Annex (152 Orchard St)
for
the weekly High Voltage party
. This one's regular strength, no guest DJs or bands. But, like Coke, you'll realize that sometimes it's best to appreciate how good the original is.
Dimitry!!! and Prince Terrence
will spin all night, the Zygo open bar lasts from 11 until its gone, and you can dance until you can't stand no more. No cover, 21+.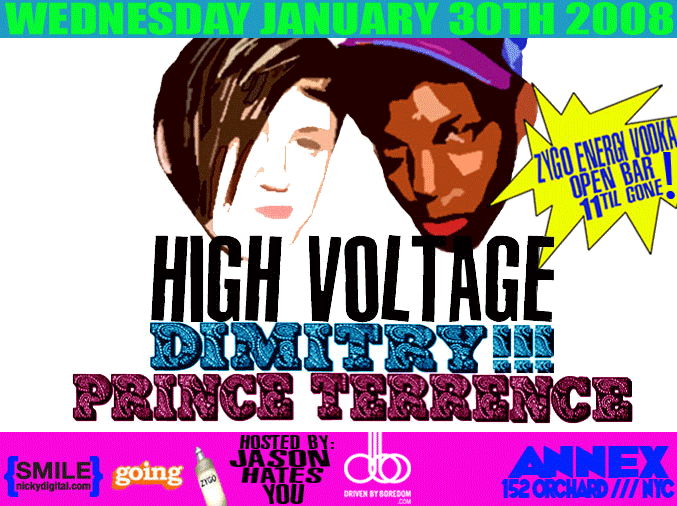 -Ha,
Robotic Wednesdays in Oklahoma City
step their flier game up tonight. I mean, this birthday-themed one makes me wish it was my birthday and I have a pathological fear of that day. Kittens and photoshopping, yes please.
Dance Robots, Dance DJs
and rad music, yes please. Get to the
Electro Lounge (5929 N. May Ave)
, wish Blake, Christa, Serene and Albin happy birthday and enjoy a great night. $3, 21+.
-Riverside California goes off tonight, as the
Club Avenue Wednesday party at Trilussa (3737 Main St)
has a great cast of LA's finest in the house.
Acid Girls, Dirty Dave, Billy Noorlag, Jimmy Boy and Rec 1
will be spinning,
Gina Turner
will perform live and celebrate the release of
her new
White Panties
CD
; if you need even more CD release celebrating, there'll be more for Steve Aoki's new LP. There'll be lots of giveaways all night, plus great music running the gamut from new electro and indie dance to rap and Bmore club. 2 rooms, 2 bars, drink specials, 18+. You'll have to message their myspace account to get on the $5 guest list, otherwise it'll be
-Finally, for the minimal heads in LA, check out this party presented by Droid Behavior + Compression, which features Tobias Thomas from the Kompakt label spinning. This is a rare chance for LA people to hear one of the main players in the Cologne scene spin, you're not gonna wanna miss this one. Locals Matt Xavier and Andrew Kelley will also spin, a big night of techno and deep house. Oddly, it all goes down at Crash Mansion (1024 S. Grand), a place that specializes in douchebags and bad rock music in NYC. RSVP now to droidbehavior@gmail.com for free admission. Doors at 9pm, 21+.