Sadly, I have to lead off with what looks to be the final Hi Tops and Hearts at Royal Oak (594 Union Ave @ N.11th) DJ Tiny Pants has been doing this one for awhile now, nothing crazy, just one of those great dance parties at a smaller space where the focus is on having fun, dancing and not being too cool for school. It'll be missed in a city that has too many parties that don't value those things. Tonight, it'll just be Tiny Pants and, hopefully, many of you; send it off in style people! Hopefully this one will find a home somewhere else, will keep you updated. As always sponsored by the excellent fashion designers/label Love Brigade, dance music from all genres. No cover, 21+, drink specials galore.
-As one party ends, a new one comes into the world. It's the circle of life people, the circle of life. I'm psyched for this one, as it's good to see
Nick Hook of Men, Women and Children and the Sports DJ crew
doing his own party. He's putting on the
Get Right! party with DJ Josh Link of Cardboard City
, they'll be spinning jams from all over the spectrum, expect the unexpected. You know that I love
Hugs (108 N. 6th St)
, great spot that everyone should be supporting in Williamsburg. This one is the first night, a chance to work out the kinks and get ready for next month's official hotness. No cover, 21+.
-Of course, Studio B keeps raising the bar. Tonight, the Verboten party takes over and they've brought in London's Radioclit to blow the doors of your mind off. Not sure when's the last time these guys have been in NYC, but I'm pretty sure it's not often. I.e. don't sleep on this one. You also get to check out Canada's other electro-punk remixers extraordinaire, VNDLSM, you'll need to come up for breath at some point during these two. There's also Alexander Technique from DJs Are Not Rockstars, Van Scott and a live performance by I Love You Airlines in the main room, Robot Blair and DJ Shaka23 in the side room. Hosted by Finger On The Pulse, Sophia Lamar and June D, this is a pretty packed night. To get on the $10 reduced guestlist, email rsvp.flawless@mac.com ASAP.
-Tonight may be the night that the bass ate Manhattan.
The Kids Are Bored
are gonna try to make that happen with their party tonight in
the "bass"ment of The Tank (279 Church St btwn Franklin and White)
In order to accomplish this, they've made a great choice and brought in from Philadelphia,
dev79 and Starkey of Seclusiasis
, who are no strangers to the heavy bass music. Add in
Secret Agent Gel from Dub Wars and Sharmaji from Low Motion
and your body should be rattled. WARNING: the party starts at 9pm and goes til 1am, so don't dilly-dally. $5, 21+.
-Philly, if you want deep, deep bass, head to The Barbary as the Shakedown has returned in its new home. There's not much to say about this legendary party, it's been going strong for years, one of the best deep house music parties anywhere. Resident DJs Rob Paine and Willyum have been spinning the best in house, dub, dub house and reggae, well ahead of the curve on all of the genres. If you haven't checked this party out before, this is a great chance to get into it at the best new spot with a great soundsystem. $3 Guinesses, $1 PBRs and $2 well drinks from 10-11, $5 cover, 21+. The Shakedown returns!
-This looks like a super rad party in Chicago, the
Art Space Invasion Vol. 1.
As the fliers says, "Join us as we take over a 5000sqft of artspace and turn it into an art collaborative/dance party." I mean, you know we love this kind of stuff, raw spaces, local artists, people coming together, dance party. Yeah! Some great Chicago DJs will be there -
Trancid, Zebo, Dani Deahl, Hillary Rawk and All The Way Kay
- spinning electro, house, pop, Bmore club and I'm sure some other goodies. There's also going to be live art by local artists, plus free vodka and beer until supplies run out. Sounds great, right? You need to RSVP right now to get in, send an email to RSVP@MizzChicago.com. $10 advance tickets, $12 before midnight, $15 after. There's limited space, so do yourself a favor, get there early, like around 10 pm to make sure you get in and have a blast at this rad party. P.S. You need to RSVP to that email to find out the address, don't want to blow up their spot.
-If you are in San Francisco, shut the computer down and head to the Beauty Bar (19th and Mission) for the Bad Habits happy hour party. DJ Rchrd Oh!? of Big Stereo and Lights Down Low will spin while you get drunk early in the night and beat the weekend warriors to the punch. Hosted by Le Dinosaur, this is a nice, fun , chill way to start the night.
-Then take your drunk ass over to the Frisco Disco at The Transfer (198 Church St), where you will fit right in with all of the other drunk, crazy people. Richie Panic and Vin Sol will take care of the rest, providing the right music to make a roomful of drunk, crazy people do debauched things.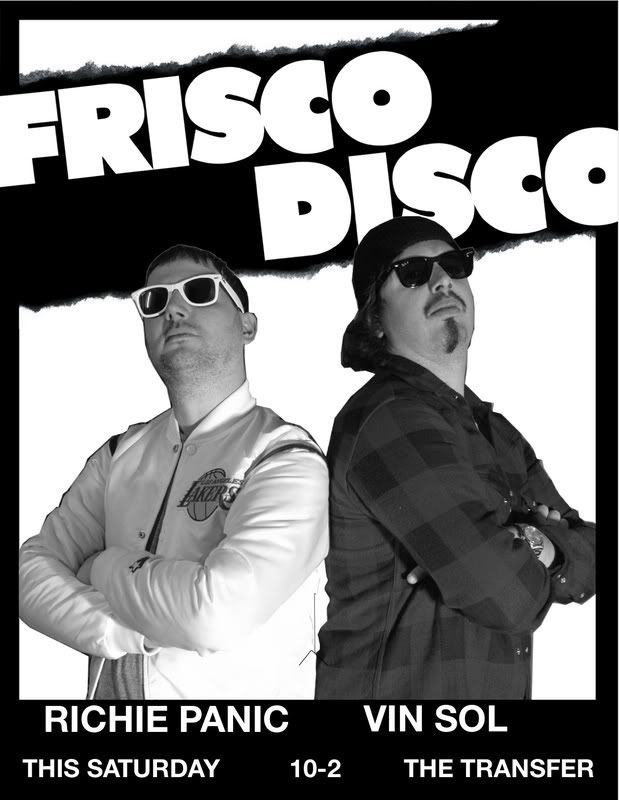 -Finally, in LA, it's a Big Saturday. Literally. That's the name of the party tonight at the Temporary Spaces (5100 Fountain Way @ Normandie), a multi-person birthday party. Mid City West, Dirty Dave, Sean Patrick and Chris Holmes are the DJs, nice raw space, 2 for 1 vodka drinks from 10-11. This is guest list only, so you need to RSVP ASAP to bigsaturday@ideamusic.com to get in. You'll also wanna show up early, limited space.
-You can never go wrong with the
Check Yo Ponytail party at The Echo (1822 Sunset Blvd)
As always,
IHeartComix, Viva La Rock and XLR8R Magazine
have put together a huge bill. Tonight you get live performace by
Men
, which features
JD Samson and Joanna Fatemen of Le Tigre
,
NYC electrorockers Anamanaguchi
and
LA indie rockers Moonrats
, plus DJ sets by the
Acid Girls, Abe Vigoda and residents Franki Chan and Paparazzi
. Whew, deep breath. $10 advance, 21+.