Okay, I am going to be brief tonight. Go to
205 Club (205 Chrystie)
tonight and let disco save your life. More specifically, go to the basement and let
Prince Language and Lee Douglas
save your life.
The No Comprendo Disco party
is back and I am ecstatic. One of the best parties in the city, this one is perfect for the dark, intimate space, expect lots of classic disco, funk, edits galore, the stuff that I want to hear most right now. No cover, 21+, don't miss this one.
-You'll also want to head to the
Slipper Room (167 Orchard St) for the Hippy vs Yuppie Debate
. Like the tastes great vs less filling battle of the 80s, this one divides our city like no other; tonight
Max Silvestri
argues for the hippies,
Lang Fisher
for the yuppies and hopefully a winner will be determined. I'm rooting for the hippies, as everyone hates yuppies and wants them to move to the fucking suburbs already, drive their cars to their law firms and stop ruining the LES.
DJ Never Forget from Finger On The Pulse
will provide the soundtrack to this one, hopefully he will spin the "Dark Star" from
Live/Dead
and melt everyone's brain pans. The good folks at
Vice
are putting this one on, you need to
go and RSVP right now
to get in. Doors at 8, debate at 9:30, goes until midnight at which time you need to hit up 205 and Happy Ending, filled with Dewar's and joined by new hippie and yuppie friends.
-Such a great night in the LES, as it usually is when the
Unstoppable Perfect party takes over Happy Ending (302 Broome St)
. You know about this, I blather about it once a month.
rekLES and Sean MF'N Roberts
spin the best in dance and new wave and indie, always a good crowd, dancing, fun.
Hosted by Julius O. and Antwan of Ithinkyoureswell.com
, this is a must-stop this night. 2 open bars as well, 21+, 10pm-4am.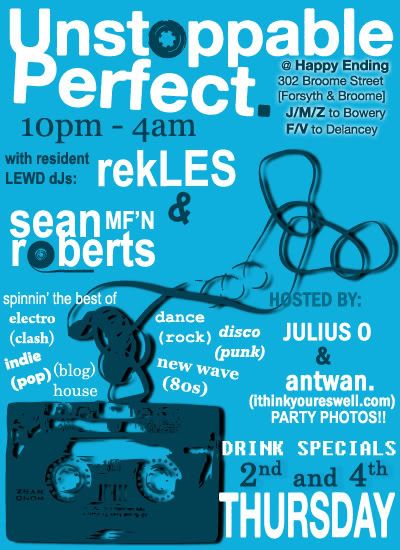 -If you stay in Brooklyn, head to Hugs (108 N. 6th St) for Hug It Out with Cobra Kai and The Bangers. I was gonna say that Rok One, Krames and Jaclyn are the up and coming DJs here, but I think that they have done up and come. Hugs
-Down in Philly, the
Crescendolls party
is back on some Darth Vader shit. What does that mean? I don't know, I just saw the flier and stream of conscioused it. I do know that it's always good to have
JHN RDN, Ian St. Laurent and Gregg Foreman
together in the same room, especially when that room is
The Barbary (951 Frankford Ave)
Expect lots of filthy electro and sweaty soul. No cover, $1 PBRs and well drinks from 10-11.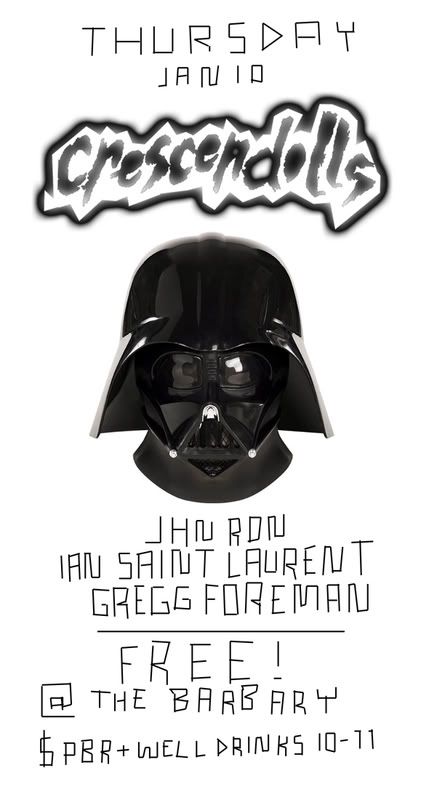 -
Steven Bloodbath's weekly Thursday night party
Mo Money No Problems at Silk City (425 Spring Garden)
is your other top choice, it's gonna feel like 2003 in there as Low Budget is back at Silk City! The Hollertronix king and MIA tour DJ is back home, so expect a bonkers party with one of the best DJs in the world at a great spot. What else do you want?
-Or if you are in Center City, stop by the
Seclusias weekly party at Sal's (200 S. 12th St)
where
resident DJ Ghost
is being joined by
DJ Boggle from San Fran's Symbiosis and Seclusiasis star Starkey
for a night of the heavy bass music. No cover, doors at 9, $2 domestic beers and $3 mixed drinks until 11pm.
-Finally,