This was an easy choice to lead off with, as we have always been a big supporter of the Sweatshop Labor bols' Common Folk party at Home Sweet Home. Tonight looks extra special, as they have a very special guest spinning; DJ Benny Blanco will spin a Disco D tribute tonight. For those that don't know, Blanco worked as an intern for Disco D and was one of his proteges. In the past year, Blanco has done big things with his
Bangers and Cash Spank Rock collabo
, surely making his mentor proud. I expect that Blanco, Johnsville and Lucas Walters will spin lots of bass, booty music, baile funk and rap.
The Fader folks have also given
this one a thumbs-up, should be an amazing night and a nice tribute. Shango Rum open bar from 10:30-11:30, no cover, 21+.
-You should also stop by another of my favorite Thursday night parties, the biweekly Unstoppable Perfect at Happy Ending (302 Broome St) rekLES and SeanMF'NRoberts will spin all the good genres you like to hear, from electro to indie to house to 80s, all done with skill and verve. I've said it before, this is a really great party that gets a good crowd that is more into having fun than having their picture taken. Hosted by Julius O. and Antwan of Ithinkyoureswell.com, there's an open bar from 11-12, these two parties are a great 1-2 LES punch tonight, do it. No cover, 21+.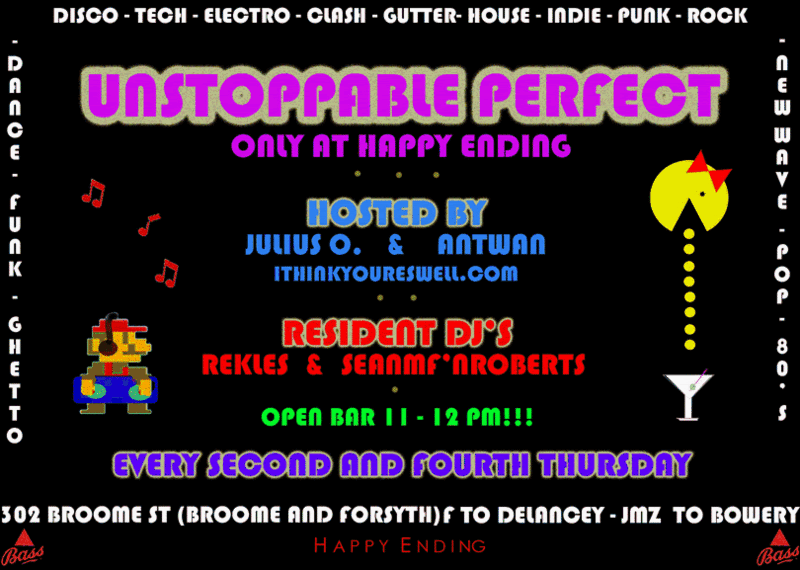 -Further uptown, Cheeky Bastard presents Fully Fitted at Hiro Ballroom (371 W. 16th St) Awesomely, this means that New York gets a live show from Philly's Amanda Blank, the great but way too underexposed female rapper. She's joined by the Spank Rock DJs, Devlin and Darko, plus Spank Rock producer XXXchange, for a night of filthy rap and Bmore club at this great weekly party. Take note that this one starts at midnight, not 10pm.
RSVP at the going.com site
to get in for free, 2 for 1 vodka drinks from 2-3am. There's already 800+ people on the list, should be big night.
-Brooklyn's Chief Magazine is throwing a party at Galapagos (70 N. 6th St) tonight. They're not being subtle as they've named it Shake That Ass, I'm all for that sort of explictness. Rev McFly, DJ Dirty Finger and DJ TeenWolf will help you achieve that ass-shaking goal with a steady dose of bangers until you just can't get it still. $5 cover, doors at 10pm, 2 for 1 vodka from 11 to midnight.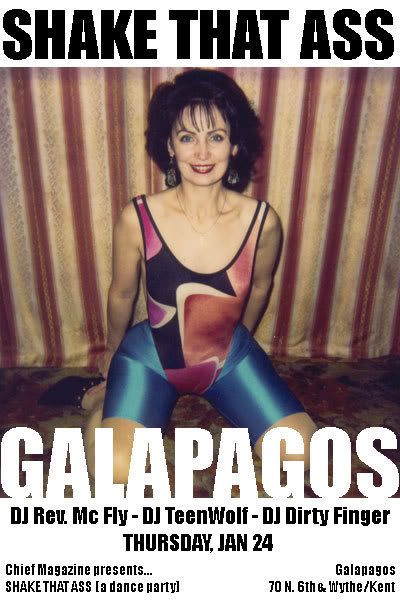 -Norman, Oklahoma, stand the fuck up! The Dance Robots Dance crew are coming to your city with their weekly Opolis party. Well, actually, it's DJs B. and Dylan spinning electro and dance and indie all night for your pleasure, they do it every Thursday, so I'm thinking you should just pencil this in for the next few months. $3 cover, doors at 9pm, 21+.
-Finally, San Fran's up next in the much-hyped tour by Paris' The Teenagers. This is their live debut in the city and it's fitting that they are joining up with the indie dance mavens at Popscene to make it happen. DJs Aaron and Omar of Popscene and Rchrd Oh?! of Big Stereo will spin before and after, giving you the chance for both a great concert and a rad dance party. Get to 330 Ritch Street, as the magic happens there. $12 for 21+, $13 for 18+, doors at 10pm.