I mean, seriously, the FUN guys obviously read
Pound for Pound
and want the nightly top spot. How else to explain them booking Juan Atkins to headline their party this week, right in the midst of our Detroit Fortnight? Well, I guess you could explain it by saying that they book these things months in advance and that they don't read some meaningless, lame blog for inspiration. You would be right with the latter, but a little mean. Is it so much to ask to pretend that I am a trendsetter? Is it? Whatever. Anyway,
Juan Atkins
is spinning at
Studio B (259 Banker St)
, the Originator, Cybotron, Model 500, the man who gave the world techno. Not sure there's anything else I can do to hype this one. Atkins is joined in the main room by the Basic DJs, Sleepy and Boo, and FUN residents Eamon Harkin and Rok One. In the chandelier room, Sujinho, Complex, MSG and the Lovesound Project DJs. Hosted by the Taste Crew, Mighty Healthy, Rob Rewind, King Stampede, Good Peoples, Takeover Theory, Methods NY, Fat Cop XXL and Pauly Hustle, this one should be huge. $10 on the list, $15 at the door, doors at 10pm, 21+.
-Speaking of booking parties I want, I was just thinking how much I miss the old parties at Home Sweet Home on the weekends with Lauren Flax and Project Matt. Well, for one night only, those two are crossing the river to spin at Hugs (108 N. 6th St) and cannot recommend more highly that you check this one out before or after Studio B. Or hell, just go here and have fun at a great new spot all night long. No cover, 21+.
-Speaking of Home Sweet Home (131 Chrystie St), it's a big night there as the Trash party makes it return there. DJ Jess and Alex Malfunction are taking their popular weekly to the basement spot, should be a good spot for maximum debauchery. The residents are both celebrating birthdays tonight, so wish them a happy birthday before you begin said debauching. Dances With White Girls from Throne of Blood is the special guest, he will not let you or the dancefloor down. Zygo vodka open bar from 11-12, 2 for 1 well drinks from 3-4am. No cover before 11pm, $5 after, doors at 10pm.
-There's also Robot Rock at Le Royale (21 7th Ave at Leroy), where this week's special indie guest DJ is Young Love. I know that this one has become a popular party real fast, check it out to find out why. Dimitry!!!, Alex English and Marc-Alan Gray also spin, GBH and Cheeky Bastard present and you pay nothing if you RSVP to list@gbh.tv. $10 cover otherwise, doors at 10pm, 21+.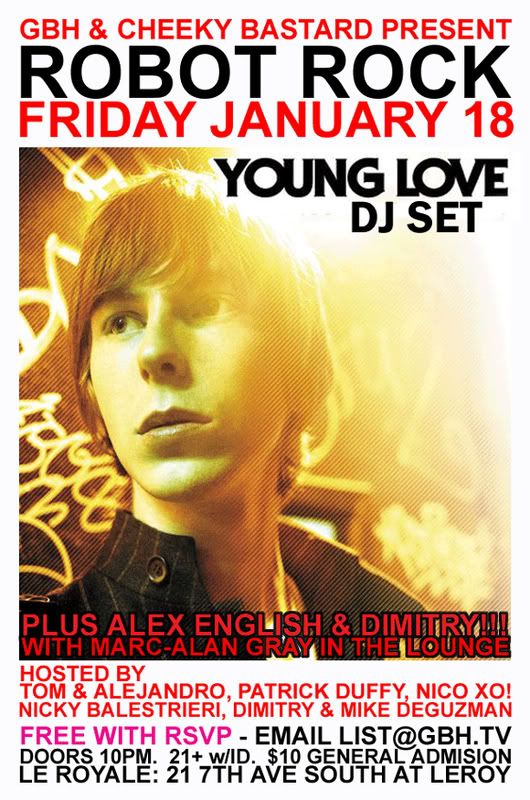 -Two great parties in Philly tonight, both highlighting the new generation of great DJs who are moving up to the bigger stages. First, the Turbostation crew are throwing their second massive bash, this time at the Trocadero (1003 Arch St). Steven Bloodbath, Shawn Ryan, Strawberry Mansion and Oh Murder Inc are Turbostation and they've invited some friends to join them - DJ Diamond Kuts from Power 99 and Emil and Bo from White Ts and White Belts. Picture all of these great DJs and two floors filled with people freaking out and dancing. Pretty great vision, right? Make sure you make a reality and make this a legendary night. Free before 11pm, $5 after, 21+.
-Also, at Fluid, the Philadelphyinz are throwing a party. I think that this is their first party at Fluid (possibly second), a nice step up from the Medusa and Khyber jawns. Skinny Friedman and Apt One are movin' on up for a reason; they're great DJs who put together an eclectic mix covering both classics and the newest of the new, disco to rap. They're bringing in Tittsworth to blow the roof off tonight with Bmore club, maximum bangers and lightning fast song mixing. Free before 11:30 on the list, click here to put your name on the list, $5 after, 21+.
-Two good ones in San Fran too. It's time for another Blow Up at the Rickshaw Stop (155 Fell), this time Skeet Skeet from LA headlines. He's joined by Denny Le Nimh from NYC's Ruff Club, definitely want to catch him, plus the Frisco Disco DJs. Hosted by Nida Elizabeth, this one looks good. $12 for 18+, $10 for 21+, doors at 9pm.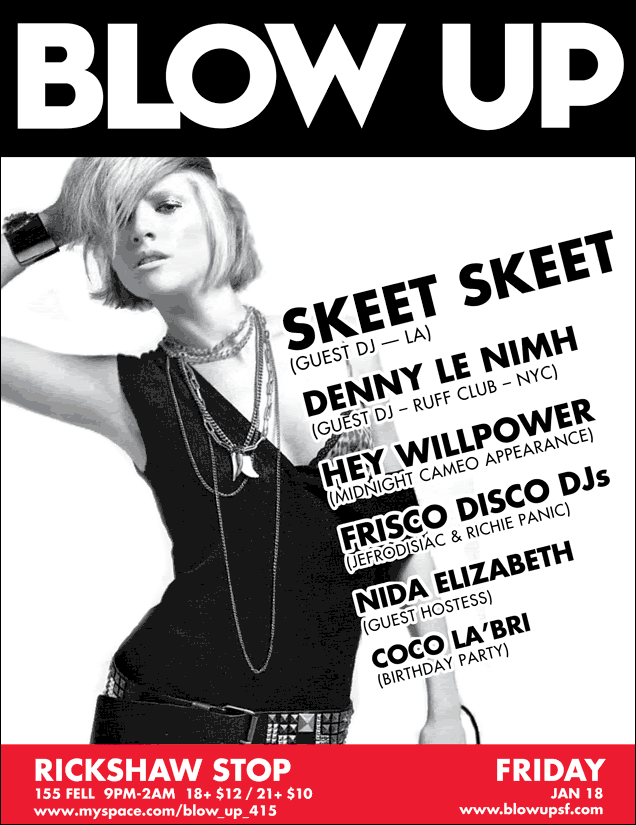 -There's also Parker Day's Stiletto party at Asia SF (210 9th St @ Howard), which mixes fashion and music. There's a runway fashion show by Improperazzi and Chelsea Starr, live performance by Hottub and DJ sets by Lights Down Low's Sleazemore, Futuristic Prince and the hard-working Chelsea Starr. Yeah, lots going on, good look people, better sounding music, good. $8 cover, 10pm-3am, 21+.
-LA
-Mute