It's a really exciting night in New York City, a rare Friday night where I would highly recommend a night out below 14th Street. A big part of that is the return to the city of LA Riots, one of those bands that you will not stop talking about once you hear them, a hype band where the hype is deserved. This time, they are playing the Robot Rock party at Le Royale (21 7th Ave South @ Leroy), not sure the West Village is ready for the nasty electro sounds. This party has been big since jump street, another hit for GBH and Cheeky Bastard, DJs Dimitry!!!, Alex English, Marc-Alan Grey and Sujinho will spin before and after the show to guarantee you a dance party. RSVP to list@gbh.tv to get in for free, $10 otherwise. Doors at 10pm, 21+, don't miss this one.
-My other top recommendation is the return of the Fixed party to the Tribeca Grand (2 Avenue of the Americas), the space where it all began. Dave P and JDH have brought in the excellent Dangerous Dan from the Bang Gang Deejays to headline and melt everyone's faces. Presented by Modular, this should be a really great night, the Tribeca Grand is a super rad place to hang and party, tends to be an older, more fun crowd. I know it seems like a place where lawyers go to die, but it's not. RSVP to weare138nyc@yahoo.com to get on the list and get in for free, doors at 10pm, upstairs through the bar area.
-In Brooklyn, Fridays belong to the FUN party at Studio B (259 Banker St) Tonight's one for the rock kids, as Radio 4 and Dragons of Zynth are both playing live. It's a good bill of rock bands that let all sorts of influences seep in like noise, punk and dance. Speaking of dancing, residents Rok One of The Bangers and Eamon Harkin will spin along with special guest DJs The Brothers. Hosted by the Finger On The Pulse guys, you can email them to get on the reduced list at . Otherwise, get your $10 advanced ticket, I'm guessing it'll be $15 at the door. Doors at 10pm, 1+.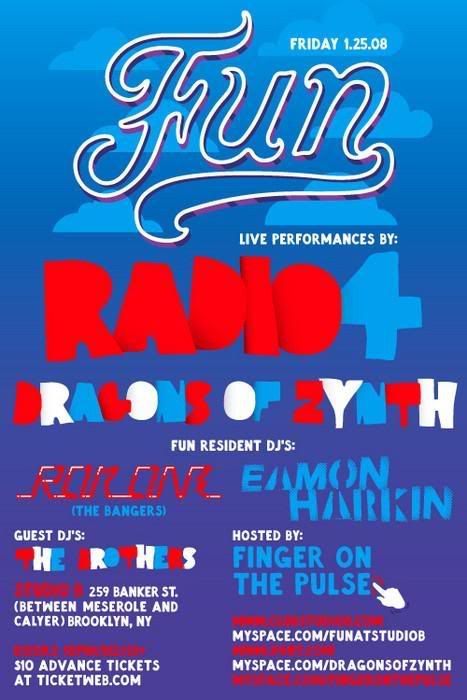 -Down in Philly, there's a few good things for those who like their music with lots of bass and/or rapping. The Seclusiasis crew takes over the Khyber Upstairs (56 S. 2nd St) for The Straight Dope party. Residents Dev79 and bd1982 have brought in DJJJC and Honkeytron from the West Wax collective for this night dedicated to rap, booty, electro, dancehall and anything else that works. No cover, $1 PBR and High Lifes until 11pm, 21+.
-Over at the Arts Garage (1535 Ridge Ave), the second Money Folders party happens. They've brought The Philadelphyinz back to rock the crowd with rap and club classics. APT One and Skinny Friedman will be joined by DJ Gravity, plus there are appearances by a ton of rappers. It's 18+, BYOB, $10, ladies free before 10:30.
-Down in D.C., Friday night is your night to spend at Le Freak with Will Eastman. Our bol holds it down at Napoleon (1847 Columbia Road) with a great mix of house, pop, rap, r&b, booty and disco, the perfect soundtrack to kick off your weekend. As always, half-priced champagne from 9-11, no cover, 21+, good times.
-Wisconsin, are you ready? DJs from the west are invading one of your towns tonight, I feel I should warn you. The Too Much Love DJs of Minneapolis - Soviet Panda, Moon Goon's Jonathan Ackerman, Dan Cruse and DJ Tanner - are coming to the Stones Throw (304 Eau Claire St) in Eau Claire tonight and you won't want to miss it. This will be a great night of dance rock, punk, indie, electro and more, all for $3! Doors at 9pm, 21+.
-Comeback has come back, Seattle, as the dance party takes over Chop Suey (1325 E. Madison St) You should be glad it is back, as they have special guest DJ Nightschool, a.k.a. Nathan from The Gossip, to take this one to the next level. DJs Colby B, Fucking In The Streets and DJ Porq will add to the dirty, filthy mayhem. Get there before midnight to get in for $5, doors at 9pm, 21+.
-Ahh, another one of my favorites,
the Lights Down Low party in San Francisco
. I wish I could have put the entire flier here, but this part should be enough to get you to check this out, as I love that quote. Tonight,
Sleazemore and Rchrd Oh?!
are joined by
Eric Sharp
for what should be a night of dirty and fidget house, massive electro ragers and all sorts of things in between.
Parker Day
takes photos, down in the basement of 222 Club (222 Hyde @ Turk)
-Two good choices in the LA area tonight. For my hip-hop kids, check out the Made You Look Fridays party at Detroit Bar (834 W. 19th St), where Pase Rock headlines with Melo-D. Pase is a great DJ, feel like it's a guaranteed good time and hyped crowd with him involved. Melo-D comes out of that line of classic hip-hop DJs like DJ Premier, Pete Rock, Cut Chemist, etc, technically skilled, knowledgeable about the music and mindful that he is spinning for a crowd not their buddies. Devyn C and Mr. White join them in the main room, while DJ Legit, DJ TJ and GMO take over the second room. Presented by Vapors, photos by Shadowscene, rsvp at mylfridays@gmail.com, $15 admission, 21+.
-For the rock kids, head to Safari Sam's (5214 Sunset Blvd) where it's Club 82 vs. BRMC. This one's the afterparty for the Black Rebel Motorcycle Club, Keith 2.0 and DJ (N) will spin along with special secret guests. I'm guessing that it may be members of a band that is holding its afterparty here, but you'll have to go there to find out. This one starts after the sold-out show, doors at 11:30, free with a flier or ticket until 1:25, 18+.