Okay, we're going to start in Chicago at Empire Liquors (1566 N. Milwaukee Ave) where it's Minneapolis' night.

The Fly By Night party

has brought in MPLS finest tonight, as you get the next stop on the

Bird Peterson and Jonathan Ackerman tour

, plus

Soviet Panda from the Too Much Love party

joins up to rep the home state. Peterson brings his unique Bmore/electro/breakbeat hybrid sound to town, he's done some nice releases for

Flamin' Hotz and his own Solid Trunk Records

. He's been getting picked up on the BBC's Radio 1, good chance to see what everyone is talking about. Ackerman might steal the show, part of

the Moon Goons crew

, spins all sorts of genres, I will just say that he does a Smiths party, i.e. you need to support him. Panda is a

Pound for Pound

favorite, who is doing Chicago up real big in the next few days.
Check the flier below, a rising star who will bring the dance.
Of course, there's also the excellent residents Willy Joy and Capcom, so you don't forget that you are in Chicago. RSVP at the going.com site, no cover, 21+. Doors are at 8pm, big night for the Midwest.
-The Sweatshop Labor bols are back home and getting back to business right away with their Common Folk party at Home Sweet Home. Have they become too LA? Will they talk incessantly about the script they're working on and the meetings they have? No, they won't. They will do their normal thing, play party jams and freakout music, debauch, dance, make the last day of work that much harder. They're joined by Kesh from London, who seems to be turning up everywhere in NYC lately. Free Shango Rum from 10:30-11:30, no cover, 21+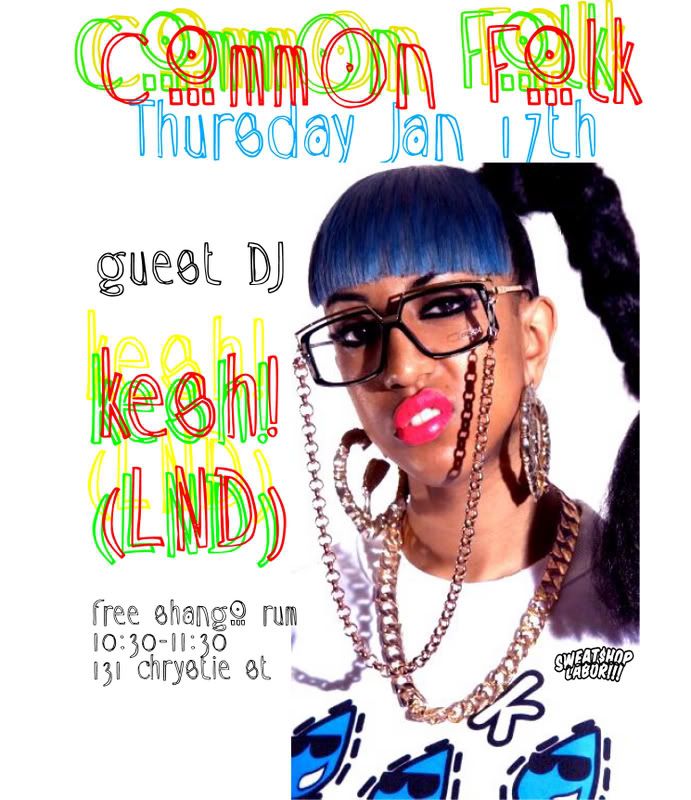 -Another cool night at 205 Club (205 Chrystie), just a few blocks north of HSH. Upstairs
Nick Hook and Skinny Friedman
will be spinning disco, rap and much more, while
The Bangers, Mishka, King Stampede and Boundless NY
will create a streetwear paradise in the basement called
Things That Go Bump In The Night
. Rap, classics, dance heat, this one will be packed. No cover, 21+.
-Happy 1st anniversary to
the Gallery Bar (120 Orchard St) and the Art After Midnight party
. The weekly Thursday party isn't doing anything special for the night, just doing the regular art and dance party steez. Tonight the art is provided by Lucas Stoffel, a pop-art exhibit called Made In Taiwan. Resident DJs Chris Alker and Sushi Steve will handle the dance party, helped out by guest DJ 5' 5". Expect lots of dance remixes, indie, some hip-hop and a good crowd. No cover, 21+.
..
-Finally, for those looking for a little more techno in their night, Even Further is here to help. Down in the basement of Happy Ending (302 Broome St), Carmine P. Filthy, Darya Zhuk, Cowboy Mark and Rudy M will bring it dark and heavy, but with soul. No cover, 21+.
-Here's a rad event in LA happening at the UCLA Broad Art Center. NYC dance punkers
HEARTSREVOLUTION
play live tonight.
IHeartsComix label boss
and globe-trotting DJ Franki Chan
will spin, along with RC Versace and DJ Houser. This one starts early at 7 pm, so head out soonish to make it on time. A great night of electrorock and dance music, possibly a chance to relive your glorious college days and/or have your heartbroken when beautiful women look at you like the old man you are.
More info here
.
-Finally, up in Toronto at the Tattoo Rock Parlour (567 Queen Street West), the LA Riots tour kicks off with a bang. The boys are headlining, while Milkcrate's Aaron Lacrate spins, along with Nasty Nav and Shit La Merde. I can't find any price info on this one, but I would guess it'll be in the $10-20 range. worth the bucks to catch one of the best new groups and show some support.